New York Times
After tons of injuries this week in the NFL, we've got the run down in this week's fantasy round up!
We've already broken down some of the biggest surprises and insights of Week 2, but the hits kept on coming.
---
Jared Goff had 267 yards through the air and also threw 3 TDs to TE Tyler Higbee. The Eagles had no answer this week for the Rams' TE and Sean McVay continued to attack that weakness all game long. Higbee racked up 54 yards on 5 catches. Philadelphia played from behind most of the game, which led to Carson Wentz attempting 47 passes. He threw two costly interceptions and was running for his life most of the game behind the Eagles patchwork offensive line. Miles Sanders was one of the lone bright spots, piling up 95 yards on a whopping 20 carries. He also had one of the Eagles TDs on the ground.
The Falcons were up 29-10 at halftime but allowed the Cowboys to score 17 points in the final 4 minutes of the game, including allowing one of the most ridiculous onside kick recoveries in NFL history. Dak Prescott threw for 450 yards and rushed for 3 TDs while CeeDee Lamb and Amari Cooper each had 100+ yards receiving. Matt Ryan had 270+ yards through the air while Calvin Ridley had two receiving TDs.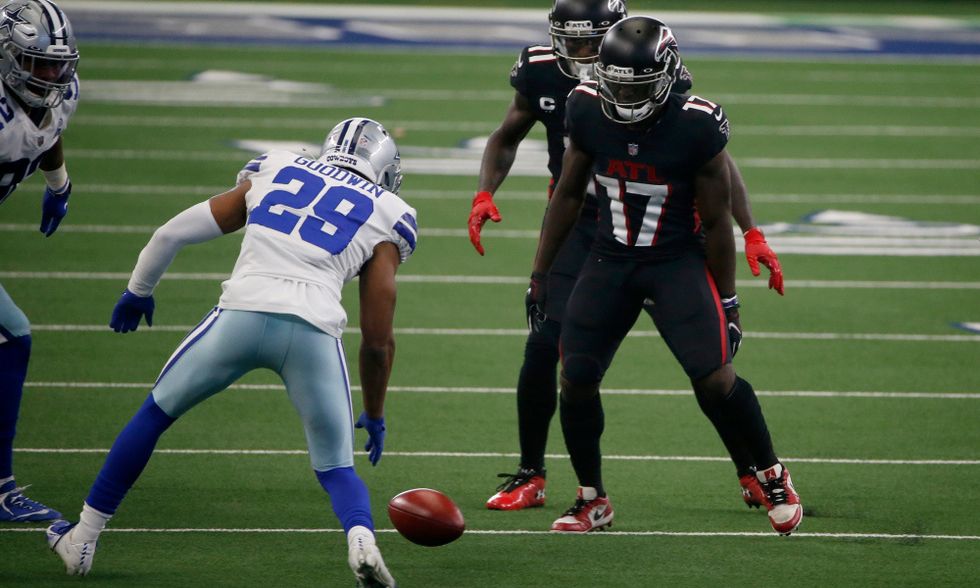 The Falcons botched the onside kick against the Cowboys AP
Tom Brady bounced back this week in his home opener in Tampa. Brady threw for 217 yards with one TD and one INT. The big story this week was Leonard Fournette breaking out for 103 yards on 12 carries. He also had a rushing TD. The backfield situation in Tampa looks like it is going to frustrate fantasy owners all season. Mike Evans had over 100 yards and added a TD. For the Panthers, Teddy Bridgewater threw for over 300 yards again this week, with DJ Moore on the receiving end for 120 of those. Christian McCaffrey ran for 2 TDs before succumbing to a high ankle sprain that will keep him out for multiple weeks.
Josh Allen once again had a massive day through the air, throwing for 417 yards and 4 TDs against the Dolphins. Stefon Diggs had 153 yards and a TD to lead the Bills receivers. Ryan Fitzpatrick had over 300 yards through the air for the Dolphins while Mike Gesicki led Dolphins receivers this week with 130 yards and a TD. Neither team had much in the way of rushing, as Zack Moss and Devin Singletary combined for 93 yards on the ground for Buffalo while Myles Gaskin once again led the Dolphins rushing attack.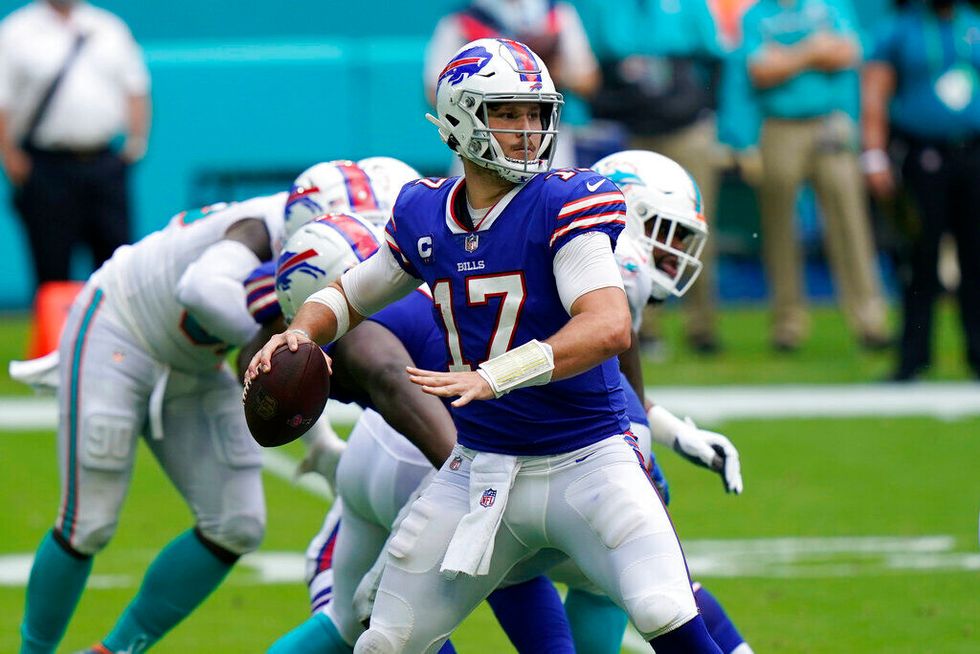 Allen once again was a top 5 QB against Miami.Buffalo News
The Colts shook off a Week 1 upset by the Jaguars, coming home to beat the Vikings at Lucas Oil Stadium. Philip Rivers threw another INT this week, but rookie Jonathan Taylor dominated the backfield rushing work while also scoring his first rushing TD of the year. TY Hilton continues to be a ghost in this offense, snagging a measly 28 yards on 3 catches. The Vikings offense looks stagnate without Stefon Diggs, as teams are keying in on Adam Thielen. Justin Jefferson led the Vikings receivers this week, gaining 44 yards on 3 catches. Kirk Cousins had an awful week, throwing 3 INTs while barely making it over 100 yards passing.
Kyler Murray had another monster week in fantasy, throwing for 286 yards and 1 TD while also contributing 2 rushing TDs. DeAndre Hopkins had 60+ yards and a TD this week, and he continues to be the go to option for Murray. Antonio Gibson seems to have taken a hold of the Washington RB starting duties. He had 55 yards and a TD on the ground, while Dwayne Haskins threw for 286 yards.
The Texans probably had one of the hardest opening schedules of any team in the NFL, playing at Kansas City Week 1 and then drawing the Ravens Week 2 in Houston. Baltimore cruised past Houston, on 204 yards passing from Lamar Jackson and a balanced rushing attack that included Gus Edwards, JK Dobbins and Mark Ingram. Ingram was the back that found the end zone this week on a 30 yard TD in the 4th quarter. Dobbins had a quite day, but broke off a 44 yard run to seal the deal late in the game. Deshaun Watson struggled to get Will Fuller involved this week after a great Week 1 showing against the Chiefs. Watson threw a TD to Darren Fells on a relatively quiet day through the air.
Las Vegas stunned the Saints on Monday night, improving to 2-0 on the spectacular offensive performance of Darren Waller. He had 12 catches for 103 yards and a TD, while the Saints looked lost on offense without Michael Thomas. Drew Brees through a bad interception in the 2nd quarter and couldn't seem to get any of his receivers involved. Alvin Kamara had 94 yards and a TD through the air to go along with 79 yards and 2 TDs on the ground.
Dylan Buell/Getty Images
Last week we bet big on the Pack and Aaron Rodgers going off on the Rams D, and oh boy did it ever pay off.
Divisional Round Vibe Check (3-1)
Aaron Rodgers soared high above his over/under for yards, while easily slicing and dicing up the Los Angeles defenders. Aaron Donald was just below his usual, healthy, game-wrecking self, and it definitely makes you think this one would've been closer had he been 100%. It also has to make you wonder what's wrong with the Seattle Seahawks. How have they managed to waste Russell Wilson this badly? At least, they have their eyes on a bright future for him. Yikes.
The Bills came through in a big way against the Baltimore Ravens, but not how anyone had predicted. Defense was the name of the game when anyone with an All-22 subscription was calling for a shootout of epic proportions. Sure, I lost on a couple special overs that had this game getting into the sixties, but Josh Allen still brought me to the promised land of profits.
<p>Meanwhile, the Tampa Bay Bucs joined the list of teams who managed to avoid a three game sweep on the season. After the game ended, and more information came out as to how injured Michael Thomas was all year, and Drew Brees was already looking towards his media career, it became clear they were never going to pull this one out. Heck, it's clear that one QB has a little more left in the tank even when the game isn't on the line.</p><p><br/></p><div class="rm-shortcode" data-rm-shortcode-id="c3f5db13bfea0485c06ab36f2beacef0" id="cab5b"><blockquote class="twitter-tweet twitter-custom-tweet" data-partner="rebelmouse" data-twitter-tweet-id="1351016608559456258"><div style="margin:1em 0">Pretty cool moment with Tom Brady and Drew Brees and his family here https://t.co/EATa56aZOu</div> — James Palmer (@James Palmer)<a href="https://twitter.com/JamesPalmerTV/statuses/1351016608559456258">1610942434.0</a></blockquote></div><p><strong>Packers -4 over Buccaneers </strong></p><p>Yes, I am a gluten for punishment. I've been betting against the Bucs all year to middling results, at best. I never believed or bought in on the hype around this team from the jump, and even as they've managed to match the noise around them, I've remained unmoved. Have they proven to be the second best team in the NFC? I guess. Do I think they would've made it this far had they played the Rams on Wild Card weekend? Nope. </p><div align="center" id="findbet_incontent_UI6VZQ"> <script data-cfasync="false" type="text/javascript"> freestar.config.enabled_slots.push({ placementName: "findbet_incontent_3", slotId: "findbet_incontent_UI6VZQ" }); </script> </div><p>Consider this, Taylor Heinicke in his second career start with a busted up Washington offense managed to hang in against the Bucs pass D. Now imagine it's Aaron Rodgers. The Packers have been rolling all season, behind an offensive renaissance, and I don't imagine them becoming less potent in the championship game. Yes, the Bucs handed Green Bay <a href="https://www.packersnews.com/story/sports/nfl/packers/2021/01/23/green-bay-packers-offense-getting-second-chance-vs-bucs-x-factor/6680978002/b'/restricted/?return=https%3A%2F%2Fwww.packersnews.com%2Fstory%2Fsports%2Fnfl%2Fpackers%2F2021%2F01%2F23%2Fgreen-bay-packers-offense-getting-second-chance-vs-bucs-x-factor%2F6680978002%2F%27" target="_blank">a beat down in their previous meeting</a>. The only really impressive win on their schedule, as a matter of fact, but that game was in Tampa, the Packers weren't at 100%, and Aaron Rodgers didn't smell the Super Bowl just around the corner. This one might be high scoring, but I don't see it being particularly close.</p><div align="center" id="findbet_incontent_N4H102"> <script data-cfasync="false" type="text/javascript"> freestar.config.enabled_slots.push({ placementName: "findbet_incontent_4", slotId: "findbet_incontent_N4H102" }); </script> </div><p><br/></p><p><br/></p><div class="rm-shortcode" data-rm-shortcode-id="0f24ffc23157b6dc1e735616706db4a8" id="b94c2"><blockquote class="twitter-tweet twitter-custom-tweet" data-partner="rebelmouse" data-twitter-tweet-id="1351999269683781640"><div style="margin:1em 0">Aaron Rodgers is feeling good ahead of his battle with the Bucs 🤣 @brgridiron (via @WISN_Watson) https://t.co/kTA2GQbWc1</div> — Bleacher Report (@Bleacher Report)<a href="https://twitter.com/BleacherReport/statuses/1351999269683781640">1611176719.0</a></blockquote></div><p><strong></strong><strong>Packers vs. Buccaneers Over 59.5 (Alternate Total)</strong></p><p>Betting the over worked so well last week that I'm doubling down in a big way. I'm taking an extra seven points here at +230 because the Pack and <a href="https://apnews.com/article/nfl-tampa-bay-buccaneers-jacksonville-jaguars-football-green-bay-packers-4fa577ae25a168332cce407ae0b38c54" target="_blank">Bucs</a> have been firing on all cylinders as of late. They're averaging 35.7 and 35 over their last three games, respectively. While their defenses have flashed at times, they represent big weaknesses for the NFC's two strongest teams. They can bring pressure and have above average front sevens, but Rodgers and Brady should be able to go back and forth picking apart these secondaries, especially with their array of weapons. The odds are too good to pass up for that number.</p><div align="center" id="findbet_incontent_1DPSGQ"> <script data-cfasync="false" type="text/javascript"> freestar.config.enabled_slots.push({ placementName: "findbet_incontent_5", slotId: "findbet_incontent_1DPSGQ" }); </script> </div><p><strong></strong><strong>Josh Allen Over 2.5 Touchdowns</strong><br/></p><p>The story of this weekend is shaping up to be offense, and how. If the Bills hope to stand any chance against Mahomes and the Chiefs, they'll have to be scoring regularly. Most likely, Allen will end up giving one of these away by scrambling it in for a score instead of passing, but without much else of a run game to speak for, I believe he gets to three passing. The Chiefs have been giving up 1.8 passing TDs a game, and even if they manage to get pressure on him up the middle, Allen excels on broken plays outside of the pocket. Gotta like Stefon Diggs to get, at least, one of those looks.</p><p><br/></p><p><br/></p><div class="rm-shortcode" data-rm-shortcode-id="52bbed98e07a448487faaf5e516631f4" id="91013"><blockquote class="twitter-tweet twitter-custom-tweet" data-partner="rebelmouse" data-twitter-tweet-id="1350671561645240326"><div style="margin:1em 0">Josh Allen and Stefon Diggs officially have the NFL's best bromance https://t.co/9QZXCwLDzp</div> — Pick Six Podcast (@Pick Six Podcast)<a href="https://twitter.com/picksixpod/statuses/1350671561645240326">1610860169.0</a></blockquote></div><p><br/></p><p><strong>Bills over Packers in Super Bowl</strong><br/></p><p>This is a fun prop with some decent odds at +600. Sports books have deemed this the third most likely outcome two weeks from now and I have to agree. How do you talk yourself into this final? Well, the Packers should run through the Bucs, as I detailed above. That leaves it to the Bills topple the defending champs and slay the giant. It might not be that hard for them to survive in a barnburner against a <a href="https://www.sportingnews.com/au/nfl/news/patrick-mahomes-injury-update-concussion/gvlpzba2oruw1nbvizk9z3nkb" target="_blank">hobbled Mahomes</a>, which means we get a Green Bay and Buffalo matchup. If those two teams face off, I definitely prefer a Buffalo's D led by Sean McDermott, especially after they dismantled Lamar Jackson. Josh Allen comes into his own, outduels Rodgers to win a Super Bowl MVP, and Buffalo avenges four-losing efforts. </p><div align="center" id="findbet_incontent_95J5K2"> <script data-cfasync="false" type="text/javascript"> freestar.config.enabled_slots.push({ placementName: "findbet_incontent_6", slotId: "findbet_incontent_95J5K2" }); </script> </div><h3></h3>
Keep reading...
Show less
Each Friday, FindBet will preview the week's DFS slate, highlighting players that are priced well on DFS sites, as well as some contrarian plays that can push your team to the top of the leader board.
Most NFL DFS games have you putting a team together with players from a certain slate of games. It could be just Sunday 1:00 PM games, or it could be every game that is slated for the week. Once the last game that has eligible players is over, the final payouts are made according to how many fantasy points each team scored. Each player is worth a certain dollar amount, and you have a cap of $60,000 to build your team with. You have to have 1 QB, 2 RB, 3 WR, 1 TE, 1 FLEX (RB, WR, or TE) and 1 DEF.
The general scoring rules include (6) points for each rushing and receiving touchdown, (4) points for each passing touchdown, (0.1) points for each rushing and receiving yard gained, (0.04) points for each passing yard, and also (0.5) points for each reception. There are other scoring opportunities for defenses. Let's take a look at players we like in the first round of the NFL playoffs this weekend.
<h2>Players to Target:</h2><p><strong>Josh Allen (QB) - $8500</strong><br/></p><p>Allen is coming into this game a completely different QB than he was in their Week 6 match up with Kansas City. I think he has the best match up of the 4 signal callers this weekend.</p><p><strong>Leonard Fournette (RB) - $7200</strong><br/></p><p>Ronald Jones II's status for Sunday is still up in the air so that could pave the way for Fournette to get a solid workload against a Green Bay defense that is near the bottom of the league in rush defense.</p><p><strong>Clyde Edwards-Helaire (RB) - $6200</strong></p><p>CEH looks to be on track to return this week (sorry about last week's recommendation!) If KC wants to replicate it's gameplan from Week 6 against the Bills, CEH will get plenty of carries.</p><div align="center" id="findbet_incontent_SKS1OQ"> <script data-cfasync="false" type="text/javascript"> freestar.config.enabled_slots.push({ placementName: "findbet_incontent_3", slotId: "findbet_incontent_SKS1OQ" }); </script> </div><p><!-- Ezoic - under_second_paragraph - under_second_paragraph --> <div id="ezoic-pub-ad-placeholder-813"><center><script async="" src="//pagead2.googlesyndication.com/pagead/js/adsbygoogle.js"></script> <ins class="adsbygoogle" data-ad-client="ca-pub-4301469008561137" data-ad-slot="9626795938" style="display:inline-block;width:468px;height:60px"></ins> <script> (adsbygoogle = window.adsbygoogle || []).push({}); </script></center></div> <!-- End Ezoic - under_second_paragraph - under_second_paragraph --></p><div class="rm-shortcode" data-rm-shortcode-id="29734054b21297b18273390b33bc4124" id="88b7b"><blockquote class="twitter-tweet twitter-custom-tweet" data-partner="rebelmouse" data-twitter-tweet-id="1352319760504119296"><div style="margin:1em 0">Video from Patrick Mahomes at #Chiefs practice today. Clyde Edwards-Helaire also at practice today. https://t.co/M2ijYZwUfX</div> — Harold R. Kuntz (@Harold R. Kuntz)<a href="https://twitter.com/HaroldRKuntz3/statuses/1352319760504119296">1611253130.0</a></blockquote></div><p><br/></p><p><strong>Cole Beasley (WR) - $5700 </strong><br/></p><p>I think this is the week we see a big game from Beasley. Indianapolis and Baltimore made it a point to shut him down the first two weeks of the playoffs. I don't think KC's defense has the ability to stop him.</p><p><strong>Allen Lazard (WR) - $5700</strong><br/></p><p>Lazard finally looks back to normal after his core muscle injury earlier in the year. The Packers will have to push the ball downfield against a stingy Tampa defense which should result into production for the Packers #2 WR.</p><p><strong>Davante Adams (WR) - $8900</strong><br/></p><p>Adams is basically match up proof. With the player pool the smallest it's been all year, throwing Adams in the lineup is a bit of an insurance to keep your team's scoring floor higher.</p><div align="center" id="findbet_incontent_VAQMOI"> <script data-cfasync="false" type="text/javascript"> freestar.config.enabled_slots.push({ placementName: "findbet_incontent_4", slotId: "findbet_incontent_VAQMOI" }); </script> </div><div class="rm-shortcode" data-rm-shortcode-id="eb424720aa53d2f6b3e88f9b87dde53b" id="c945c"><blockquote class="twitter-tweet twitter-custom-tweet" data-partner="rebelmouse" data-twitter-tweet-id="1350571920350130176"><div style="margin:1em 0">Davante Adams' releases and route running &gt;&gt;&gt;&gt; https://t.co/sv1fnHpZ1V</div> — Field Yates (@Field Yates)<a href="https://twitter.com/FieldYates/statuses/1350571920350130176">1610836412.0</a></blockquote></div><p><strong>Robert Tonyan (TE) - $5700</strong><br/></p><p>I know we have a lot of Packers pass catchers this week, but Tonyan's scoring floor is really appealing at this price, so we are going to jump on it and hope for a big passing day.</p><p><strong>Stefon Diggs (WR) - $8300</strong><br/></p><p>Diggs leads all WRs in Targets, Catches and Yards in the post season. Just like he did in the regular season. KC's defense is the worst Buffalo will have faced to this point so Diggs is a solid play.</p><p><strong>Buffalo Bills (DEF) - $3700</strong><br/></p><p>Call me crazy, but a less than 100% Patrick Mahomes and a Bills defense playing its best football is a recipe for success.</p><p><script async="" src="https://pagead2.googlesyndication.com/pagead/js/adsbygoogle.js"></script> <ins class="adsbygoogle" data-ad-client="ca-pub-4301469008561137" data-ad-format="fluid" data-ad-layout="in-article" data-ad-slot="1863811088" style="display:block; text-align:center;"></ins> <script> (adsbygoogle = window.adsbygoogle || []).push({}); </script></p><div align="center" id="findbet_incontent_KIC0GW"> <script data-cfasync="false" type="text/javascript"> freestar.config.enabled_slots.push({ placementName: "findbet_incontent_5", slotId: "findbet_incontent_KIC0GW" }); </script> </div><h2>FindBet Free Play for Championship Week:</h2><p><strong>Here's a team you can put right into any of your contests, just remember to buy us a beer when you win big!</strong></p><h2></h2><p class="shortcode-media shortcode-media-rebelmouse-image"> <img class="rm-shortcode" data-height="513" data-rm-shortcode-id="7626fa81c9d4c5fc175f5dc7bb2a4976" data-rm-shortcode-name="rebelmouse-image" data-runner-src="https://assets.rebelmouse.io/eyJhbGciOiJIUzI1NiIsInR5cCI6IkpXVCJ9.eyJpbWFnZSI6Imh0dHBzOi8vYXNzZXRzLnJibC5tcy8yNTUxNTQ4MC9vcmlnaW4ucG5nIiwiZXhwaXJlc19hdCI6MTY1MDc3MzQ2NX0.R9BkpI0jFctBR6YTpnSlXcfZEQLUxQFvr0Ak3wEbPj8/img.png?width=980" data-width="360" id="3af70" type="lazy-image"/> </p>
Keep reading...
Show less
Joe Sargent - Getty Images
Sunday's NFL Playoff action featured six teams who don't like each other at all.
All these games were played between teams who had played each other at least once during the regular season. If you thought those games in the regular season were intense, Sunday's playoff matchups upped the stakes even more.
The Chicago Bears even replicated a dubious feat from their regular season matchup, as one of their wide receiver Anthony Miller was ejected after throwing a punch at C.J. Gardner-Johnson. The New Orleans cornerback also got into the head of Chicago wide receiver Javon Wims in the November matchup, causing Wims to get ejected in that game after he threw a punch at Gardner-Johnson.
<p class="shortcode-media shortcode-media-rebelmouse-image"> <img alt="Baltimore Ravens QB Lamar Jackson throws a pass against the Tennessee Titans" class="rm-shortcode" data-height="2738" data-rm-shortcode-id="c27b4aa34c94ef1045b89dac6df4c781" data-rm-shortcode-name="rebelmouse-image" data-runner-src="https://assets.rebelmouse.io/eyJhbGciOiJIUzI1NiIsInR5cCI6IkpXVCJ9.eyJpbWFnZSI6Imh0dHBzOi8vYXNzZXRzLnJibC5tcy8yNTQzNTU2Ni9vcmlnaW4uanBnIiwiZXhwaXJlc19hdCI6MTY2ODA2OTAzMH0.t1mw1jUx-RtCrIzKE67nasU8vfoC83SXgrT9vwDz_Wo/img.jpg?width=980" data-width="4176" id="ebf11" type="lazy-image"/> <small class="image-media media-caption" placeholder="Add Photo Caption...">Baltimore Ravens QB Lamar Jackson</small><small class="image-media media-photo-credit" placeholder="Add Photo Credit...">Christopher Hanewinckel - USA TODAY Sports</small></p><p><strong>(5) <a href="https://www.baltimoreravens.com/" target="_blank">Baltimore</a> 20 - (4) <a href="https://www.tennesseetitans.com/" target="_blank">Tennessee</a> 13</strong><br/></p><h4>Game MVP: Lamar Jackson</h4><p>Early on in this game it looked like the Titans were going to run the Ravens out of the building in Nashville. Tennessee opened up a 10-0 lead in the first quarter after an A.J. Brown touchdown, followed by a Lamar Jackson interception that led to a Stephen Gostkowski field goal. There wouldn't be much more offense in the next three quarters from the Titans, as Baltimore put the clamps down on Derrick Henry, holding the 2,000 yard running back to just 40 yards on 18 carries in the game. </p><div align="center" id="findbet_incontent_7MXD74"> <script data-cfasync="false" type="text/javascript"> freestar.config.enabled_slots.push({ placementName: "findbet_incontent_2", slotId: "findbet_incontent_7MXD74" }); </script> </div><p>After struggling to get any offense going in the first quarter, Baltimore started to find their rhythm in the second quarter. Not only did Lamar Jackson start to make some throws for the Ravens, but the dynamic quarterback added in some electric runs to keep the Tennessee defense on their heels. Baltimore was able to tie the game up on a 48-yard touchdown run from Jackson with just over two minutes left in the second quarter. The Ravens would take the lead for good early in the third quarter thanks to a four-yard J.K. Dobbins touchdown run.<br/></p><div align="center" id="findbet_incontent_GRCV21"> <script data-cfasync="false" type="text/javascript"> freestar.config.enabled_slots.push({ placementName: "findbet_incontent_3", slotId: "findbet_incontent_GRCV21" }); </script> </div><p>The most controversial play of the game came early in the fourth quarter when Tennessee head coach Mike Vrabel opted to punt the football on 4th &amp; 2 from the Baltimore 40-yard line instead of letting his team try to pickup the first down. The defense of the Titans was able to keep Baltimore out of the end zone on the ensuing drive, but Tennessee failed in their last shot to tie the game, as Ryan Tannehill was picked off by cornerback Marcus Peters.</p><p>Now Jackson and the Ravens hit the road again to take on the Buffalo Bills on Saturday night. With last year's disappointing playoff performance behind him, Jackson will look to upend Josh Allen, who was taken 25 picks before him in the first round of the 2018 NFL Draft. The lights will be shining on two of the bright, young quarterback stars in the NFL on Saturday night.</p><div align="center" id="findbet_incontent_5EEBUA"> <script data-cfasync="false" type="text/javascript"> freestar.config.enabled_slots.push({ placementName: "findbet_incontent_4", slotId: "findbet_incontent_5EEBUA" }); </script> </div><p class="shortcode-media shortcode-media-rebelmouse-image"> <img alt="New Orleans Saints QB Drew Brees reacts after throwing a touchdown" class="rm-shortcode" data-height="441" data-rm-shortcode-id="c6918303555bbdee391fbac0556419a5" data-rm-shortcode-name="rebelmouse-image" data-runner-src="https://assets.rebelmouse.io/eyJhbGciOiJIUzI1NiIsInR5cCI6IkpXVCJ9.eyJpbWFnZSI6Imh0dHBzOi8vYXNzZXRzLnJibC5tcy8yNTQzNTU2MS9vcmlnaW4uanBnIiwiZXhwaXJlc19hdCI6MTY2NzQ2MDY0OX0.o9zUuMF6CLuWs27mXYua1e9YjEiYPdoWj4-fp2DvjEM/img.jpg?width=980" data-width="660" id="8eda9" type="lazy-image"/> <small class="image-media media-caption" placeholder="Add Photo Caption...">New Orleans Saints QB Drew Brees</small><small class="image-media media-photo-credit" placeholder="Add Photo Credit...">Brett Duke - Associated Press</small></p><p><strong>(2) <a href="https://www.neworleanssaints.com/" target="_blank">New Orleans</a> 21 - (7) <a href="https://www.chicagobears.com/" target="_blank">Chicago</a> 9</strong><br/></p><h4>Game MVP: Drew Brees</h4><p>The only really interesting thing about this game was the Nickelodeon broadcast. Not only did the kids' channel add some SpongeBob SquarePants to the broadcast, but there was also a "slime zone" that was activated when touchdowns were scored. Unfortunately, only four touchdowns were scored in the game, so the fun animation wasn't used all that much.</p><p>New Orleans benefitted from the return of Michael Thomas after the wide receiver missed the previous three games due to injury, and the Saints had a full compliment of running backs after the unit was forced to miss the final game of the regular season due to COVID-19 protocols. Drew Brees wasted little time finding Thomas, with the pair hooking up on New Orleans' first drive of the game for an 11-yard touchdown. Latavius Murray and Alvin Kamara each added touchdowns in the second half to give the Saints a lead that put the game out of reach.</p><div align="center" id="findbet_incontent_O8Y0IJ"> <script data-cfasync="false" type="text/javascript"> freestar.config.enabled_slots.push({ placementName: "findbet_incontent_5", slotId: "findbet_incontent_O8Y0IJ" }); </script> </div><p>Chicago was listless all game, with Mitchell Trubisky not striking any fear in the New Orleans defense. Prior to the final drive of the game where he passed for 92 yards and a touchdown, Trubisky had only thrown for 107 yards in the game. The Bears couldn't run the ball with David Montgomery, which put even more pressure on Trubisky. Since Chicago couldn't drives together on offense, the defense of the Bears, which was missing leading tackler Roquan Smith, eventually wore down in the second half.</p><div align="center" id="findbet_incontent_TMDJQT"> <script data-cfasync="false" type="text/javascript"> freestar.config.enabled_slots.push({ placementName: "findbet_incontent_6", slotId: "findbet_incontent_TMDJQT" }); </script> </div><p>Next up for the Saints is the Tampa Bay Buccaneers, who New Orleans has already beaten twice this year. While the Saints do have two wins under their belt against Tampa Bay, it is extremely tough to be the same team three times in a season. This could be the last time we see Drew Brees and Tom Brady go head-to-head on the football field, so expect both quarterbacks to leave it all out there on Sunday night.</p><p class="shortcode-media shortcode-media-rebelmouse-image"> <img alt="Cleveland Browns quarterback Baker Mayfield celebrates" class="rm-shortcode" data-height="675" data-rm-shortcode-id="b1c20931745c10bdd84c5dcc537a64fd" data-rm-shortcode-name="rebelmouse-image" data-runner-src="https://assets.rebelmouse.io/eyJhbGciOiJIUzI1NiIsInR5cCI6IkpXVCJ9.eyJpbWFnZSI6Imh0dHBzOi8vYXNzZXRzLnJibC5tcy8yNTQzNTU1Ni9vcmlnaW4uanBnIiwiZXhwaXJlc19hdCI6MTY0MTAzNjkwNH0.CMOueJmCsaXq7tBS3pvZ3v2qEe-Wa5w6uvF6SaNVNnY/img.jpg?width=980" data-width="1200" id="9304e" type="lazy-image"/> <small class="image-media media-caption" placeholder="Add Photo Caption...">Cleveland Browns quarterback Baker Mayfield</small><small class="image-media media-photo-credit" placeholder="Add Photo Credit...">Charles LeClaire - USA TODAY Sports</small></p><p><strong>(6) <a href="https://www.clevelandbrowns.com/" target="_blank">Cleveland</a> 48 - (3) <a href="https://www.steelers.com/" target="_blank">Pittsburgh</a> 37</strong><br/></p><h4>Game MVP: Baker Mayfield</h4><p>While it probably seems pretty lazy to pick the three quarterbacks who won on Sunday as Game MVPs, if any of the three quarterbacks truly deserved the honor, it is Baker Mayfield. Not only was Mayfield making his playoff start for a franchise that hasn't been to the playoffs in 18 years, the Cleveland quarterback was also doing so while his play-calling head coach was back at home in Cleveland after a positive COVID-19 diagnosis. The odds looked to be stacked against Cleveland, as they had just barely gotten by Pittsburgh's backups the week before to earn a playoff spot.</p><p>Cleveland's return to the playoffs got off to a dream start, as on the first play after an errant snap from Maurkice Pouncey sailed over Ben Roethlisberger's head, which allowed Karl Joseph to recover the fumble in the end zone for a touchdown. The Browns poured on the points the rest of the third quarter, setting an NFL Playoff record by scoring 28 points in the first quarter. After Mayfield connected with Jarvis Landry for a 40-yard touchdown, Kareem Hunt scored two touchdowns in a three minute span.</p><p>Pittsburgh did make Cleveland fans sweat a little bit, cutting the deficit to 35-23 late in the third quarter. While many were wondering if this was going to be a patented Cleveland collapse, the Browns ease the nerves of their fans early in the fourth quarter when Mayfield tossed his third touchdown of the game, finding running back Nick Chubb to push the score to 42-23. Roethlisberger padded his own stats with a couple late touchdowns, finishing the game with 501 yards passing and four touchdowns to go along with four interceptions.</p><h3></h3><h3></h3><p>Cleveland will have an even tougher task in front of them this week when they meet the defending Super Bowl champion Kansas City Chiefs. The good news is the Browns will have head coach Kevin Stefanski back, and they could see the return of key players Denzel Ward and Joel Bitonio. While the Browns will be a heavy underdog against Patrick Mahomes and the Chiefs, Mayfield and company certainly won't backdown from the challenge of beating the AFC's top team.</p>
Keep reading...
Show less