Jason Miller - Getty Images
Just as soon as it began, the MLB regular season is coming to a close this week.
Who's Hot?
There's no question who the hottest hitter in baseball is right now. Jose Ramirez has been on a tear over the last week, hitting six homers and driving in 16 runs over his last six games. The last of those home runs was a dramatic walk-off dinger which clinched a postseason spot for the Cleveland Indians.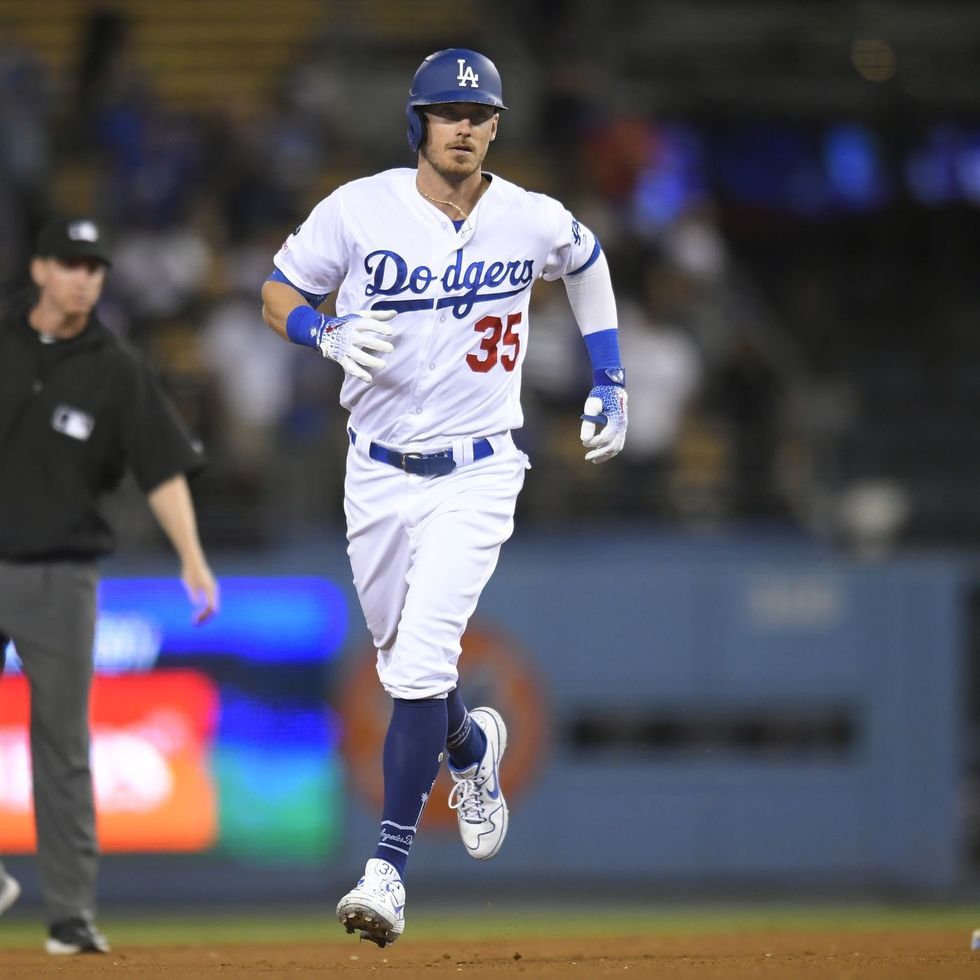 Los Angeles Dodgers outfielder Cody BellingerJohn McCoy - Getty Images
Out west, a couple of Dodgers are getting hot at the right time. Corey Seager is hitting .529 over his last four games, while Cody Bellinger is just behind the shortstop, slashing .500 in his last five games. Los Angeles has already sewn up the NL West crown but they'll need the duo to continue their hot hitting in the postseason if they Dodgers finally want to get over the hump and win their first World Series in over 30 years.

Battling Los Angeles to be the favorite in the National League are the Atlanta Braves. Powering the Braves of late has been Marcell Ozuna and Ozzie Albies who have combined for six home runs and 14 RBIs in Atlanta's last five games. If Albies and Ozuna can stay hot, and if Ronald Acuna Jr. can turn up his production, the Braves could give the Dodgers all they can handle if the teams meet in the playoffs.
Back in the American League, the Chicago White Sox have cooled off as of late. Trying to keep the flame from being extinguished is Jose Abreu. The Cuban first baseman has eight hits in his last 21 at-bats, with three of those hits being home runs. Abreu will be looking to continue his roll to close out the regular season to keep his name in the AL MVP race.
Looking for one last strong start for your fantasy team in the regular season? The best pitchers in baseball over the last week are relative unknowns. Pittsburgh's Steven Brault has thrown a complete game and struck out 14 batters in his last two starts, while Griffin Canning of the Los Angeles Angels has two wins and 17 strikeouts in 11 innings of work.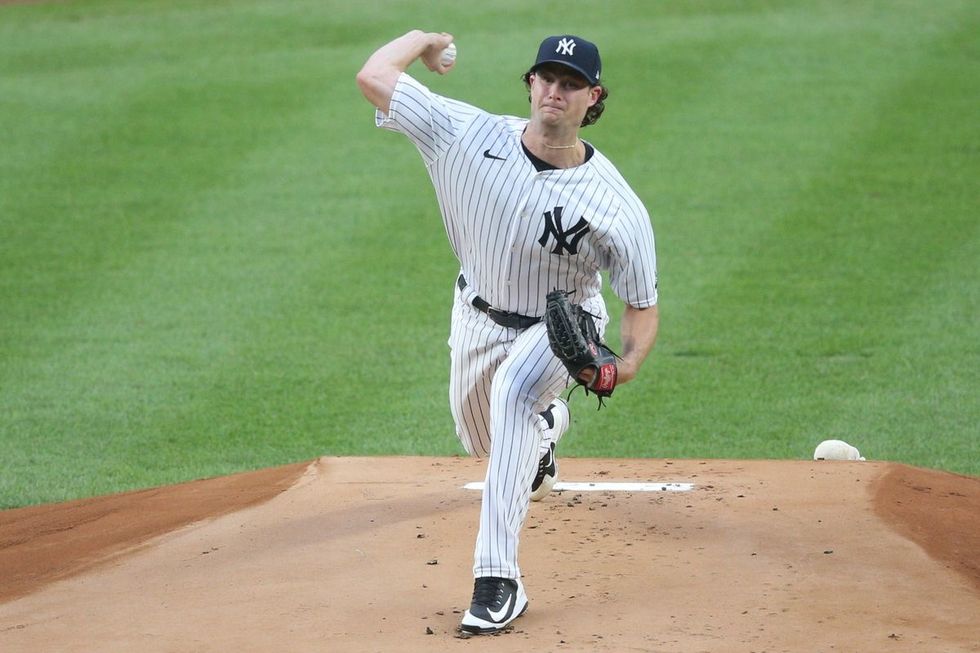 New York Yankees pitcher Gerrit ColeBrad Penner - USA TODAY Sports
For the month of September, three of the best pitchers are names that are a little more familiar to fans. Gerrit Cole is living up to his monster contract, going 3-1 so far this month with 34 strikeouts over 27 innings. Cole's efforts have helped the Yankees to break out of a dreadful August slump.

Luis Castillo has been a major reason why the Reds are currently sitting in a playoff position. Castillo is 4-0 this month, giving up just 16 hits over 28 innings, while striking out 33 batters. Even though it looks like they'll barely sneak into the playoffs, the Cincinnati rotation of Castillo, Trevor Bauer, and Sonny Gray could cause opponents fits.
Chris Bassitt of the Oakland Athletics might not have the star power of Cole and Castillo, but he has been just as good, winning all three of his September starts, allowing just one run so far during the month. Bassitt has quietly put himself at the top of the Oakland rotation with his work over the past two years.
Who's Not?
Remember last week when Josh Bell was on our "Who's Hot" list? Funny how a week can change things. Bell hasn't been able to hit a beach ball over the last week. Bell is hitless in his last 19 at-bats, with nine of those at-bats ending with Bell striking out.
Joining Bell in the 0-fer club is J.D. Davis of the New York Mets, who is also hitless in his last 19 at-bats. Much like Bell, Davis has seen most of his at-bats lately ending in embarrassment, as he has struck out 10 times in the last week.

Earlier we put Jose Abreu on our "Who's Hot" list. The same can't be said for teammates Luis Robert and Yoan Moncada, who are a combined 1-41 over the last week. Moncada has the lone hit during that span between the two. If Robert and Moncada's struggles bleed into the playoffs, the White Sox will find themselves sent home early.

Trailing the White Sox in the standings are the Minnesota Twins. If the Twins want to avoid the New York Yankees in the playoffs, Miguel Sano has to bust out of the current slump he is mired in. Sano has just one hit in his last 20 at-bats, with 11 of those at-bats ending with a strikeout.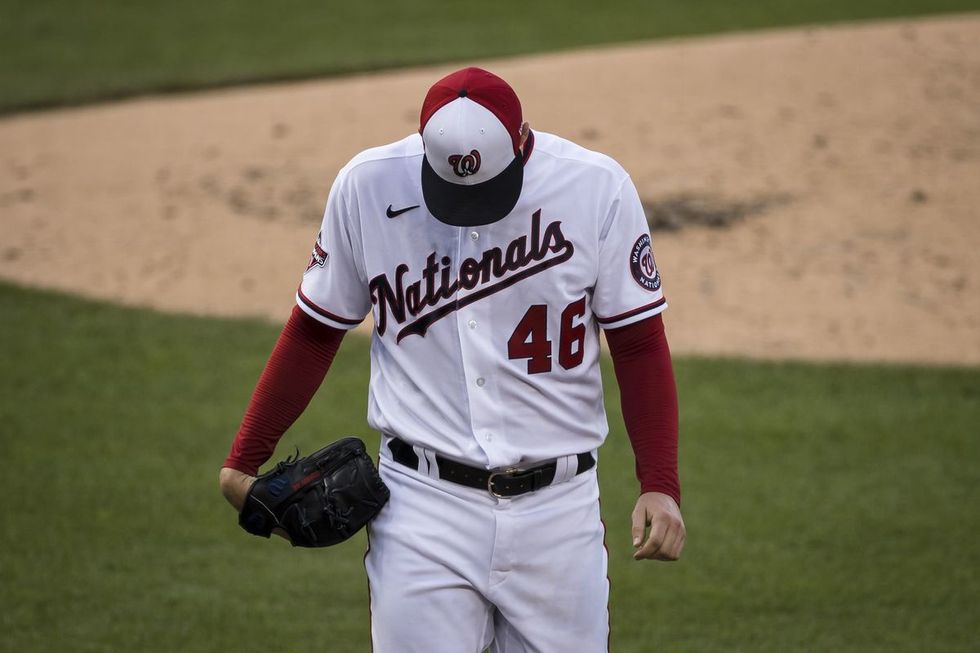 Washington Nationals pitcher Patrick CorbinScott Taetsch - Getty Images
There are a few pitchers who can't wait for this season to be over. After winning the World Series with the Washington Nationals last season, Patrick Corbin has been awful in September, posting an 0-4 record with a 6.17 ERA in four starts this month.

Jordan Lyles of the Texas Rangers has pitched in five games in September, starting three of those games. Lyles is giving up a hit an inning, surrendering 30 hits and allowing 18 earned runs so far this month.
Toronto is going to have a decision to make in the postseason in how they want to use Tanner Roark, who is 0-2 with a 9.72 ERA in four September starts. Roark's last start on Tuesday night saw him get shelled by the Yankees. We could see Roark get one more start in the regular season, but if he is ineffective he might not feature heavily in the postseason plans of the Blue Jays.
Scott Cunningham - Getty Images
It's crazy to think the MLB regular season has just a few weeks left.
As the calendar has turned to September, some players have hit their stride, while others haven't been able to handle the pressure of baseball's stretch run. Even though there are only a few weeks left, we are going to try and steer you in the right direction for DFS, identifying who's hot and who's not.
<h4>Who's Hot?</h4><p>Right now the hottest hitter in baseball is <a href="https://www.mlb.com/braves" target="_blank">Atlanta Braves</a> first baseman <strong><a href="https://www.mlb.com/player/freddie-freeman-518692" target="_blank">Freddie Freeman</a></strong>. Over the last week, Freeman has 12 hits in 25 at-bats, with four of those hits being home runs. Freeman, who celebrated his 31st birthday on Saturday, has been a monster at the plate so far in September, registering eight multi-hit games already this month. Entering Tuesday night's action, Freeman is riding a nine-game hitting streak.</p><div align="center" id="findbet_incontent_YDX1EM"> <script data-cfasync="false" type="text/javascript"> freestar.config.enabled_slots.push({ placementName: "findbet_incontent_2", slotId: "findbet_incontent_YDX1EM" }); </script> </div><p>One of Freeman's teammates is having an incredible run on Wednesday's in September. Not only did <strong>Adam Duvall</strong> crush three home runs and drive in nine runs in a 29-9 win over the <a href="https://www.mlb.com/marlins" target="_blank">Miami Marlins</a> last Wednesday, but Duvall also cranked three homers and drove in five runs against the <a href="https://www.mlb.com/redsox" target="_blank">Boston Red Sox</a> on the first Wednesday of this month. Duvall already has nine homers and 18 runs batted in during September and we are only halfway through the month.</p><p class="shortcode-media shortcode-media-rebelmouse-image"> <img alt="Eloy Jimenez" class="rm-shortcode" data-height="675" data-rm-shortcode-id="c19917b4c7e9c64c5808add2012e806e" data-rm-shortcode-name="rebelmouse-image" data-runner-src="https://assets.rebelmouse.io/eyJhbGciOiJIUzI1NiIsInR5cCI6IkpXVCJ9.eyJpbWFnZSI6Imh0dHBzOi8vYXNzZXRzLnJibC5tcy8yNDMyMzI5OC9vcmlnaW4uanBnIiwiZXhwaXJlc19hdCI6MTYzOTk1NDA1Mn0.VtQr4yvKEqn-hThem2N2xlMx_NfjpxsrJ11WFrlBPA4/img.jpg?width=980" data-width="1200" id="6693c" type="lazy-image"/> <small class="image-media media-caption" placeholder="Add Photo Caption...">MLB: Minnesota Twins at Chicago White Sox</small> <small class="image-media media-photo-credit" placeholder="Add Photo Credit..."> Kamil Krzaczynski-USA TODAY Spor </small> </p><p>Currently the <a href="https://www.mlb.com/whitesox" target="_blank">Chicago White Sox</a> are on top of the AL Central and a big reason for their success this year has been because of <strong><a href="https://www.baseball-reference.com/players/j/jimenel02.shtml" target="_blank">Eloy Jimenez</a></strong>. The left fielder has four straight multi-hit games, and it's no coincidence the White Sox have won each of those games. Jimenez's biggest hit came on Friday night when his three-run homer in the sixth inning against Detroit gave Chicago the lead for good in the game. Jimenez also has six doubles so far this month and is hitting .347.<br/></p><div align="center" id="findbet_incontent_FBEOP5"> <script data-cfasync="false" type="text/javascript"> freestar.config.enabled_slots.push({ placementName: "findbet_incontent_3", slotId: "findbet_incontent_FBEOP5" }); </script> </div><p>New onto the scene is <strong>Jared Walsh</strong> of the <a href="https://www.mlb.com/angels" target="_blank">Los Angeles Angels</a>. Prior to this season, Walsh had just 79 career MLB at-bats. If Walsh keeps hitting like he is now, he'll see plenty of playing time going forward. Walsh has hit safely in all but one of the ten games he has played in during September, including notching two hits in each of the last four games. The first baseman also had a stretch of four straight games in which he hit a homer before failing to leave the yard on Sunday. Walsh already has five homers in September.</p><div align="center" id="findbet_incontent_I4OGNL"> <script data-cfasync="false" type="text/javascript"> freestar.config.enabled_slots.push({ placementName: "findbet_incontent_4", slotId: "findbet_incontent_I4OGNL" }); </script> </div><p>The <a href="https://www.mlb.com/pirates" target="_blank">Pittsburgh Pirates</a> have the worst record in the National League, but you can't blame <strong>Josh Bell</strong> for their struggles of late. Since last Sunday, Bell is riding an eight-game hitting streak with three homers in the last six games. Bell has been able to raise his batting average for the season to .242 after it sat at .194 prior to his hitting streak starting.</p><p class="shortcode-media shortcode-media-rebelmouse-image"> <img alt="Alec Mills" class="rm-shortcode" data-height="675" data-rm-shortcode-id="f187e53c6fd97a0cd267dc6a3e4bf9a5" data-rm-shortcode-name="rebelmouse-image" data-runner-src="https://assets.rebelmouse.io/eyJhbGciOiJIUzI1NiIsInR5cCI6IkpXVCJ9.eyJpbWFnZSI6Imh0dHBzOi8vYXNzZXRzLnJibC5tcy8yNDMyMzU1OS9vcmlnaW4uanBnIiwiZXhwaXJlc19hdCI6MTY2MTI0MzM0NH0.CLt1rCzptE15bRAvSzfP3-rqFGPYBSlpIB01QmN-3bA/img.jpg?width=980" data-width="1200" id="18576" type="lazy-image"/> <small class="image-media media-caption" placeholder="Add Photo Caption...">Cincinnati Reds v Chicago Cubs</small> <small class="image-media media-photo-credit" placeholder="Add Photo Credit..."> Getty Images </small> </p><p>Shifting gears from the batters box to the mound, the biggest pitching story over the last week has been <a href="https://www.mlb.com/cubs" target="_blank">Chicago Cubs</a> pitcher <strong><a href="https://www.mlb.com/player/alec-mills-621219" target="_blank">Alec Mills</a></strong>, who threw the second no-hitter of the season on Sunday. Mills held the <a href="https://www.mlb.com/brewers" target="_blank">Milwaukee Brewers</a> hitless on Sunday, and in his prior start tossed six scoreless innings of four-hit baseball. <br/></p><p>Another pitcher who has been electric over his last two starts has been Trevor Bauer of the <a href="https://www.mlb.com/reds" target="_blank">Cincinnati Reds</a>. Bauer has struck out 22 batters over his last 14 innings pitched and during that span has just a 0.64 ERA. Cincinnati is currently on the outside looking in on the playoffs, but a couple more strong starts from Bauer could be the difference in the quest for the playoffs for the Reds.</p><div align="center" id="findbet_incontent_R5NGAC"> <script data-cfasync="false" type="text/javascript"> freestar.config.enabled_slots.push({ placementName: "findbet_incontent_5", slotId: "findbet_incontent_R5NGAC" }); </script> </div><p class="shortcode-media shortcode-media-rebelmouse-image"> <img alt="Aaron Nola" class="rm-shortcode" data-height="932" data-rm-shortcode-id="bb22a9fd290bbebf0b41a00b1c296e9a" data-rm-shortcode-name="rebelmouse-image" data-runner-src="https://assets.rebelmouse.io/eyJhbGciOiJIUzI1NiIsInR5cCI6IkpXVCJ9.eyJpbWFnZSI6Imh0dHBzOi8vYXNzZXRzLnJibC5tcy8yNDMyMzczNS9vcmlnaW4uanBnIiwiZXhwaXJlc19hdCI6MTY2NzA2OTQ3M30.fsex1OTPytpE6QI4uwiuN30Nac86aF_HD50o0HI3meg/img.jpg?width=980" data-width="1400" id="84e84" type="lazy-image"/> <small class="image-media media-caption" placeholder="Add Photo Caption...">Philadelphia Phillies pitcher Aaron Nola</small><small class="image-media media-photo-credit" placeholder="Add Photo Credit...">John Bazemore - Associated Press</small></p><p>One team who currently has a grasp on a playoff spot is the <a href="https://www.mlb.com/phillies" target="_blank">Philadelphia Phillies</a>. The ace of Joe Girardi's staff is <strong>Aaron Nola</strong>, who has given up just eight earned runs in his eight starts since August. Nola was credited with a complete game shutout in his last start, but it is important to note the 11-0 win over Miami was just a seven-inning game since it was part of a doubleheader. he righty from Baton Rouge has struck out at least 10 batters in each of his last two starts, and now has four double-digit strikeout games this year.<br/></p><div align="center" id="findbet_incontent_OEBEB0"> <script data-cfasync="false" type="text/javascript"> freestar.config.enabled_slots.push({ placementName: "findbet_incontent_6", slotId: "findbet_incontent_OEBEB0" }); </script> </div><p>Our final sizzling pitcher is <strong>Dinelson Lamet</strong> of the <a href="https://www.mlb.com/padres" target="_blank">San Diego Padres</a>. Lamet was impressive on Monday night, striking out 11 Dodgers in San Diego's 7-2 victory over Los Angeles. In September, Lamet has struck out 28 batters in 21 innings of work, as the Padres inch closer to the Dodgers in the NL West standings.</p><h4>Who's Not?</h4><p class="shortcode-media shortcode-media-rebelmouse-image"> <img alt="Christian Yelich" class="rm-shortcode" data-height="800" data-rm-shortcode-id="a2217e7a526c576bd0c823e794458871" data-rm-shortcode-name="rebelmouse-image" data-runner-src="https://assets.rebelmouse.io/eyJhbGciOiJIUzI1NiIsInR5cCI6IkpXVCJ9.eyJpbWFnZSI6Imh0dHBzOi8vYXNzZXRzLnJibC5tcy8yNDMyMzg1NC9vcmlnaW4uanBnIiwiZXhwaXJlc19hdCI6MTYyNTY5NzEyNX0.-qlWyfDnyqeGFpSI8PXnSh_2qTYuhA2NlWgLZU6cSpc/img.jpg?width=980" data-width="1200" id="e670d" type="lazy-image"/> <small class="image-media media-caption" placeholder="Add Photo Caption...">Milwaukee Brewers outfielder Christian Yelich</small><small class="image-media media-photo-credit" placeholder="Add Photo Credit...">Gene J. Puskar - Associated Press</small></p><p>One of the biggest surprises of the 2020 season is how much MIlwaukee outfielder <strong>Christian Yelich</strong> has struggled. Yelich has just two hits in his last 23 at-bats and has struck out 13 times during that stretch. After hitting .329 last year, Yelich is currently below the Mendoza Line, as he is batting just .195 this season.<br/></p><p><strong>Nick Castellanos</strong> started the season like a house of fire, seeing his batting average rise to nearly .400 in early August. Castellanos has been dreadful lately, notching just seven hits in 50 at-bats in September. While Castellanos is still a threat to homer in any plate appearance, he is coming up short when Cincinnati needs him most.</p><p>Out west, two hitters have a front row seat on the struggle bus. Rookie <strong>Jo Adell</strong> of the Los Angeles Angels is hitless in his last 17 at-bats, while <a href="https://www.mlb.com/mariners" target="_blank">Seattle Mariners</a> first baseman <strong>Evan White</strong> has just one hit in his last 20 at-bats. With the Angels and Mariners separated by just two games in the standings, something has to give or both teams could find themselves watching the playoffs from home.</p><p class="shortcode-media shortcode-media-rebelmouse-image"> <img alt="Framber Valdez" class="rm-shortcode" data-height="1041" data-rm-shortcode-id="2d4fd580c7de11f38261115977be0edc" data-rm-shortcode-name="rebelmouse-image" data-runner-src="https://assets.rebelmouse.io/eyJhbGciOiJIUzI1NiIsInR5cCI6IkpXVCJ9.eyJpbWFnZSI6Imh0dHBzOi8vYXNzZXRzLnJibC5tcy8yNDMyNDAxMi9vcmlnaW4uanBnIiwiZXhwaXJlc19hdCI6MTY3MzM2NTgyM30.RL2_8-pFkUxmiwLRky8rvgLRvqAZHOBjZCJeRQGMIEs/img.jpg?width=980" data-width="2000" id="1c703" type="lazy-image"/> <small class="image-media media-caption" placeholder="Add Photo Caption...">Houston at Texas</small> <small class="image-media media-photo-credit" placeholder="Add Photo Credit..."> TNS </small> </p><p>On the mound, three pitchers have already given up at least 10 earned runs this month, with <a href="https://www.mlb.com/astros" target="_blank">Houston</a> starter <strong>Framber Valdez</strong> giving up 16 earned runs in three starts. Valdez likely won't want to pitch in Los Angeles anytime soon after giving up 13 runs in starts against the Angels and Dodgers last week.<br/></p><p>Milwaukee Brewers starter <strong>Adrian Houser</strong> actually has given up more runs this month than Valdez, but of the 17 runs Houser has allowed, only 12 were earned runs. Houser was the losing pitcher in Sunday's game against the Cubs, where Milwaukee was no-hit by Alec Mills.</p><h2></h2><p>After starting the season by giving up two earned runs or less in his first six starts, the wheels have started to come off for <a href="https://www.mlb.com/marlins" target="_blank">Miami Marlins</a> pitcher <strong>Pablo Lopez</strong>. Following a loss to the Tampa Rays in his first start of the month, Lopez was crushed by Atlanta on Wednesday, giving up seven earned runs in just an inning and two-thirds of a 29-9 loss to the Braves. Lopez did rebound in his last start to beat Philadelphia on Monday night, but steer clear of Lopez for now.</p>
Keep reading...
Show less