Seth Wenig/Associated Press
Here we are only four weeks into the NFL regular season, a quarter of the way through.
I'm not one to callously dash anyone's hopes or say their dreams are unattainable, but in the landscape of the NFL, some fan bases might want to consider taking up a new hobby. Come back to the NFL next year or try rooting for a new team this Autumn. Maybe you could try curling or cleaning up trash on the side of a busy interstate, that's a worthy cause. While no teams have reached mathematical elimination from the playoffs, I'm here declaring all hope is lost for some. Four games into the NFL season and already some fan bases have nothing to root for.
---
"Nothing to Root For" is a series ranking fan base despair. It's not just about a team's likelihood to reach the postseason. Sometimes you have a first year coach or a young quarterback on the team; you know reaching the postseason is unlikely, but fans of teams in said scenario stick with your team and look for growth for next year.
Then there are other teams, teams where maybe the coach and GM are already seasoned, the quarterback is a known quantity. Maybe the GM received a contract extension in the offseason. And now, through four weeks of regular season play, the team has come out looking like the inside of a porta potty atop a hill in a landslide. So which fan bases need to escape the abusive relationships they are in with their favorite football teams and find a new hobby?
1. New York Jets
Things are so bad for the New York Jets team that you have to be hoping for losses at this point. I'd be sleeping with my pajamas inside out and my fingers crossed hoping for another embarrassing loss. Maybe, just maybe, at that point ownership would wisen up and Adam Gase would be out of there.

Things in the NFL are hardly ever so predictable, so riddle me this: How is it that everyone outside of this Jets organization knew Gase needed to be vacated except the Jets themselves? When Ryan Tannehill left the Dolphins as an afterthought and became the centerpiece for an exciting team down in Nashville, the Jets should have seen the writing on the wall. Tannehill wasn't alone in running, not walking, away from Gase.
Whether it was Kenyan Drake, Damien Williams, Jarvis Landry, DeVante Parker, or Mike Gesicki, all these players broke out after separating from Coach Gase. This guy made Le'Veon Bell disappear, and now Jets fans are left to wonder if their $99 Sam Darnold jersey investment is officially...a waste of money. Gase was once seen as an offensive mastermind, but that all now seems offensive to masterminds.
Thank you for social distancing, @AtlantaFalcons https://t.co/0bLjzZxIYW

— CheeseheadTV 🧀 (@CheeseheadTV 🧀)1601959676.0
2. Atlanta Falcons
The Falcons have started 0-4 to begin the 2020 season, and it's hard to even choose which loss would be most embarrassing. The competition is quite steep. There was the week 2 debacle against the Cowboys, whereby the Falcons lost after leading by twenty and showing they were professional athletes that didn't know the rules of their own sport. Or there was the Bears matchup in week 3, when the Falcons gave up a 16-point lead in 6 ½ minutes to Nick Foles, one week later.
But at least the Falcons were leading in those games, versus their games against Seattle and Green Bay, when they weren't even competitive. Dan Quinn is storing away embarrassing losses as though he were a squirrel storing away acorns for the winter. The guy's a defensive coach–where's the defense?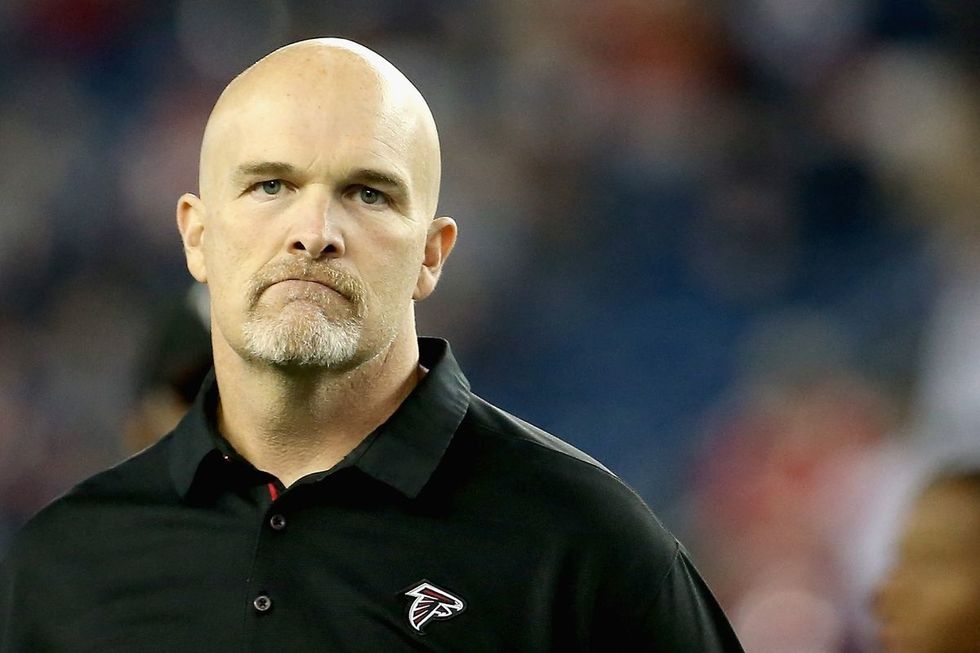 Falcons Head Coach, Dan QuinnPhoto by Adam Glanzman/Getty Images
3. Washington Football Team
Fans of the Washington Football Team are in between a rock and a hard place. In a terrible NFC East, Washington is only half a game back from leading the division at 1-3. And Dwayne Haskins has only started thirteen games, so you want to stay tuned and see growth from the kid. But the more you watch of him, the more you become convinced the young QB already needs to be replaced.
While Haskins has shown some marginal improvement in his second year, he's also making mistakes that will leave you pulling your hair out. Take this last week when Haskins, midway through the 4th quarter on a 4th and goal and down by two touchdowns, threw a dump off to the nine yard line, where his receiver was shortly thereafter pushed out of bounds. You have to score a touchdown in that situation–what are you doing, Dwayne? With rumors beginning to circulate that Haskins will soon be benched, it's time to start getting excited about the 2021 draft and regular season Washington Football fans.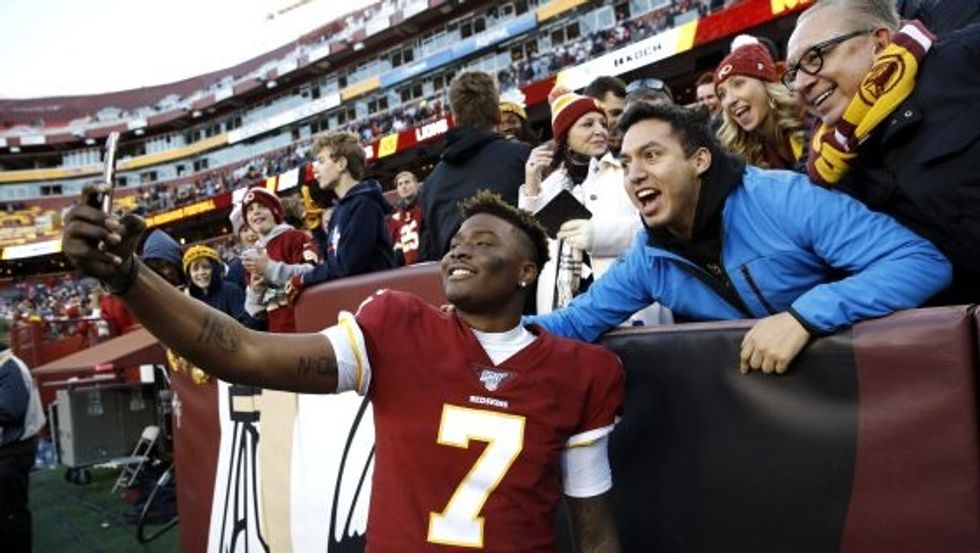 Dwayne Haskins, QuarterbackAP
4. New York Giants
It's hard to say what Giants fans should even be rooting for here. Quarterback, Daniel Jones, has shown potential at times, but he's also shown an affinity for fumbling the football. Through 17 games the young quarterback has fumbled the ball 21 times. General Manager Dave Gettleman is still trying to convince us that drafting Saquon Barkley 2nd overall was a stroke of genius. Now that Barkley is likely out the rest of the season, Gettleman's campaigning may be falling on deaf ears. Look for fans to begin calling for Gettleman's job if things don't begin to improve for the Giants down the stretch.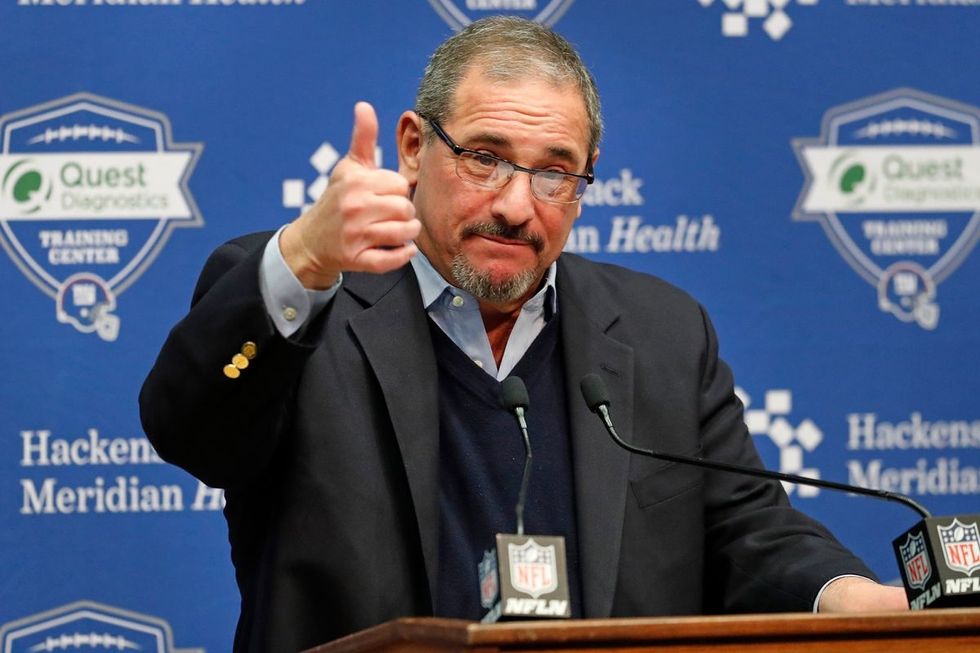 New York Giants General Manager, Dave Gettleman
5. Jacksonville Jaguars
Is Gardner Minshew THE GUY or just the guy we wish was THE GUY? I mean the dude has got a killer mustache and a great Instagram, but he's also played dangerously inconsistent this year. After an efficient week 1 performance it appeared Minshew Mania was full steam ahead. Now after four weeks, it feels like Minshew Mania may have been a media creation that parallels "Lin Sanity."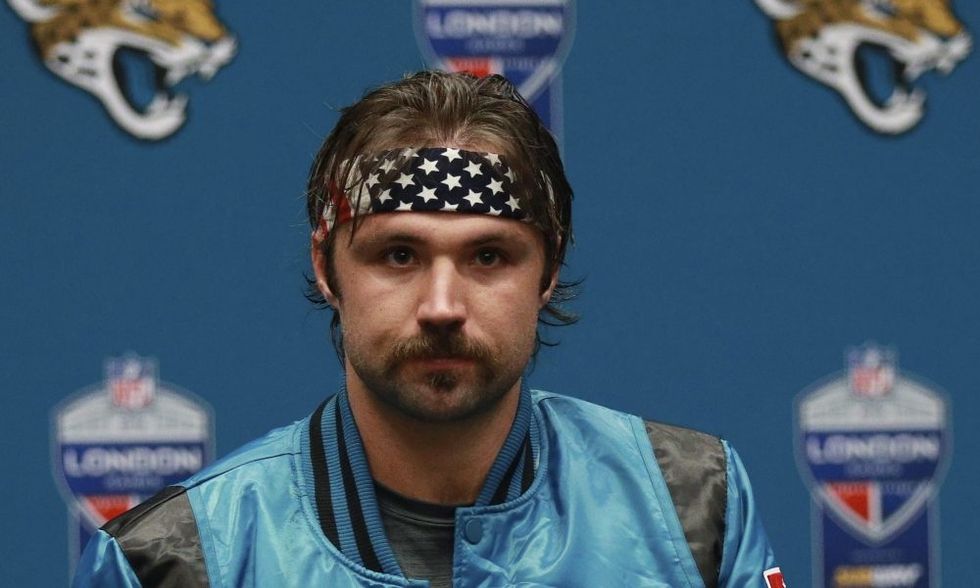 Jacksonville Jaguars Quarterback, Gardner Minshew
6. Chicago Bears
You could make the case the Chicago Bears could be higher on this list. And that's saying something considering the Bears are 4-1, and coming off a big win against Tom Brady and the Bucs. But I'm still not buying it. I think this team's in football purgatory. I just need to keep believing this record is hollow and imminently doomed.
This is a team still trying to outrun the fact they passed up on Patrick Mahomes and Deshaun Watson to draft Mitch Trubisky, trading up the draft board to do so, no less. Now Mitch is benched, and Watson and Mahomes are each top five quarterbacks. Now Nick Foles is at the helm at quarterback, but I just can't buy into Foles long term. Someone remind me: Why did this team not go after Cam Newton in the offseason?
If you ask me, there's nothing worse than getting "lucky" and stumbling into an erroneous good record for a bad organization. Such luck only worsens a team's draft position and ensures another year in football mediocrity. If the Bears can start collecting some losses, maybe just maybe they'll finally land a top-flight quarterback.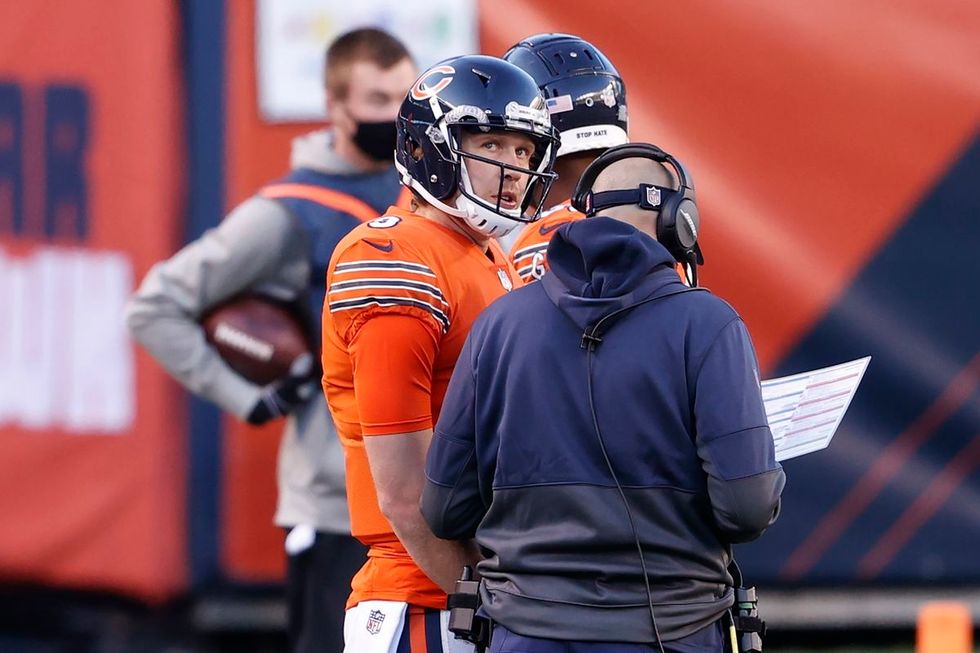 Chicago Bears Quarterback, Nick Foles standing with Head Coach, Matt NagyChicago Tribune
7. Detroit Lions
The Lions right now are the epitome of boring. It's an offensive attack in the first quarter of the season that has centered around geriatric running back Adrian Peterson. AP has looked almost spry. But what else can this offense supply? The Lions are the first team in NFL history to lose six straight games after leading by double digits. Matt Patricia is known to be a former rocket scientist. Maybe he should go back to the rocket science community. So far he hasn't been able to get the Lions off the launch pad.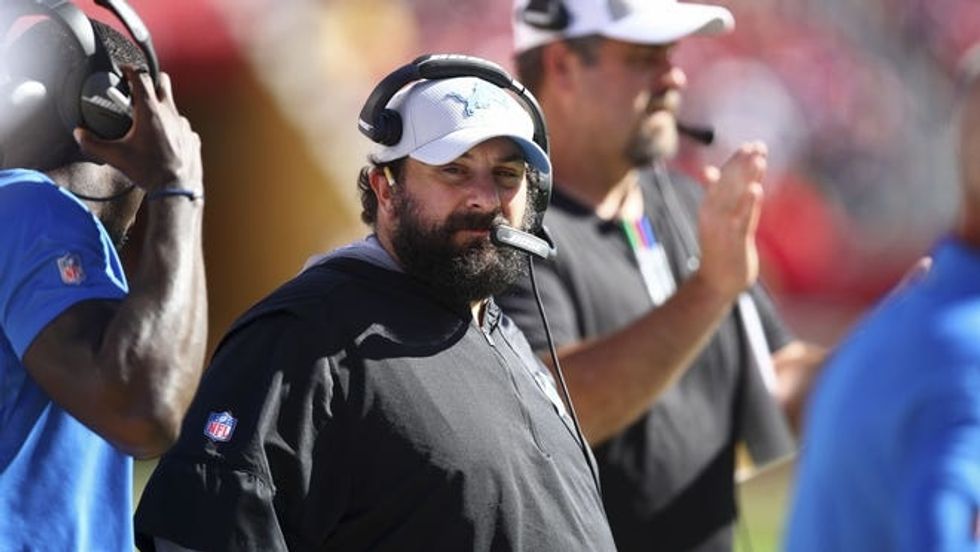 Detroit Lions Head Coach, Matt PatriciaThe Associated Press
8. Houston Texans
What a shame it is adding the Texans to the back of the list. Especially when it feels like what this team is really missing is the top flight wide receiver they gave away for pennies on the dollar. And there's really no point in rooting for losses. The Texans don't own their first and second round picks for 2021 as those were sent to Miami for Laremy Tunsil and Kenny Stills. The regime change is already under way after Bill O'Brien was fired, so you may as well root for this team to bounce back. And yes 0-4 is ugly, but the Texans collected those four losses at the hands of the Chiefs, Ravens, Steelers, and Vikings. If there's any team that can bounce back after going 0-4, it's a team led by Deshaun Watson. There is still a glimmer of hope.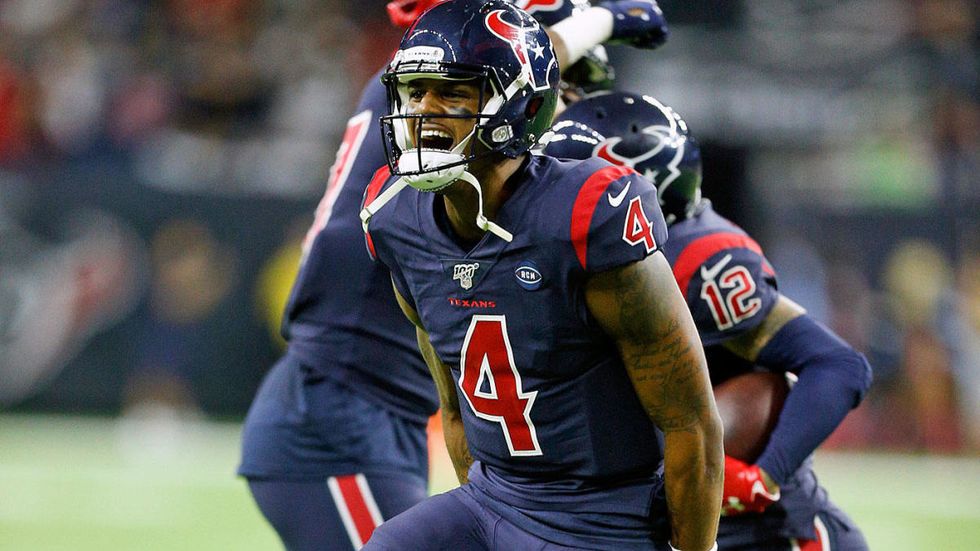 Houston Texans Quarterback, Deshuan Watson
Dishonorable Mention

Cincinnati Bengals - Just shut up and watch Joe Burrow work.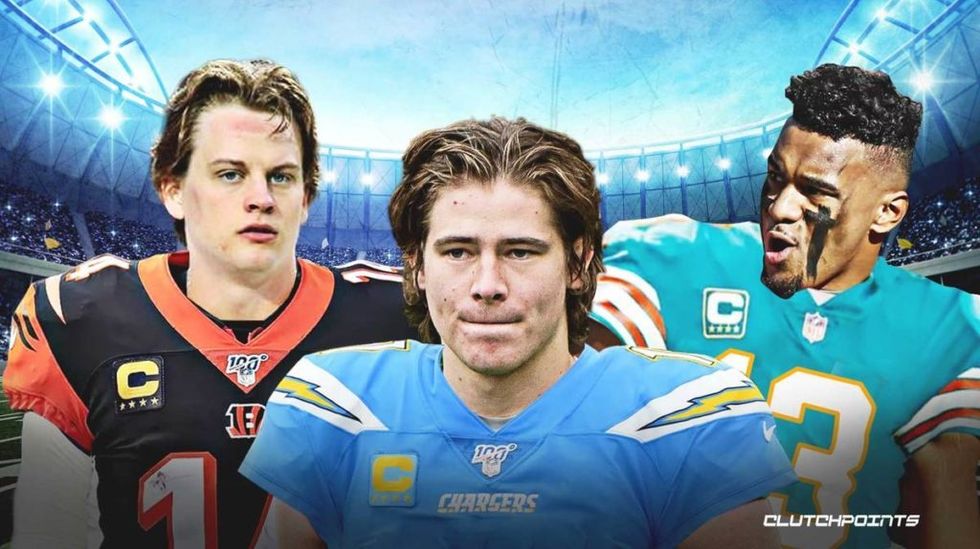 Cincinnati Bengals Quarterback, Joe Burrow; Los Angeles Chargers Quarterback, Justin Herbert, Miami Dolphins backup Quarterback, Tua Tagovailoa
Los Angeles Chargers - Remember what I said about Joe Burrow? Justin Herbert has looked even better. Man does this kid have a pretty deep ball.

Miami Dolphins - Fitzmagic is fun to watch. And when he ceases to be a delight Tua Tagovailoa won 22 of the 24 games he started in college.
Harry Scull Jr. /Buffalo News
As the NFL postseason got underway last week, it became clear we need to make some halftime adjustments with our picks this week.
The Ravens were an easy cover for us, especially once Lamer found his groove and the grooves in Tennessee's D. Throw in a few head scratching punts by Mike Vrabel and that does the trick.
Meanwhile, Stefon Diggs came up two catches short for us with three targets left on the table. It was always going to be tough to get that many grabs, but it was worth a few bucks just to see what would happen.
Please, please, please remind me never to bet unders. I haven't hit one all year and yet the siren's song calls me to shore. I maintain this is the best one I bet all year. The pick 6 and DK Metcalf bomb in the second quarter killed after the best start imaginable. After 15 minutes, we had a combined score of 3, 15 minutes of game time later? 30. Bananas.
Then I don't really know what else to say about Pittsburgh losing to Baker Mayfield and co. that hasn't already been said. I just have to edit my list of completely impossible things to put, "Snowing in the Sahara desert," and "Taylor Swift ever getting back together with Jake Gyllenhaal" above "The Browns beating the Steelers in the playoffs."
<p><strong>Saints -3 over Buccaneers</strong> </p><p>I kind of love this line. It opened at 3.5 and already dropped half a point with plenty of action on Tampa Bay. With any luck it'll drop under 3 for a real steal of a deal. These two divisional foes have played twice already, and neither game was particularly close. Before you claim a clean three game sweep is too difficult, allow me to note it's happened 21 times, and the team going for their third victory is 14-7. </p><!-- Ezoic - In-Content 3 --> <div id="ezoic-pub-ad-placeholder-106"><!-- /10937338/findbet/post-page-in-content-3 --> <div id="adslot" style="text-align: center;"><script>moreContentIC3()</script></div></div> <!-- End Ezoic - In-Content 3 --> <div align="center" id="findbet_incontent_1RWM3O"> <script data-cfasync="false" type="text/javascript"> freestar.config.enabled_slots.push({ placementName: "findbet_incontent_3", slotId: "findbet_incontent_1RWM3O" }); </script> </div><p>The first matchup was a tighter contest at 34-23 before the Saints went into Tampa, as 3 point underdogs, and put on a master class. Their defense was even more impressive than the offense that day, holding Arians and Brady to 3 points, as Brees engineered 38 points. Now things have obviously changed between then and now. </p><p>Drew Brees cracked nearly a dozen ribs and collapsed a lung, while Brady has really settled into an offense overflowing with weapons. It's worth noting that New Orleans' most impressive win was one of a handful of times when the ageless Brees, the <a href="https://theathletic.com/2323117/2021/01/14/nfl-alvin-kamara-movement-saints/" target="_blank">elusive Alvin Kamara</a>, and the <a href="https://www.canalstreetchronicles.com/2021/1/13/22227878/film-study-michael-thomas-return-drew-brees-saints-passing-game" target="_blank">dependable Michael Thomas</a> were all on the field together. Now that the full arsenal is assembled and prepared to take advantage of the Bucs biggest weakness, their secondary, at home with a harassing defense, I have no choice, but to back them big.</p><!-- Ezoic - In-Content 4 --> <div id="ezoic-pub-ad-placeholder-107"><!-- /10937338/findbet/post-page-in-content-4 --> <div id="adslot" style="text-align: center;"><script>moreContentIC4()</script></div></div> <!-- End Ezoic - In-Content 4 --> <div align="center" id="findbet_incontent_YYJLVR"> <script data-cfasync="false" type="text/javascript"> freestar.config.enabled_slots.push({ placementName: "findbet_incontent_4", slotId: "findbet_incontent_YYJLVR" }); </script> </div><p><br/></p><div class="rm-shortcode" data-rm-shortcode-id="30d94b11190a5a32e578fd9bde33820f" id="6bb44"><blockquote class="twitter-tweet twitter-custom-tweet" data-partner="rebelmouse" data-twitter-tweet-id="1348797993634455554"><div style="margin:1em 0">https://t.co/kvv2dNTmHS https://t.co/ND8nmGmZG7</div> — Tom Brady (@Tom Brady)<a href="https://twitter.com/TomBrady/statuses/1348797993634455554">1610413475.0</a></blockquote></div><p><br/></p><p><strong>Bills -2.5 over Ravens</strong><br/></p><p>The Bills defense allowed for the unlucky-in-4th-quarter-comebacks Phil Rivers to get close at the end and blow an easy seven point cover. The Ravens started slow last week, but managed to secure a cover and their own win by a touchdown. This feels to me like the best game of the weekend with the added storyline of two quarterbacks <a href="https://www.nfl.com/videos/next-gen-stats-lamar-vs..." target="_blank">battling it out to be the 2018 NFL Draft's best</a>. The Bills have statistically taken a huge leap into the second best offense in the league behind Allen and <a href="https://www.espn.com/nfl/story/_/id/30700731/brian..." target="_blank">Brian Daboll's improvements</a>, and have the added benefit of being the home team. Lamar will be able to keep this one close, but the offense around him lacks explosion. In a would-be shootout that's the difference maker.</p><!-- Ezoic - In-Content 5 --> <div id="ezoic-pub-ad-placeholder-108"><!-- /10937338/findbet/post-page-in-content-5 --> <div id="adslot" style="text-align: center;"><script>moreContentIC5()</script></div></div> <!-- End Ezoic - In-Content 5 --> <div align="center" id="findbet_incontent_YCTNNW"> <script data-cfasync="false" type="text/javascript"> freestar.config.enabled_slots.push({ placementName: "findbet_incontent_5", slotId: "findbet_incontent_YCTNNW" }); </script> </div><p><strong>Aaron Rodgers over 258.5 Pass Yards</strong></p><p>The Packers offense has been a well-oiled machine. Of course, betting against the Rams defense has proven to be foolhardy, especially last week, but consider two of the Rams worst losses this season. The 49ers got the best of the league's best twice, and who should share the same core offensive concepts with those Niners, but the Green Bay Packers? The Niners won those games with one-legged Jimmy G and Nick Mullens, who put up 268 and 252 respectively. Do I think Aaron Rodgers can outdo both of them with the league's best Davante Adams at his disposal? Yes. Maybe, I should have done this in the form of a question.</p><p><br/></p><div class="rm-shortcode" data-rm-shortcode-id="cf5a5b375a66b7e73306c1ecc4c4d83b" id="60f67"><blockquote class="twitter-tweet twitter-custom-tweet" data-partner="rebelmouse" data-twitter-tweet-id="1349130856619794434"><div style="margin:1em 0">Aaron Rodgers to guest host Jeopardy https://t.co/FVrEibGIdX</div> — ProFootballTalk (@ProFootballTalk)<a href="https://twitter.com/ProFootballTalk/statuses/1349130856619794434">1610492836.0</a></blockquote></div><p><br/></p><p><strong>Packers/Rams Over 47</strong></p><p>Let's bet an over! The Rams let up 20 points, even if the last TD was in garbage time, and managed 30 points on their own behind Goff's busted thumb. The Packers have averaged 31 points, 33.7 over the last three, and finished with a 35 point drumming of the Bears, who put up 16. Green Bay have been hot enough to melt the snow off Lambeau, and even if Aaron Donald <a href="https://www.nfl.com/news/rams-dt-aaron-donald-feels-no-pain-after-rib-injury-i-feel-strong-and-i-ll-be-re" target="_blank">claims his ribs are feeling good</a>, you have to imagine he won't be at full speed, which could rob the Rams of their biggest difference maker's first step. On the flip side, the Pack's D hasn't exactly been lights out. They give up on average 23 points a game, and give up a fair amount of yards on the ground that plays nicely into the Los Angeles game plan, especially given the recent surge of Cam Akers.</p><div align="center" id="findbet_incontent_J8Z0U9"> <script data-cfasync="false" type="text/javascript"> freestar.config.enabled_slots.push({ placementName: "findbet_incontent_6", slotId: "findbet_incontent_J8Z0U9" }); </script> </div><p>Just for fun, here's a clip of Aaron Donald tackling two guys on the same play in college. </p><p><br/></p><div class="rm-shortcode" data-rm-shortcode-id="c98615dfe5db0b7b1cf22767853cc235" id="b066a"><blockquote class="twitter-tweet twitter-custom-tweet" data-partner="rebelmouse" data-twitter-tweet-id="1298344194927235073"><div style="margin:1em 0">Aaron Donald tackling two dudes at once at Pitt is iconic 🔥 @AaronDonald97 @RamsNFL (via @Pitt_ATHLETICS) https://t.co/Dj2kkynYAC</div> — The Checkdown (@The Checkdown)<a href="https://twitter.com/thecheckdown/statuses/1298344194927235073">1598384352.0</a></blockquote></div><h3></h3><div class="rm-shortcode" data-rm-shortcode-id="c98615dfe5db0b7b1cf22767853cc235" id="b066a"><blockquote class="twitter-tweet twitter-custom-tweet" data-partner="rebelmouse" data-twitter-tweet-id="1298344194927235073"><div style="margin:1em 0">Aaron Donald tackling two dudes at once at Pitt is iconic 🔥 @AaronDonald97 @RamsNFL (via @Pitt_ATHLETICS) https://t.co/Dj2kkynYAC</div> — The Checkdown (@The Checkdown)<a href="https://twitter.com/thecheckdown/statuses/1298344194927235073">1598384352.0</a></blockquote></div>
Keep reading...
Show less
Brian Babineau/NBAE via Getty Images
Put on your general manager hat for a moment and ask yourself this question: If my team struggled mightily the past couple seasons, is struggling now and will continue to struggle, would I trade my franchise star?
It's an extremely difficult decision to make, but it's something the Washington Wizards have to be pondering with shooting guard Bradley Beal.
Beal has been on an absolute rampage through 11 games, posting a league-high 34.9 points per game on 49% shooting and 38% from distance. He's also dishing out five assists and grabbing 5.3 rebounds with 1.5 steals. All that in 36 minutes a night, yet the Wizards are 3-8 which is the third-worst record in the Eastern Conference.
"I'm pissed off," Beal told reporters after his 60-point game on Jan. 6. "I'm mad. I don't count [them]. ... Any of my career-highs, they've been in losses. So I don't give a damn. You can throw it right out the window with the other two or three I've had."
His frustration is evident, and though he hasn't verbalized that he wants out of D.C., it's hard not to think that the idea hasn't crossed his mind at least once with how bad the Wizards have been recently.
From 2018-20, they went a combined 57-97 with John Wall sidelined after he tore his Achilles. Before this season began, the Wizards acquired Russell Westbrook in exchange for Wall and a pick, thinking they were getting an upgrade at point guard. Plot twist, they weren't.
Wall is healthy and playing good basketball in Houston while Westbrook is sitting back-to-backs and is currently nursing a quad injury. More importantly, he doesn't make them much better because of his lack of defense and is thus piling up meaningless triple-doubles that don't translate to team success.
<p>Bringing in Russ was an attempt to not only strengthen the team but more importantly, to keep Beal happy and avoid a scenario in which he wants out.</p><!-- Ezoic - In-Content 3 --> <div id="ezoic-pub-ad-placeholder-106"><!-- /10937338/findbet/post-page-in-content-3 --> <div id="adslot" style="text-align: center;"><script>moreContentIC3()</script></div></div> <!-- End Ezoic - In-Content 3 --> <div align="center" id="findbet_incontent_0W8GP9"> <script data-cfasync="false" type="text/javascript"> freestar.config.enabled_slots.push({ placementName: "findbet_incontent_3", slotId: "findbet_incontent_0W8GP9" }); </script> </div><p>Trading Beal would obviously make the Wizards worse, we all know that. But they're not making the playoffs with this current roster, especially after Thomas Bryant went down for the year with ACL injury. And they are arguably the worst defensive team in the NBA, surrendering 121.3 points a night on 49% shooting, per Team Rankings. They are terrible and they are not magically going to improve overnight. Scott Brooks is on that hot seat, too. But not even a new coach can salvage this season.</p><p>The solution for Washington is to rebuild around its young talent including the aforementioned Bryant, Rui Hachimura, rookie Deni Avdija and Davis Bertans who's only 28.</p><!-- Ezoic - In-Content 4 --> <div id="ezoic-pub-ad-placeholder-107"><!-- /10937338/findbet/post-page-in-content-4 --> <div id="adslot" style="text-align: center;"><script>moreContentIC4()</script></div></div> <!-- End Ezoic - In-Content 4 --> <div align="center" id="findbet_incontent_V9C7EO"> <script data-cfasync="false" type="text/javascript"> freestar.config.enabled_slots.push({ placementName: "findbet_incontent_4", slotId: "findbet_incontent_V9C7EO" }); </script> </div><p><strong>What can the Wizards get for Beal?</strong></p><p>We saw the return Houston got from Brooklyn for James Harden. Four first-rounders, four pick swaps and Victor Oladipo after getting the Pacers involved in the deal. And though Beal isn't quite Harden, he's still an elite player who will command a massive haul for the Wizards. </p><p>The Blazers gave up two firsts for Robert Covington and the Bucks gave up Eric Bledsoe, two firsts and two pick swaps for Jrue Holiday. Beal is better than both of them. So general manager Tommy Sheppard will certainly get a combination of multiple players and picks for his superstar.</p><p><strong>Which teams would want Beal?</strong></p><p>A handful of contenders would presumably be interested in the two-time All-Star including the Nuggets, Heat, Sixers with teams like Hawks and Grizzlies on the outside looking in.</p><p>Denver could use Michael Porter Jr. as the centerpiece of a package and Miami could do the same with Tyler Herro. Philly also has young players like rookie Tyrese Maxey and defensive-minded Matisse Thybulle plus future assets that it could throw to the Wizards.</p><!-- Ezoic - In-Content 5 --> <div id="ezoic-pub-ad-placeholder-108"><!-- /10937338/findbet/post-page-in-content-5 --> <div id="adslot" style="text-align: center;"><script>moreContentIC5()</script></div></div> <!-- End Ezoic - In-Content 5 --> <div align="center" id="findbet_incontent_H59N1S"> <script data-cfasync="false" type="text/javascript"> freestar.config.enabled_slots.push({ placementName: "findbet_incontent_5", slotId: "findbet_incontent_H59N1S" }); </script> </div><p>And with the Nets now featuring a trio of Harden, Kevin Durant and Kyrie Irving, Heat president Pat Riley would be licking his chops to add Beal alongside Jimmy Butler and Bam Adebayo to return to the NBA Finals again this season.</p><h3></h3><p>Please, for the love of basketball, free Bradley Beal.</p>
Keep reading...
Show less
Each Friday, FindBet will preview the week's DFS slate, highlighting players that are priced well on DFS sites, as well as some contrarian plays that can push your team to the top of the leader board.
Most NFL DFS games have you putting a team together with players from a certain slate of games. It could be just Sunday 1:00 PM games, or it could be every game that is slated for the week. Once the last game that has eligible players is over, the final payouts are made according to how many fantasy points each team scored. Each player is worth a certain dollar amount, and you have a cap of $60,000 to build your team with. You have to have 1 QB, 2 RB, 3 WR, 1 TE, 1 FLEX (RB, WR, or TE) and 1 DEF.
The general scoring rules include (6) points for each rushing and receiving touchdown, (4) points for each passing touchdown, (0.1) points for each rushing and receiving yard gained, (0.04) points for each passing yard, and also (0.5) points for each reception. There are other scoring opportunities for defenses. Let's take a look at players we like in the first round of the NFL playoffs this weekend.
<p><span></span>Players to Target:</p><h2></h2><p><strong>Baker Mayfield (QB) - $7400</strong><br/></p><p>The Browns are going to need to have their best offensive game to date. The Chiefs are going to make it a priority to stop Cleveland's run game, which means more opportunities for Baker and the Browns' WRs.</p><p><strong>Clyde Edwards-Helaire (RB) - $6100</strong><br/></p><p>We've got a lot of investment this week in the Browns-Chiefs game. Edwards-Helaire is at a solid price this week for his projected workload. Even with Le'Veon Bell cutting into his work, he is a good play at this price.</p><p><!-- Ezoic - under_second_paragraph - under_second_paragraph --> <div id="ezoic-pub-ad-placeholder-813"><center><script async="" src="//pagead2.googlesyndication.com/pagead/js/adsbygoogle.js"></script> <ins class="adsbygoogle" data-ad-client="ca-pub-4301469008561137" data-ad-slot="9626795938" style="display:inline-block;width:468px;height:60px"></ins> <script> (adsbygoogle = window.adsbygoogle || []).push({}); </script></center></div> <!-- End Ezoic - under_second_paragraph - under_second_paragraph --></p><div class="rm-shortcode" data-rm-shortcode-id="41044ef183dc0947e08012ea66769a39" id="87164"><blockquote class="twitter-tweet twitter-custom-tweet" data-partner="rebelmouse" data-twitter-tweet-id="1349783104584609793"><div style="margin:1em 0">Wondering if Clyde Edwards-Helaire could get more run than we've seen yet vs. the Browns -15, 12, 21 and 15 touche… https://t.co/hAp3DlievP</div> — Ian Hartitz (@Ian Hartitz)<a href="https://twitter.com/Ihartitz/statuses/1349783104584609793">1610648344.0</a></blockquote></div><p><br/></p><p><strong>Nick Chubb (RB) - $8200</strong><br/></p><p>Chubb and Hunt had a great against the Steelers last week. The Browns will feed both Chubb and Hunt plenty against the Chiefs in an attempt to keep Patrick Mahomes off the field.</p><!-- Ezoic - In-Content 3 --> <div id="ezoic-pub-ad-placeholder-106"><!-- /10937338/findbet/post-page-in-content-3 --> <div id="adslot" style="text-align: center;"><script>moreContentIC3()</script></div></div> <!-- End Ezoic - In-Content 3 --> <div align="center" id="findbet_incontent_0A0B3J"> <script data-cfasync="false" type="text/javascript"> freestar.config.enabled_slots.push({ placementName: "findbet_incontent_3", slotId: "findbet_incontent_0A0B3J" }); </script> </div><p><strong>Mike Evans (WR) - $7100</strong><br/></p><p>Evans gets another shot to perform this week against a New Orleans defense that can be exploited. Tampa has a great shot to upset New Orleans this week.</p><div class="rm-shortcode" data-rm-shortcode-id="5e91caf74767327d0300324639e1c3dc" id="39343"><blockquote class="twitter-tweet twitter-custom-tweet" data-partner="rebelmouse" data-twitter-tweet-id="1348122741401124865"><div style="margin:1em 0">Mike Evans' 119 receiving yards is the most ever by a Buccaneer in a playoff game. The previous record was 106 by K… https://t.co/Rr8pI8ClaP</div> — Scott Smith (@Scott Smith)<a href="https://twitter.com/ScottSBucs/statuses/1348122741401124865">1610252483.0</a></blockquote></div><p><br/></p><p><strong>Demarcus Robinson (WR) - $5100</strong><br/></p><p>With Denzel Ward coming back at CB for the Browns, who will be shadowing Tyreek Hill, and with Sammy Watkins still nursing injuries, Demarcus Robinson has a real shot to produce on Sunday afternoon.</p><p><strong>Stefon Diggs (WR) - $8600</strong><br/></p><p>Diggs is becoming matchup proof, and a date with a tough Baltimore secondary isn't enough to scare us away of taking a shot again this week.</p><!-- Ezoic - In-Content 4 --> <div id="ezoic-pub-ad-placeholder-107"><!-- /10937338/findbet/post-page-in-content-4 --> <div id="adslot" style="text-align: center;"><script>moreContentIC4()</script></div></div> <!-- End Ezoic - In-Content 4 --> <div align="center" id="findbet_incontent_GEJB89"> <script data-cfasync="false" type="text/javascript"> freestar.config.enabled_slots.push({ placementName: "findbet_incontent_4", slotId: "findbet_incontent_GEJB89" }); </script> </div><p><strong>Mark Andrews (TE) - $6600</strong><br/></p><p>Andrews gets a Bills defense who has been atrocious against guarding TEs this year. You can see what Jack Doyle, Trey Burton and Mo Allie-Cox did against the Bills last week in the wildcard game as proof.</p><div class="rm-shortcode" data-rm-shortcode-id="0d8035910d2c4a77ea0f8fbd1884a8f5" id="bc304"><blockquote class="twitter-tweet twitter-custom-tweet" data-partner="rebelmouse" data-twitter-tweet-id="1350085997325910022"><div style="margin:1em 0">Buffalo has to keep an eye on #Ravens TE Mark Andrews a lottttt this weekend The #Bills allowed 993 receiving yard… https://t.co/D3hymv73XZ</div> — Nick (@Nick)<a href="https://twitter.com/Nick_Wojton/statuses/1350085997325910022">1610720559.0</a></blockquote></div><p><br/></p><p><strong>Cam Akers (RB) - $7000</strong><br/></p><p>Akers has been electric for the Rams late in the year. The Packers are extremely susceptible to the run, which should translate to a good day if the score remains close.</p><p><strong>Los Angeles Rams (DEF) - $3800 </strong><br/></p><p>Going out on a bit of a limb here, but I think the LA Rams can get a turnover or two and possibly even snag a TD to make this play worth it. </p><p><br/></p><h2>FindBet Free Play for the Divisional Round:</h2><p><strong>Here's a team you can put right into any of your contests, just remember to buy us a beer when you win big!</strong></p><p class="shortcode-media shortcode-media-rebelmouse-image"> <img class="rm-shortcode" data-rm-shortcode-id="4ad52c1a2f613fd05770de8fdb5c6eab" data-rm-shortcode-name="rebelmouse-image" data-runner-src="https://assets.rebelmouse.io/eyJhbGciOiJIUzI1NiIsInR5cCI6IkpXVCJ9.eyJpbWFnZSI6Imh0dHBzOi8vYXNzZXRzLnJibC5tcy8yNTQ1ODc2NS9vcmlnaW4ucG5nIiwiZXhwaXJlc19hdCI6MTY1NTg2NDY4Mn0.dQPegzld89iOct7mz6gSPmS0s0RXuDHhJoZFKsG16lk/img.png?width=980" id="22577" type="lazy-image"/> </p>
Keep reading...
Show less