Bill Streicher/USA Today Sports, via Reuters
Week 6 Vibe Check (2-3) This past week offered us a worthy entry into the Bad Beat Hall of Losers.
A brutal 22 point fourth quarter by the Eagles killed an easy -7.5 point cover by the Ravens, who haven't quite looked as dominant as we expected them to heading into this season. Meanwhile, the Panthers and Packers decided to make my big sweeping proclamations that Carolina's good and the Tampa Bay Bucs are bad look very silly.
As for my two wins, they were decent nail biters, too. The Titans, thanks to some creative coaching, managed to secure us a cover with a King Henry wildcat TD and the Chiefs showed us all a different dimension they have to crush people, their running game. This kept the game a little closer than most would've liked, but imagine adding Le'Veon Bell to this team. Yeah, start checking Super Bowl futures.
---
Speaking of the future, let's get a look at Week 7…
To be honest, there aren't a ton of games that I love on this slate. Seems like oddsmakers have this week dialed in and a lot of these match ups just seem a little off. However, the games that do call out to me all have one thing in common.
Road Favorites for the Win
Packers -3.5 over Texans
The Packers are coming off a brutal road loss, in which their offense got full on exposed by Todd Bowles and the Bucs. What's the best medicine for an offense still nursing their pride and trying to rebound? Playing against a defense allowing 5.4 yards per carry and having Aaron Jones on your team is a good start. The line on this should be higher, but the Texans playing a home drops the spread by a couple points. I expect and hope everyone will take advantage here. Heck, double up and bet Aaron Jones overs on yards, TDs, and anything else you can find!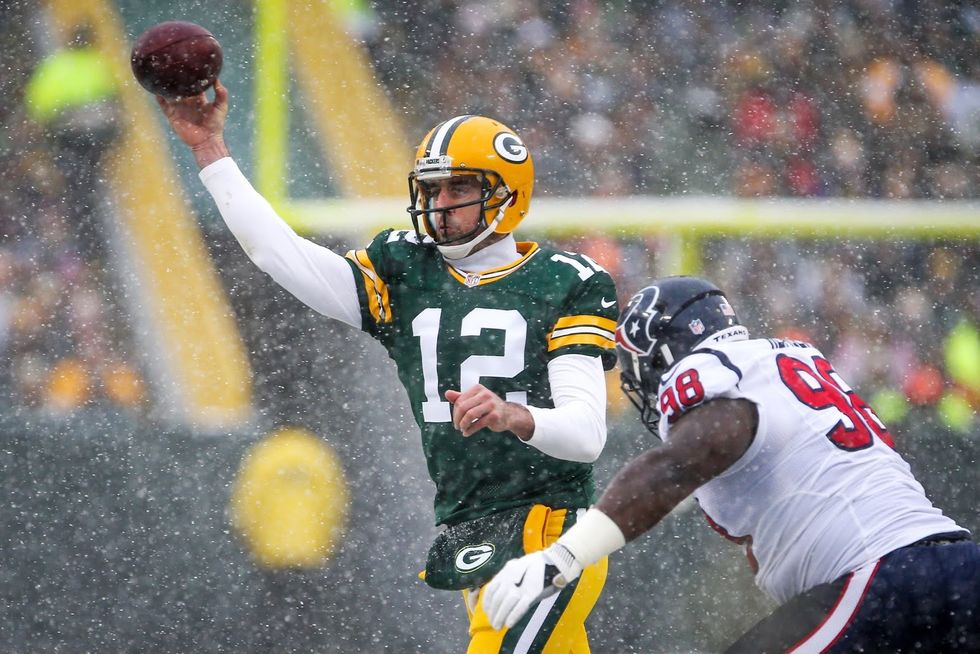 Aaron Rodgers will look to bounce back from a tough loss in Tampa Bay.(Photo by Dylan Buell/Getty Images)
Browns -3 over Bengals
The Browns are coming off a brutal road loss, in which their offense got full on exposed by Keith Butler and the Steelers. What's the best medicine for an offense still nursing their pride and trying to rebound? Playing a defense allowing 5.1 yards per carry and having Kareem Hunt on your team is a good start. Whoa. So, that's what Deja vu feels like. The only way this could be better for the Dawg Pound was if Nick Chubb was healthy. On the flip side, the Cleveland D has been porous, at times, but against the rookie Joe Burrow and a struggling Cincy offense, whom they've already handled once this year with ease, they'll have a chance to get right.
Seahawks -3 over Cardinals
Russell Wilson has cemented himself as the odds-on favorite for MVP on the strength of his glorious arm and ability to extend plays behind his middling offensive line. The Cardinals and Kyler Murray, the briefest of MVP candidates, have shown flashes, but thrown some duds in for equal measure. However, the biggest concern is their strength of opponent. In the past four weeks, they've lost to the Lions and Panthers, while beating up on the Darnold-less Jets and Dak-less Cowboys. The Seahawks are, by far, the best opponent this young and inconsistent team has faced and it's time for the real contender to do away with the pretender.
D'Andre Swift to Score a TD (+135)
The Georgia stud and rookie running back is coming off of his best game as a professional against the Jacksonville Jaguars. This feels like the moment he takes the leap towards being a consistent fantasy play and genuine offensive threat. He put up 116 yards on 14 carries for a gaudy 8.2 average with two touchdowns to boot. He's about to face another weak bottom half of the league rushing D, one who's let up the second most receptions to backs. Swift got four of those last week, so he's just as likely to punch one in via the air as the ground. For a little (lot of) extra value, you can always bet him to score the first TD at +1100.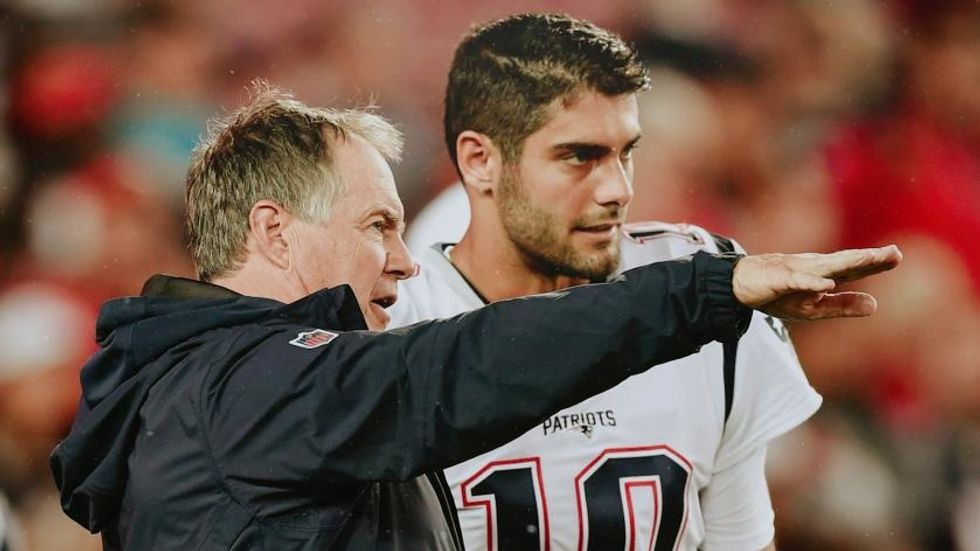 Jimmy Garoppolo receiving some hands on coaching from Bill Belichick, his former mentor and current opponent. Mark J. Rebilas-USA TODAY Sports
San Francisco vs New England over 43.5
The 49ers and Patriots are both having themselves some odd seasons. Cam Newton looked like his former self in the early going, but a COVID diagnosis derailed any momentum he or the team had before getting the Chiefs, an early bye, and the Broncos. Belichick isn't taking a three game losing streak without a fight, and will be working overtime to return his offense to their early season success. Not to mention, the mastermind is going up against his former backup, who he's definitely sick of having to talk about trading. Meanwhile, the 49ers have been ravaged by injuries, having the most guys on IR this season. This rash of bad luck included their starting QB, RB, WR, TE, CB, DE, and LB all missing time. It culminated in an ugly loss to the Dolphins, which seemed to be the wake up call the team needed to bounce back to beat the Rams. I could easily see this game scoring up into the high 20's with a pair of highly motivated offenses going against defenses, which haven't reached the heights of last season's former glory.
Michael Reaves/Getty Images
The 2021 MLB season is coming sooner than you'd think, judging by the temperatures we're seeing across the country.
As spring training is right around the corner, FindBet is releasing their initial power rankings for the 2021 season. These rankings will be updated throughout the season; but based on what teams have done since the end of last year, here are where we see all 30 teams standing going into this new campaign.
<p>We have seen some superstar players find new homes this offseason including Nolan Arenado, Blake Snell, and Francisco Lindor, just to name a couple. With some major contenders making moves to put themselves in a position to unseat the Dodgers as the reigning champs, this year is already shaping up to be a hot summer. </p><div class="rm-shortcode" data-rm-shortcode-id="2dcaf4df27666b6f646652050a9c532d" id="a6eee"><blockquote class="twitter-tweet twitter-custom-tweet" data-partner="rebelmouse" data-twitter-tweet-id="1362220016582627329"><div style="margin:1em 0">Agents for Corey Seager, Francisco Lindor, Carlos Correa and Javier Baez upon seeing Fernando Tatis Jr. contract ex… https://t.co/1KPvsMMpOf</div> — Bill Plunkett (@Bill Plunkett)<a href="https://twitter.com/billplunkettocr/statuses/1362220016582627329">1613613535.0</a></blockquote></div><p>Let's jump into the power rankings.<br/></p><p><!-- Ezoic - under_second_paragraph - under_second_paragraph --> <div id="ezoic-pub-ad-placeholder-813"><center><script async="" src="//pagead2.googlesyndication.com/pagead/js/adsbygoogle.js"></script> <ins class="adsbygoogle" data-ad-client="ca-pub-4301469008561137" data-ad-slot="9626795938" style="display:inline-block;width:468px;height:60px"></ins> <script> (adsbygoogle = window.adsbygoogle || []).push({}); </script></center></div> <!-- End Ezoic - under_second_paragraph - under_second_paragraph --></p><p><strong>30. Pittsburgh Pirates </strong></p><p><strong>2020: Finished 5th in NL Central (19-41)</strong></p> <div align="center" id="findbet_incontent_NAVNJM"> <script data-cfasync="false" type="text/javascript"> freestar.config.enabled_slots.push({ placementName: "findbet_incontent_2", slotId: "findbet_incontent_NAVNJM" }); </script> </div> <p>The Pirates finished with the worst record in baseball in the 60 game 2020 season. This offseason has seen them ship out starting pitchers, Joe Musgrove and Jameson Taillon along with all-star first baseman Josh Bell. 2021 is <em>not</em> going to be any better for Pirate fans, if anything it's going to be worse.</p><div class="rm-shortcode" data-rm-shortcode-id="33d12a2b41c4940f1358501a22af0b45" id="c190e"><blockquote class="twitter-tweet twitter-custom-tweet" data-partner="rebelmouse" data-twitter-tweet-id="1362887513103364099"><div style="margin:1em 0">Monster win total of 104 for the Los Angeles #Dodgers. Meanwhile the poor Pittsburgh #Pirates are below 60. https://t.co/HhQIX1jyx2</div> — . (@.)<a href="https://twitter.com/_CoronaLime_/statuses/1362887513103364099">1613772679.0</a></blockquote></div><p><br/></p>
Keep reading...
Show less
Getty Images, AP
Whether it all falls down like Kim and Kanye's marriage or you found your only one, scouring through the waiver wire is bound to leave you paranoid.
But if you want to be stronger and have more power in your fantasy leagues, take four, five seconds (or more) to read this column so you can find free-agent gems like a gold digger or drop a player that you don't like.
Here are some amazing and not so amazing players from the last week to help your team become champions.
Um…Jesus Walks.
<h3><u>Booms</u></h3><p><strong>Robert Covington Forward/Center Portland Trail Blazers</strong></p><p>Some players were made for small-ball basketball while others flounder with the challenge. Robert Covington has been the former for the past week.</p><p>The former full-time small forward has flourished playing power forward and center in small-ball lineups the past few years and he's flexing that versatility in Portland. Last week, he averaged an unremarkable 9.7 points, but he added 9.3 rebounds, two made threes, 1.3 steals and a ridiculous 4.7 blocks a game.</p> <div align="center" id="findbet_incontent_QM4UDX"> <script data-cfasync="false" type="text/javascript"> freestar.config.enabled_slots.push({ placementName: "findbet_incontent_2", slotId: "findbet_incontent_QM4UDX" }); </script> </div> <div class="rm-shortcode" data-rm-shortcode-id="fcfef53fc211e6b23cff911ca402bab3" id="61088"><blockquote class="twitter-tweet twitter-custom-tweet" data-partner="rebelmouse" data-twitter-tweet-id="1363714186631467014"><div style="margin:1em 0">I see you Robert Covington! 3P% Dec - 18.8% Jan - 30.3% Feb - 41.1% https://t.co/n3QDMIp9m1 #RipCity https://t.co/275j3Jt2cG</div> — Team Mom (@Team Mom)<a href="https://twitter.com/tcbbiggs/statuses/1363714186631467014">1613969773.0</a></blockquote></div><p>I don't care what your height is. If you're blocking 4.7 blocks a game, you're definitely worth an add.<br/></p><p><!-- Ezoic - under_second_paragraph - under_second_paragraph --> <div id="ezoic-pub-ad-placeholder-813"><center><script async="" src="//pagead2.googlesyndication.com/pagead/js/adsbygoogle.js"></script> <ins class="adsbygoogle" data-ad-client="ca-pub-4301469008561137" data-ad-slot="9626795938" style="display:inline-block;width:468px;height:60px"></ins> <script> (adsbygoogle = window.adsbygoogle || []).push({}); </script></center></div> <!-- End Ezoic - under_second_paragraph - under_second_paragraph --></p><p><strong>Davis Bertans Forward/Center Washington Wizards</strong></p><p>The beginning of the season was not kind to the usually accurate Bertans, who was only shooting 33.9 percent from the field heading into last week. For one week at least, it looks like the Latvian Laser has his rhythm back.</p><div class="rm-shortcode" data-rm-shortcode-id="7587e793c7b8d1679c751d4bcb7c5039" id="bb286"><blockquote class="twitter-tweet twitter-custom-tweet" data-partner="rebelmouse" data-twitter-tweet-id="1341911476034883587"><div style="margin:1em 0">My goodness, Davis Bertans is a SNIPER. 🔥 https://t.co/zmnHnorE2r</div> — Hoop Central (@Hoop Central)<a href="https://twitter.com/TheHoopCentral/statuses/1341911476034883587">1608771602.0</a></blockquote></div><p>Bertans hit 60.7 percent of his shots, including 64 percent from three-point range, resulting in an average of 5.3 threes made per game the last three games. He also contributed 19.7 points and one steal per game to round out what might be a turning point for the fifth-year player.<br/></p><p><br/></p><p><strong>Terrence Ross Guard/Forward Orlando Magic</strong></p><p>The Magic may be struggling to reach even the play-in tournament, but Terrence Ross is doing his part to keep the team in the hunt. The thirty-year-old vet is having his best year and last week he was on fire.</p> <div align="center" id="findbet_incontent_CLXJJD"> <script data-cfasync="false" type="text/javascript"> freestar.config.enabled_slots.push({ placementName: "findbet_incontent_3", slotId: "findbet_incontent_CLXJJD" }); </script> </div> <div class="rm-shortcode" data-rm-shortcode-id="33c0942dc031bd40a13ef2530f75e2fd" id="9ff91"><blockquote class="twitter-tweet twitter-custom-tweet" data-partner="rebelmouse" data-twitter-tweet-id="1363151551259410437"><div style="margin:1em 0">Terrance Ross is one of the few players that probably moves the needle at least by some margin. He's number 1 on my… https://t.co/4Lzjdncuca</div> — James Garcia (@James Garcia)<a href="https://twitter.com/JHappyChillmore/statuses/1363151551259410437">1613835630.0</a></blockquote></div><p>He averaged 23.7 points in three games while shooting 53.1 percent from the field, hitting four three-pointers and stealing 1.7 balls per game in that same span. If you have a chance to grab the Human Torch on the waiver wire, don't hesitate.<br/></p><p><strong>Robert Williams Center Boston Celtics</strong></p><p>On a team with Jayson Tatum, Jaylen Brown and Kemba Walker, other players tend to fall by the wayside in fans' minds, but one name fantasy managers should remember is Robert Williams.</p><div class="rm-shortcode" data-rm-shortcode-id="818b5d1e74b5cc6ba2550fa66b9fcb42" id="97629"><blockquote class="twitter-tweet twitter-custom-tweet" data-partner="rebelmouse" data-twitter-tweet-id="1363596740251779073"><div style="margin:1em 0">Robert Williams III on both ends! @celtics 30 @PelicansNBA 28 2Q underway 📺 ABC https://t.co/SHIilV1drX</div> — NBA (@NBA)<a href="https://twitter.com/NBA/statuses/1363596740251779073">1613941771.0</a></blockquote></div><p>He might have the sexiest stat lines, but he does enough dirty work that will help your team in key areas. This past week, he hit 78.3 percent of his shots, turned the ball over 0.5 times, grabbed 7.8 rebounds, stole 1.8 balls and blocked 2.5 shots per game. That is efficient production in five categories available in 27% of Yahoo leagues. Why haven't you picked him up yet?!<br/></p> <div align="center" id="findbet_incontent_B819JH"> <script data-cfasync="false" type="text/javascript"> freestar.config.enabled_slots.push({ placementName: "findbet_incontent_4", slotId: "findbet_incontent_B819JH" }); </script> </div> <h3><u>Busts</u></h3><p><strong>Lou Williams Guard Los Angeles Clippers</strong></p><p>Last week, Lou Williams was back to being Lemon Pepper Lou. This week, he's right back to being Louis Williams, the struggling shooter.</p><div class="rm-shortcode" data-rm-shortcode-id="fc08ecec0a61706eaf61f5f9fb5a3e39" id="1de20"><blockquote class="twitter-tweet twitter-custom-tweet" data-partner="rebelmouse" data-twitter-tweet-id="1358845854971400194"><div style="margin:1em 0">The Clippers have made it "widely known" that Lou Williams is available for trade, via Bleacher Report.</div> — Legion Hoops (@Legion Hoops)<a href="https://twitter.com/LegionHoops/statuses/1358845854971400194">1612809072.0</a></blockquote></div><p>While he has been averaging 14.5 points a game, he's only shot 38.1 percent from the field and only hitting one three per game in that same span. He has been a decent enough playmaker to offset some of his inaccuracy (five assists per game), so it may be worth it to hold onto him for at least another week.<br/></p><p><script async="" src="https://pagead2.googlesyndication.com/pagead/js/adsbygoogle.js"></script> <ins class="adsbygoogle" data-ad-client="ca-pub-4301469008561137" data-ad-format="fluid" data-ad-layout="in-article" data-ad-slot="1863811088" style="display:block; text-align:center;"></ins> <script> (adsbygoogle = window.adsbygoogle || []).push({}); </script></p> <div align="center" id="findbet_incontent_GMD6XC"> <script data-cfasync="false" type="text/javascript"> freestar.config.enabled_slots.push({ placementName: "findbet_incontent_5", slotId: "findbet_incontent_GMD6XC" }); </script> </div> <p><strong>De'Aaron Fox Point Guard Sacramento Kings</strong></p><p>Yes, Fox still averaged 15.8 points, 9.3 assists and 18 steals last week, but he needs to provide so much more if he wants to live up to his high draft status in many fantasy leagues.</p><p>The Sacramento guard finished last week shooting 39.7 percent from the field and 60 percent from the charity stripe. He also turned the ball over 3.8 times and only made one three per game in that same span.</p><div class="rm-shortcode" data-rm-shortcode-id="c7c966bd31ce51c36b8e887a962a4d69" id="f8d2b"><blockquote class="twitter-tweet twitter-custom-tweet" data-partner="rebelmouse" data-twitter-tweet-id="1361519074237321216"><div style="margin:1em 0">De'Aaron Fox is on pace for a big night after a strong first quarter 🦊 8 PTS 2 REB 5 AST https://t.co/H4TZOCl41I</div> — Franklin Cartoscelli (@Franklin Cartoscelli)<a href="https://twitter.com/FCartoscelli3/statuses/1361519074237321216">1613446417.0</a></blockquote></div><p>It may be time for Fox to be an All-Star, but his lack of production in fantasy has some managers putting him in time out instead.<br/></p><p><br/></p><p><strong>Kevin Huerter Guard/Forward Atlanta Hawks</strong></p><p>With so many injuries and COVID absences, many managers have turned to Kevin Huerter to help boost their teams. Unfortunately, his help has been more Andy Bernard than Dwight Schrute in terms of support quality.</p><p>The Hawks guard only averaged 7.8 points on 35.3 percent shooting while only making one three-pointer and grabbing 2.3 rebounds per game. If he's putting up those kinds of numbers while averaging 33.1 minutes in that span, it may be time to move on to greener pastures.</p> <div align="center" id="findbet_incontent_RLD3VK"> <script data-cfasync="false" type="text/javascript"> freestar.config.enabled_slots.push({ placementName: "findbet_incontent_6", slotId: "findbet_incontent_RLD3VK" }); </script> </div> <p><strong>Russell Westbrook Point Guard Washington Wizards</strong></p><p>Wait a second! How can a guy averaging a triple-double the last week be considered a bust? Well, those are the only categories he's positively contributing to.</p><div class="rm-shortcode" data-rm-shortcode-id="b7fdb0a2cf652f36d291c2305e1a2aa9" id="e3248"><blockquote class="twitter-tweet twitter-custom-tweet" data-partner="rebelmouse" data-twitter-tweet-id="1363355896655527936"><div style="margin:1em 0">RUSSELL WESTBROOK IS NOW TIED FOR THE MOST TRIPLE DOUBLES IN THE WIZARDS FRANCHISE HISTORY IN ONLY 20 GAMES 🔥🔥🔥🔥🔥💯 https://t.co/j5avZp2Tyf</div> — J͎a͎c͎k͎0️⃣🐳 (@J͎a͎c͎k͎0️⃣🐳)<a href="https://twitter.com/RockTheBabyRuss/statuses/1363355896655527936">1613884350.0</a></blockquote></div><h3></h3><p>He's shooting 44.4 percent from the field, turning the ball over 6.7 times, accounting for 0.7 steals and 0.3 blocks all while hitting zero three-pointers the last three games. He may be a former MVP, but he is also a bottom-tier fantasy contributor in 8-cat and 9-cat formats, no matter how much he is contributing to three categories.<br/></p>
Keep reading...
Show less
K.C. Alfred/The San Diego Union-Tribune
Fernando Tatis Jr.'s extension means that we've now seen the four richest contracts in MLB history signed in the past three off seasons.
Tatis' extension is worth $340 million over the next 14 years, and is the third richest contract in league history. Mike Trout still owns the biggest MLB contract at $426.5 million signed in 2019. Mookie Betts owns the second richest contract in league history that will earn him $365 million that he inked with the Dodgers in 2020.
Tatis's $340M extension is the 3rd-largest contract ever handed out in MLB history. 💰 Mike Trout - $426.5M 💰 Mooki… https://t.co/RmmtLHgzYq

— ESPN (@ESPN)1613613652.0
<p>Tatis is only 22 years old however and isn't coming with a long track record of success in the league so there is some inherent risk in this move by the Padres organization. To compare, Trout and Betts were both 27 when they signed their mega-deals. However, Tatis has burst onto the MLB scene since his debut and has been a driving force behind the Padres becoming must-watch TV. <br/></p> <div align="center" id="findbet_incontent_ITJWI0"> <script data-cfasync="false" type="text/javascript"> freestar.config.enabled_slots.push({ placementName: "findbet_incontent_2", slotId: "findbet_incontent_ITJWI0" }); </script> </div> <p>The young squad earned the moniker <em>Slam Diego</em> as the team increased their team home run ranking from <a href="https://www.espn.com/mlb/stats/team/_/season/2019/seasontype/2/table/batting/sort/homeRuns/dir/desc" target="_blank">20th in 2019</a> (Tatis' rookie season) to <a href="https://www.espn.com/mlb/stats/team/_/season/2020/seasontype/2/table/batting/sort/homeRuns/dir/desc" target="_blank">4th in 2020</a>. Tatis only played in 84 games during his rookie season due to a lower back injury that forced the team to shut him down for the year. He still managed to finish third in NL Rookie of the Year voting finishing with a .317 batting average, 22 home runs, and 53 runs batted in.</p><p><!-- Ezoic - under_second_paragraph - under_second_paragraph --> <div id="ezoic-pub-ad-placeholder-813"><center><script async="" src="//pagead2.googlesyndication.com/pagead/js/adsbygoogle.js"></script> <ins class="adsbygoogle" data-ad-client="ca-pub-4301469008561137" data-ad-slot="9626795938" style="display:inline-block;width:468px;height:60px"></ins> <script> (adsbygoogle = window.adsbygoogle || []).push({}); </script></center></div> <!-- End Ezoic - under_second_paragraph - under_second_paragraph --></p><p>To follow up on his stellar rookie performance Tatis continued to progress in his second MLB campaign in the truncated 2020 season. In the 60 game season Tatis slashed his way to a .277 batting average with 17 homers, 45 RBI, 50 runs scored and 11 steals and he <a href="https://www.baseball-reference.com/awards/awards_2020.shtml" target="_blank">finished fourth in NL MVP voting</a> trailing only Mookie Betts, his teammate Manny Machado, and the eventual winner of the award Freddie Freeman.<br/></p> <div align="center" id="findbet_incontent_EB5H70"> <script data-cfasync="false" type="text/javascript"> freestar.config.enabled_slots.push({ placementName: "findbet_incontent_3", slotId: "findbet_incontent_EB5H70" }); </script> </div> <p>Pretty good company to keep.</p><p>The Padres made it to the playoffs last year for the <a href="https://en.wikipedia.org/wiki/List_of_San_Diego_Padres_seasons" target="_blank">first time in 14 seasons</a>. Much of that was due to the explosive offense led by Machado and Tatis (now both with $300 million contracts). Tatis made the most of his playoff experience as he hit .318, smashed two homers, drove in five runs, and scored five runs himself in San Diego's matchups against the Cardinals and Dodgers in the 2020 postseason. <br/></p><p>San Diego fell just short of a World Series appearance last year, and the organization must feel like they are within striking distance of bringing a championship to Pacific Beach as they've been very active this offseason bringing in two all star caliber arms in Blake Snell and Yu Darvish. The Padres had spent the better part of a decade and a half floating up and down the standings in the NL West which allowed them to acquire a lot of high level talent in their farm system through the draft. The team in turn used a lot of those assets in acquiring Snell and Darvish in trades, but the results in San Diego owning one of the best looking starting rotations in baseball in 2021, and an even better one in 2022.</p> <div align="center" id="findbet_incontent_IHPKGH"> <script data-cfasync="false" type="text/javascript"> freestar.config.enabled_slots.push({ placementName: "findbet_incontent_4", slotId: "findbet_incontent_IHPKGH" }); </script> </div> <p>Darvish, who was once thought to be washed up, revitalized his career in Chicago with the Cubs and he finished second in NL Cy Young award voting last season. Darvish has returned to his dominant form we saw from him early on in his career with the Texas Rangers. Snell, a Cy Young winner himself in 2018, has to be excited to join a team with the kind of offense the Padres will be toting out there as his 3.24 career ERA should be good enough to get him close to that 21 win mark he had during his Cy Young year.</p> <div align="center" id="findbet_incontent_EHN178"> <script data-cfasync="false" type="text/javascript"> freestar.config.enabled_slots.push({ placementName: "findbet_incontent_5", slotId: "findbet_incontent_EHN178" }); </script> </div> <p><script async="" src="https://pagead2.googlesyndication.com/pagead/js/adsbygoogle.js"></script> <ins class="adsbygoogle" data-ad-client="ca-pub-4301469008561137" data-ad-format="fluid" data-ad-layout="in-article" data-ad-slot="1863811088" style="display:block; text-align:center;"></ins> <script> (adsbygoogle = window.adsbygoogle || []).push({}); </script></p><div class="rm-shortcode" data-rm-shortcode-id="a4be46c388c53eaedc87a48acbf4147e" id="3328d"><blockquote class="twitter-tweet twitter-custom-tweet" data-partner="rebelmouse" data-twitter-tweet-id="1361746336828170245"><div style="margin:1em 0">Padres have the best pitching staff in the league by 10% over 2nd place. https://t.co/jfhnnSxdgk</div> — peter thomas (@peter thomas)<a href="https://twitter.com/peterthomasgct/statuses/1361746336828170245">1613500601.0</a></blockquote></div><p>They will be joined by <a href="https://www.mlb.com/news/mike-clevinger-to-have-tommy-john-surgery" target="_blank">Mike Clevinger in 2022</a> when he returns from Tommy John surgery which must make the team's <em>old</em> ace, Dinelson Lamet, pretty happy considering the amount of pressure that is taken off his shoulders with all the help hitting the team's rotation. It doesn't appear that the Padres have many weaknesses heading into this season. One knock on them was they didn't have a clear closer at the end of their bullpen, but the <a href="https://www.si.com/mlb/2021/02/12/mark-melancon-signs-san-diego-padres" target="_blank">recent signing of veteran reliever, Mark Melancon</a>, should put those questions to bed.<br/></p><p>We're all excited to see the next installment of the <em>Slam Diego</em> series, but now that the left side of their infield is worth nearly three quarters of a billion dollars, there are going to be some hefty expectations for this young team to live up to. If you didn't have a reason to watch Tatis and the Padres this season, now you have 340 million of them.</p> <div align="center" id="findbet_incontent_YH2RVJ"> <script data-cfasync="false" type="text/javascript"> freestar.config.enabled_slots.push({ placementName: "findbet_incontent_6", slotId: "findbet_incontent_YH2RVJ" }); </script> </div> <h3></h3><h3></h3><h3></h3>
Keep reading...
Show less