Paul Rutherford-USA TODAY Sports
Running backs are and always will be the most coveted fantasy commodity—it's why you should honestly draft two of them first in every draft. After the dust settles from the first few weeks of the season, conversations quiet around which running backs to pursue, but 2020 marks an entirely different fantasy season.

This year, there are still worthwhile discussions about which running backs to drop, swap and shop in mid-November. Here is our list for Week 11.
s3.amazonaws.com
---
Drop
Phillip Lindsay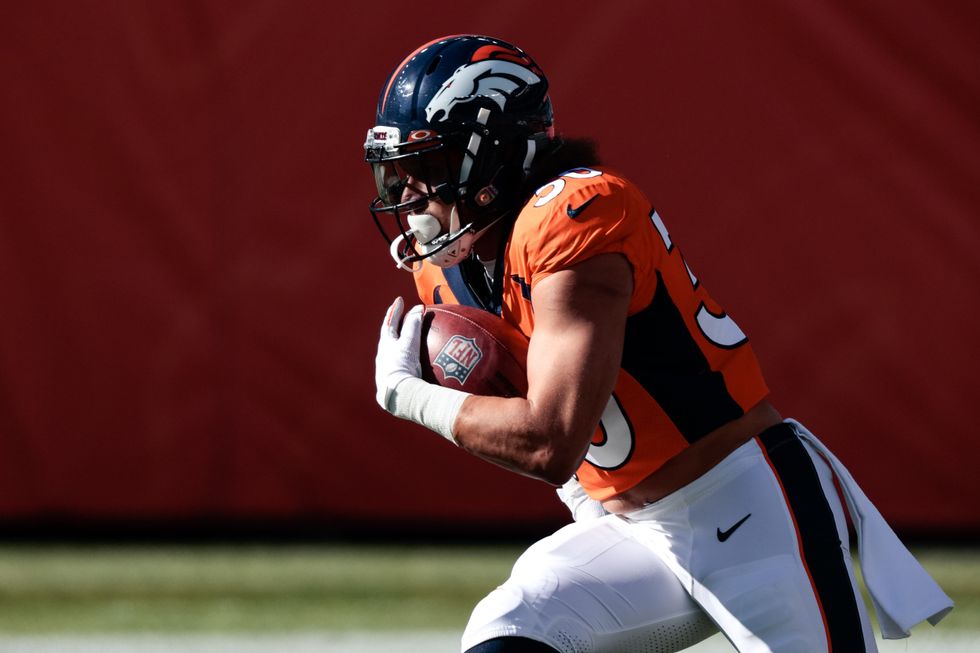 Isaiah J. Downing-USA TODAY Sports
When Denver signed Melvin Gordon, there was reasonable doubt that Phillip Lindsay would maintain the same level of production as he did in 2019. Those doubts seem to be founded, as Gordon has taken over as the primary Broncos back.
@StacyLinsay Elway has got to go. This man is averaging more than 6 yards per carry and these fools don't #FeedPhil it's just ridiculous

— Clint Askins (@Clint Askins)1605645441.0
Although Lindsay has been averaging 5.5 yards per carry (1.3 yards more than Gordon), Lindsay has only garnered double-digit touches once all season. Denver simply isn't feeding Lindsay the ball, which is likely a result of Gordon's proficiency as both a pass-catching and blocking back. With Gordon offering a more well-rounded repertoire on the field, it looks like Lindsay will be sidelined unless Gordon is injured. For now, Lindsay belongs on waivers unless he's handcuffed to Gordon.
Swap
Ronald Jones & Leonard Fournette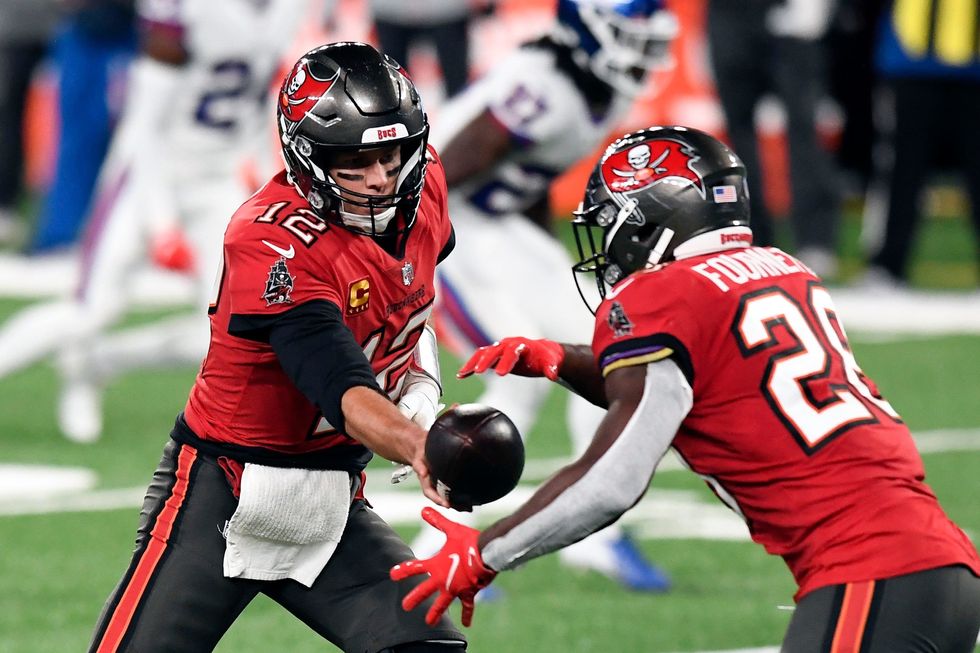 Danielle Parhizkaran/NorthJersey.com-Imagn Content Services, LLC
Among the more intriguing running back situations is the one in Tampa Bay. While Ronald Jones began as the featured back, the signing of former Jaguars star Leonard Fournette complicated the picture. In Week 11, fantasy managers still consider the question: Is there enough work for two viable fantasy backs in Tampa?
The answer is… kind of. Fournette is still getting work, but it hasn't been enough to start him in your lineup—Jones is the back you'll want to back this season.
@YahooFantasy Someone trading Robert Woods for Leonard Fournette in week 2 https://t.co/YPZ2mjX2xx

— Roy Winkelman (@Roy Winkelman)1605639722.0
Fournette has seen two touchdowns in seven games, but those touchdowns were both in Week 2. Outside of that exceptional Week 2 showing, Fournette hasn't seen more than 15 carries, nor has he notched more than 52 yards. However, Fournette does catch, which means he still retains some potential fantasy value.
Jones has remained a solid RB all season, dipping below 8 points in half-point PPR leagues only twice this season. One of those weeks was Week 10 against the Saints. On a Tom Brady offense full of options, Jones has found the end zone five times, and he manages 5.1 YPC. Jones is the guy, but Fournette remains a fantasy factor.
If you can include Fournette when trading away, it might be worth doing so—he could get some more solid opportunities as this Bucs offense continues to solidify. And if you can trade for Jones, he's certainly a running back you'll want to keep an eye on after a historic 98-yard run.
By Next Gen Stats, Bucs' Ronald Jones reached a top speed of 21.19 mph on his 98-yard touchdown run Sunday. Panther… https://t.co/Kbqt4spRXd

— Greg Auman (@Greg Auman)1605648110.0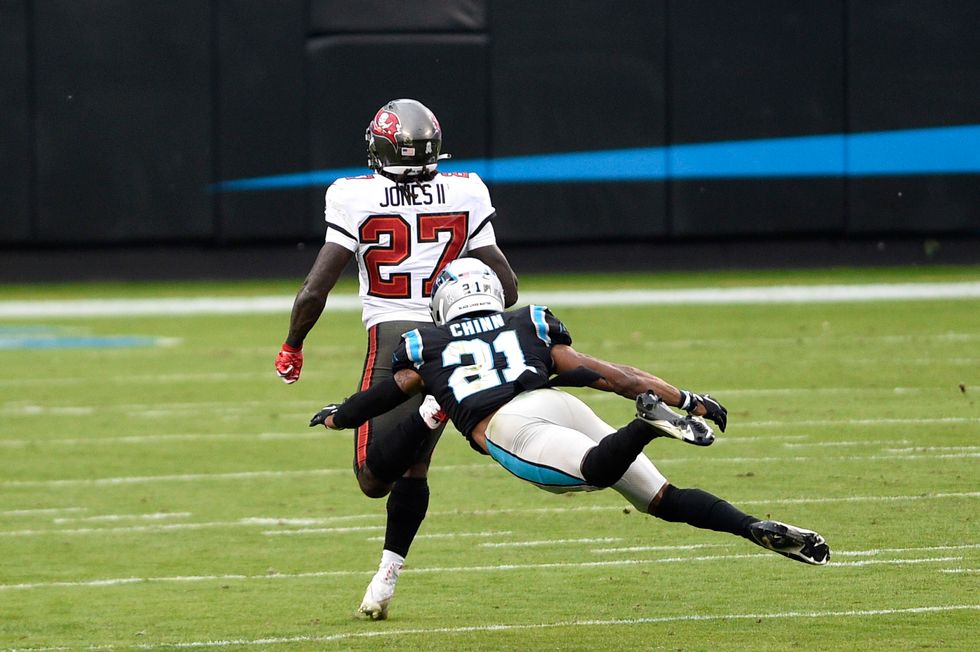 Bob Donnan-USA TODAY Sports
Shop
Jakobi Meyers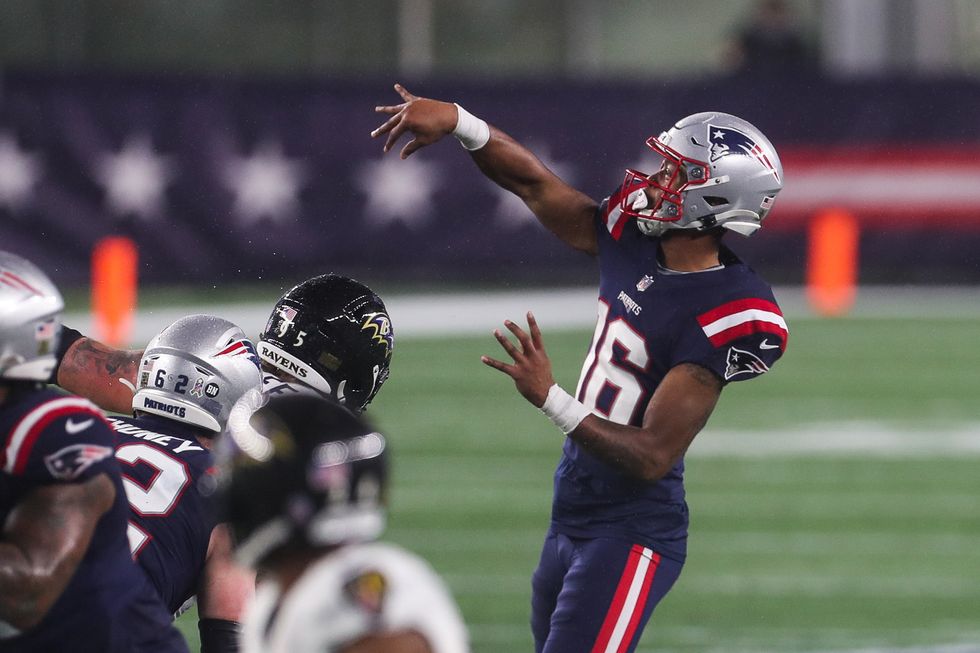 Paul Rutherford-USA TODAY Sports
Julian Edelman is out, right? And the Patriots need to pass to someone, right? And Cam Netwon is still the quarterback, right?
If all the above is true, then why is Jakobi Meyers only rostered in 38 percent of ESPN leagues?
It's a great question: Meyers has been nothing short of impressive since his bounceback game against San Francisco. While he hasn't scored a touchdown (come on, it's still the Patriots we're talking about), he's averaged about 10 yards per reception, making him a reliable passing option in an offense that is still fighting for first downs. As the Patriots build momentum after a big win against Baltimore, Meyers deserves the top spot on your waiver wire list this week against Houston.
Kalen Ballage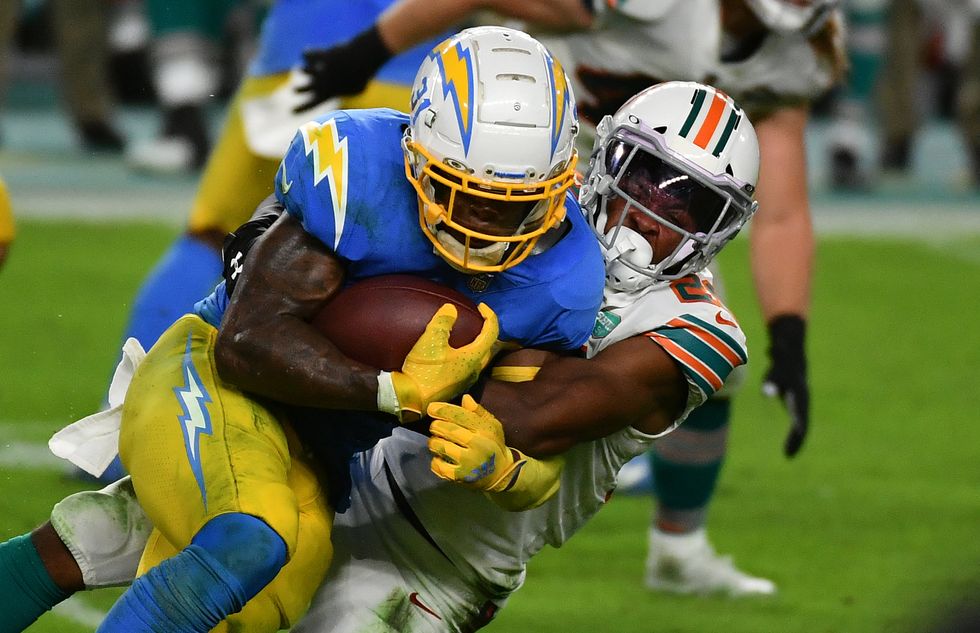 Jasen Vinlove-USA TODAY Sports
With all of 2020's injuries, there are still running back options on the waiver wire this late in the game. Chargers running back Kalen Ballage is the biggest score you can make if he's still available.
With Austin Ekeler and Justin Jackson injured, Ballage has stepped in with incredible back-to-back performances in the past two weeks. Despite the presence of Troymaine Pope and Joshua Kelley, Ballage seems to have taken the lead in this backfield, which coordinates nicely with an upcoming game against the Jets. Even with Ekeler's potential return in Week 12, Ballage is a talented player who will likely continue to see usage all season.
Running back waiver adds: Kalen Ballage - spot start until Ekeler returns. If JJack is back, temper expectations N… https://t.co/ObCodLyKBD

— The Fantasy Break (@The Fantasy Break)1605647961.0
Salvon Ahmed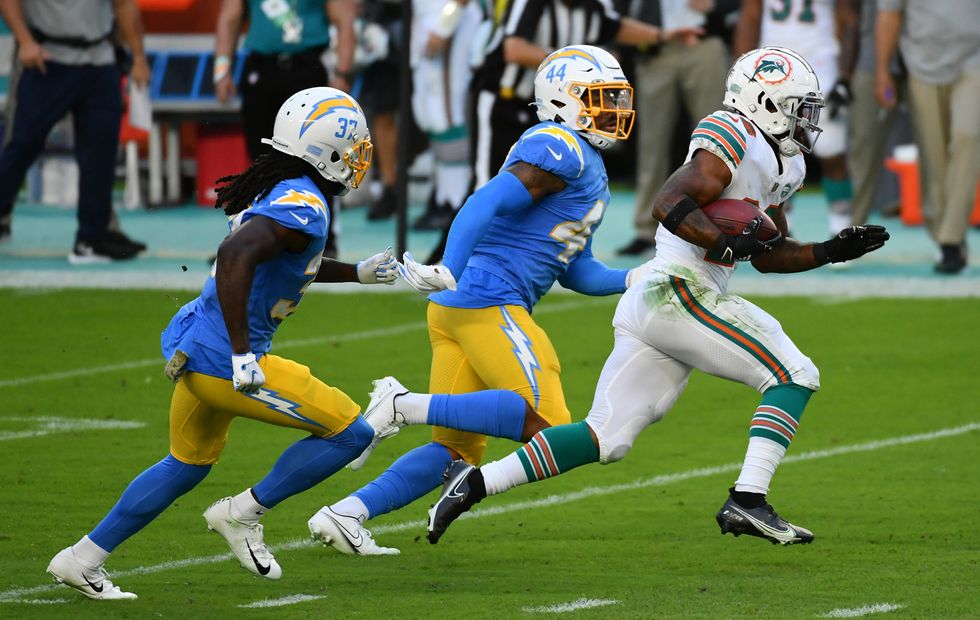 Jasen Vinlove-USA TODAY Sports
Another 2020 anomaly, Ahmed is Miami's main guy because Matt Breida, Jordan Howard and Lynn Bowden are all injured right now. After a meager game against the Cardinals, Ahmed arrived in Week 10 with 21 carries for 85 yards and a touchdown. Whether you have an injured Dolphins RB or need someone to tide you over while your early-round pick is out, Ahmed is poised to make the most out of a matchup against the Broncos this week.
From Your Site Articles
Related Articles Around the Web
Getty Images, AP
Whether it all falls down like Kim and Kanye's marriage or you found your only one, scouring through the waiver wire is bound to leave you paranoid.
But if you want to be stronger and have more power in your fantasy leagues, take four, five seconds (or more) to read this column so you can find free-agent gems like a gold digger or drop a player that you don't like.
Here are some amazing and not so amazing players from the last week to help your team become champions.
Um…Jesus Walks.
<h3><u>Booms</u></h3><p><strong>Robert Covington Forward/Center Portland Trail Blazers</strong></p><p>Some players were made for small-ball basketball while others flounder with the challenge. Robert Covington has been the former for the past week.</p><p>The former full-time small forward has flourished playing power forward and center in small-ball lineups the past few years and he's flexing that versatility in Portland. Last week, he averaged an unremarkable 9.7 points, but he added 9.3 rebounds, two made threes, 1.3 steals and a ridiculous 4.7 blocks a game.</p> <div align="center" id="findbet_incontent_UTARSC"> <script data-cfasync="false" type="text/javascript"> freestar.config.enabled_slots.push({ placementName: "findbet_incontent_2", slotId: "findbet_incontent_UTARSC" }); </script> </div> <div class="rm-shortcode" data-rm-shortcode-id="fcfef53fc211e6b23cff911ca402bab3" id="61088"><blockquote class="twitter-tweet twitter-custom-tweet" data-partner="rebelmouse" data-twitter-tweet-id="1363714186631467014"><div style="margin:1em 0">I see you Robert Covington! 3P% Dec - 18.8% Jan - 30.3% Feb - 41.1% https://t.co/n3QDMIp9m1 #RipCity https://t.co/275j3Jt2cG</div> — Team Mom (@Team Mom)<a href="https://twitter.com/tcbbiggs/statuses/1363714186631467014">1613969773.0</a></blockquote></div><p>I don't care what your height is. If you're blocking 4.7 blocks a game, you're definitely worth an add.<br/></p><p><!-- Ezoic - under_second_paragraph - under_second_paragraph --> <div id="ezoic-pub-ad-placeholder-813"><center><script async="" src="//pagead2.googlesyndication.com/pagead/js/adsbygoogle.js"></script> <ins class="adsbygoogle" data-ad-client="ca-pub-4301469008561137" data-ad-slot="9626795938" style="display:inline-block;width:468px;height:60px"></ins> <script> (adsbygoogle = window.adsbygoogle || []).push({}); </script></center></div> <!-- End Ezoic - under_second_paragraph - under_second_paragraph --></p><p><strong>Davis Bertans Forward/Center Washington Wizards</strong></p><p>The beginning of the season was not kind to the usually accurate Bertans, who was only shooting 33.9 percent from the field heading into last week. For one week at least, it looks like the Latvian Laser has his rhythm back.</p><div class="rm-shortcode" data-rm-shortcode-id="7587e793c7b8d1679c751d4bcb7c5039" id="bb286"><blockquote class="twitter-tweet twitter-custom-tweet" data-partner="rebelmouse" data-twitter-tweet-id="1341911476034883587"><div style="margin:1em 0">My goodness, Davis Bertans is a SNIPER. 🔥 https://t.co/zmnHnorE2r</div> — Hoop Central (@Hoop Central)<a href="https://twitter.com/TheHoopCentral/statuses/1341911476034883587">1608771602.0</a></blockquote></div><p>Bertans hit 60.7 percent of his shots, including 64 percent from three-point range, resulting in an average of 5.3 threes made per game the last three games. He also contributed 19.7 points and one steal per game to round out what might be a turning point for the fifth-year player.<br/></p><p><br/></p><p><strong>Terrence Ross Guard/Forward Orlando Magic</strong></p><p>The Magic may be struggling to reach even the play-in tournament, but Terrence Ross is doing his part to keep the team in the hunt. The thirty-year-old vet is having his best year and last week he was on fire.</p> <div align="center" id="findbet_incontent_XQZWD2"> <script data-cfasync="false" type="text/javascript"> freestar.config.enabled_slots.push({ placementName: "findbet_incontent_3", slotId: "findbet_incontent_XQZWD2" }); </script> </div> <div class="rm-shortcode" data-rm-shortcode-id="33c0942dc031bd40a13ef2530f75e2fd" id="9ff91"><blockquote class="twitter-tweet twitter-custom-tweet" data-partner="rebelmouse" data-twitter-tweet-id="1363151551259410437"><div style="margin:1em 0">Terrance Ross is one of the few players that probably moves the needle at least by some margin. He's number 1 on my… https://t.co/4Lzjdncuca</div> — James Garcia (@James Garcia)<a href="https://twitter.com/JHappyChillmore/statuses/1363151551259410437">1613835630.0</a></blockquote></div><p>He averaged 23.7 points in three games while shooting 53.1 percent from the field, hitting four three-pointers and stealing 1.7 balls per game in that same span. If you have a chance to grab the Human Torch on the waiver wire, don't hesitate.<br/></p><p><strong>Robert Williams Center Boston Celtics</strong></p><p>On a team with Jayson Tatum, Jaylen Brown and Kemba Walker, other players tend to fall by the wayside in fans' minds, but one name fantasy managers should remember is Robert Williams.</p><div class="rm-shortcode" data-rm-shortcode-id="818b5d1e74b5cc6ba2550fa66b9fcb42" id="97629"><blockquote class="twitter-tweet twitter-custom-tweet" data-partner="rebelmouse" data-twitter-tweet-id="1363596740251779073"><div style="margin:1em 0">Robert Williams III on both ends! @celtics 30 @PelicansNBA 28 2Q underway 📺 ABC https://t.co/SHIilV1drX</div> — NBA (@NBA)<a href="https://twitter.com/NBA/statuses/1363596740251779073">1613941771.0</a></blockquote></div><p>He might have the sexiest stat lines, but he does enough dirty work that will help your team in key areas. This past week, he hit 78.3 percent of his shots, turned the ball over 0.5 times, grabbed 7.8 rebounds, stole 1.8 balls and blocked 2.5 shots per game. That is efficient production in five categories available in 27% of Yahoo leagues. Why haven't you picked him up yet?!<br/></p> <div align="center" id="findbet_incontent_VSKWQQ"> <script data-cfasync="false" type="text/javascript"> freestar.config.enabled_slots.push({ placementName: "findbet_incontent_4", slotId: "findbet_incontent_VSKWQQ" }); </script> </div> <h3><u>Busts</u></h3><p><strong>Lou Williams Guard Los Angeles Clippers</strong></p><p>Last week, Lou Williams was back to being Lemon Pepper Lou. This week, he's right back to being Louis Williams, the struggling shooter.</p><div class="rm-shortcode" data-rm-shortcode-id="fc08ecec0a61706eaf61f5f9fb5a3e39" id="1de20"><blockquote class="twitter-tweet twitter-custom-tweet" data-partner="rebelmouse" data-twitter-tweet-id="1358845854971400194"><div style="margin:1em 0">The Clippers have made it "widely known" that Lou Williams is available for trade, via Bleacher Report.</div> — Legion Hoops (@Legion Hoops)<a href="https://twitter.com/LegionHoops/statuses/1358845854971400194">1612809072.0</a></blockquote></div><p>While he has been averaging 14.5 points a game, he's only shot 38.1 percent from the field and only hitting one three per game in that same span. He has been a decent enough playmaker to offset some of his inaccuracy (five assists per game), so it may be worth it to hold onto him for at least another week.<br/></p><p><script async="" src="https://pagead2.googlesyndication.com/pagead/js/adsbygoogle.js"></script> <ins class="adsbygoogle" data-ad-client="ca-pub-4301469008561137" data-ad-format="fluid" data-ad-layout="in-article" data-ad-slot="1863811088" style="display:block; text-align:center;"></ins> <script> (adsbygoogle = window.adsbygoogle || []).push({}); </script></p> <div align="center" id="findbet_incontent_LEGDUF"> <script data-cfasync="false" type="text/javascript"> freestar.config.enabled_slots.push({ placementName: "findbet_incontent_5", slotId: "findbet_incontent_LEGDUF" }); </script> </div> <p><strong>De'Aaron Fox Point Guard Sacramento Kings</strong></p><p>Yes, Fox still averaged 15.8 points, 9.3 assists and 18 steals last week, but he needs to provide so much more if he wants to live up to his high draft status in many fantasy leagues.</p><p>The Sacramento guard finished last week shooting 39.7 percent from the field and 60 percent from the charity stripe. He also turned the ball over 3.8 times and only made one three per game in that same span.</p><div class="rm-shortcode" data-rm-shortcode-id="c7c966bd31ce51c36b8e887a962a4d69" id="f8d2b"><blockquote class="twitter-tweet twitter-custom-tweet" data-partner="rebelmouse" data-twitter-tweet-id="1361519074237321216"><div style="margin:1em 0">De'Aaron Fox is on pace for a big night after a strong first quarter 🦊 8 PTS 2 REB 5 AST https://t.co/H4TZOCl41I</div> — Franklin Cartoscelli (@Franklin Cartoscelli)<a href="https://twitter.com/FCartoscelli3/statuses/1361519074237321216">1613446417.0</a></blockquote></div><p>It may be time for Fox to be an All-Star, but his lack of production in fantasy has some managers putting him in time out instead.<br/></p><p><br/></p><p><strong>Kevin Huerter Guard/Forward Atlanta Hawks</strong></p><p>With so many injuries and COVID absences, many managers have turned to Kevin Huerter to help boost their teams. Unfortunately, his help has been more Andy Bernard than Dwight Schrute in terms of support quality.</p><p>The Hawks guard only averaged 7.8 points on 35.3 percent shooting while only making one three-pointer and grabbing 2.3 rebounds per game. If he's putting up those kinds of numbers while averaging 33.1 minutes in that span, it may be time to move on to greener pastures.</p> <div align="center" id="findbet_incontent_090Q8L"> <script data-cfasync="false" type="text/javascript"> freestar.config.enabled_slots.push({ placementName: "findbet_incontent_6", slotId: "findbet_incontent_090Q8L" }); </script> </div> <p><strong>Russell Westbrook Point Guard Washington Wizards</strong></p><p>Wait a second! How can a guy averaging a triple-double the last week be considered a bust? Well, those are the only categories he's positively contributing to.</p><div class="rm-shortcode" data-rm-shortcode-id="b7fdb0a2cf652f36d291c2305e1a2aa9" id="e3248"><blockquote class="twitter-tweet twitter-custom-tweet" data-partner="rebelmouse" data-twitter-tweet-id="1363355896655527936"><div style="margin:1em 0">RUSSELL WESTBROOK IS NOW TIED FOR THE MOST TRIPLE DOUBLES IN THE WIZARDS FRANCHISE HISTORY IN ONLY 20 GAMES 🔥🔥🔥🔥🔥💯 https://t.co/j5avZp2Tyf</div> — J͎a͎c͎k͎0️⃣🐳 (@J͎a͎c͎k͎0️⃣🐳)<a href="https://twitter.com/RockTheBabyRuss/statuses/1363355896655527936">1613884350.0</a></blockquote></div><h3></h3><p>He's shooting 44.4 percent from the field, turning the ball over 6.7 times, accounting for 0.7 steals and 0.3 blocks all while hitting zero three-pointers the last three games. He may be a former MVP, but he is also a bottom-tier fantasy contributor in 8-cat and 9-cat formats, no matter how much he is contributing to three categories.<br/></p>
Keep reading...
Show less
K.C. Alfred/The San Diego Union-Tribune
Fernando Tatis Jr.'s extension means that we've now seen the four richest contracts in MLB history signed in the past three off seasons.
Tatis' extension is worth $340 million over the next 14 years, and is the third richest contract in league history. Mike Trout still owns the biggest MLB contract at $426.5 million signed in 2019. Mookie Betts owns the second richest contract in league history that will earn him $365 million that he inked with the Dodgers in 2020.
Tatis's $340M extension is the 3rd-largest contract ever handed out in MLB history. 💰 Mike Trout - $426.5M 💰 Mooki… https://t.co/RmmtLHgzYq

— ESPN (@ESPN)1613613652.0
<p>Tatis is only 22 years old however and isn't coming with a long track record of success in the league so there is some inherent risk in this move by the Padres organization. To compare, Trout and Betts were both 27 when they signed their mega-deals. However, Tatis has burst onto the MLB scene since his debut and has been a driving force behind the Padres becoming must-watch TV. <br/></p> <div align="center" id="findbet_incontent_WLIORT"> <script data-cfasync="false" type="text/javascript"> freestar.config.enabled_slots.push({ placementName: "findbet_incontent_2", slotId: "findbet_incontent_WLIORT" }); </script> </div> <p>The young squad earned the moniker <em>Slam Diego</em> as the team increased their team home run ranking from <a href="https://www.espn.com/mlb/stats/team/_/season/2019/seasontype/2/table/batting/sort/homeRuns/dir/desc" target="_blank">20th in 2019</a> (Tatis' rookie season) to <a href="https://www.espn.com/mlb/stats/team/_/season/2020/seasontype/2/table/batting/sort/homeRuns/dir/desc" target="_blank">4th in 2020</a>. Tatis only played in 84 games during his rookie season due to a lower back injury that forced the team to shut him down for the year. He still managed to finish third in NL Rookie of the Year voting finishing with a .317 batting average, 22 home runs, and 53 runs batted in.</p><p><!-- Ezoic - under_second_paragraph - under_second_paragraph --> <div id="ezoic-pub-ad-placeholder-813"><center><script async="" src="//pagead2.googlesyndication.com/pagead/js/adsbygoogle.js"></script> <ins class="adsbygoogle" data-ad-client="ca-pub-4301469008561137" data-ad-slot="9626795938" style="display:inline-block;width:468px;height:60px"></ins> <script> (adsbygoogle = window.adsbygoogle || []).push({}); </script></center></div> <!-- End Ezoic - under_second_paragraph - under_second_paragraph --></p><p>To follow up on his stellar rookie performance Tatis continued to progress in his second MLB campaign in the truncated 2020 season. In the 60 game season Tatis slashed his way to a .277 batting average with 17 homers, 45 RBI, 50 runs scored and 11 steals and he <a href="https://www.baseball-reference.com/awards/awards_2020.shtml" target="_blank">finished fourth in NL MVP voting</a> trailing only Mookie Betts, his teammate Manny Machado, and the eventual winner of the award Freddie Freeman.<br/></p> <div align="center" id="findbet_incontent_9CH2QV"> <script data-cfasync="false" type="text/javascript"> freestar.config.enabled_slots.push({ placementName: "findbet_incontent_3", slotId: "findbet_incontent_9CH2QV" }); </script> </div> <p>Pretty good company to keep.</p><p>The Padres made it to the playoffs last year for the <a href="https://en.wikipedia.org/wiki/List_of_San_Diego_Padres_seasons" target="_blank">first time in 14 seasons</a>. Much of that was due to the explosive offense led by Machado and Tatis (now both with $300 million contracts). Tatis made the most of his playoff experience as he hit .318, smashed two homers, drove in five runs, and scored five runs himself in San Diego's matchups against the Cardinals and Dodgers in the 2020 postseason. <br/></p><p>San Diego fell just short of a World Series appearance last year, and the organization must feel like they are within striking distance of bringing a championship to Pacific Beach as they've been very active this offseason bringing in two all star caliber arms in Blake Snell and Yu Darvish. The Padres had spent the better part of a decade and a half floating up and down the standings in the NL West which allowed them to acquire a lot of high level talent in their farm system through the draft. The team in turn used a lot of those assets in acquiring Snell and Darvish in trades, but the results in San Diego owning one of the best looking starting rotations in baseball in 2021, and an even better one in 2022.</p> <div align="center" id="findbet_incontent_BNQN21"> <script data-cfasync="false" type="text/javascript"> freestar.config.enabled_slots.push({ placementName: "findbet_incontent_4", slotId: "findbet_incontent_BNQN21" }); </script> </div> <p>Darvish, who was once thought to be washed up, revitalized his career in Chicago with the Cubs and he finished second in NL Cy Young award voting last season. Darvish has returned to his dominant form we saw from him early on in his career with the Texas Rangers. Snell, a Cy Young winner himself in 2018, has to be excited to join a team with the kind of offense the Padres will be toting out there as his 3.24 career ERA should be good enough to get him close to that 21 win mark he had during his Cy Young year.</p> <div align="center" id="findbet_incontent_FJJ18Z"> <script data-cfasync="false" type="text/javascript"> freestar.config.enabled_slots.push({ placementName: "findbet_incontent_5", slotId: "findbet_incontent_FJJ18Z" }); </script> </div> <p><script async="" src="https://pagead2.googlesyndication.com/pagead/js/adsbygoogle.js"></script> <ins class="adsbygoogle" data-ad-client="ca-pub-4301469008561137" data-ad-format="fluid" data-ad-layout="in-article" data-ad-slot="1863811088" style="display:block; text-align:center;"></ins> <script> (adsbygoogle = window.adsbygoogle || []).push({}); </script></p><div class="rm-shortcode" data-rm-shortcode-id="a4be46c388c53eaedc87a48acbf4147e" id="3328d"><blockquote class="twitter-tweet twitter-custom-tweet" data-partner="rebelmouse" data-twitter-tweet-id="1361746336828170245"><div style="margin:1em 0">Padres have the best pitching staff in the league by 10% over 2nd place. https://t.co/jfhnnSxdgk</div> — peter thomas (@peter thomas)<a href="https://twitter.com/peterthomasgct/statuses/1361746336828170245">1613500601.0</a></blockquote></div><p>They will be joined by <a href="https://www.mlb.com/news/mike-clevinger-to-have-tommy-john-surgery" target="_blank">Mike Clevinger in 2022</a> when he returns from Tommy John surgery which must make the team's <em>old</em> ace, Dinelson Lamet, pretty happy considering the amount of pressure that is taken off his shoulders with all the help hitting the team's rotation. It doesn't appear that the Padres have many weaknesses heading into this season. One knock on them was they didn't have a clear closer at the end of their bullpen, but the <a href="https://www.si.com/mlb/2021/02/12/mark-melancon-signs-san-diego-padres" target="_blank">recent signing of veteran reliever, Mark Melancon</a>, should put those questions to bed.<br/></p><p>We're all excited to see the next installment of the <em>Slam Diego</em> series, but now that the left side of their infield is worth nearly three quarters of a billion dollars, there are going to be some hefty expectations for this young team to live up to. If you didn't have a reason to watch Tatis and the Padres this season, now you have 340 million of them.</p> <div align="center" id="findbet_incontent_A3ZOXI"> <script data-cfasync="false" type="text/javascript"> freestar.config.enabled_slots.push({ placementName: "findbet_incontent_6", slotId: "findbet_incontent_A3ZOXI" }); </script> </div> <h3></h3><h3></h3><h3></h3>
Keep reading...
Show less
USA Today, Getty Images
If you tried to ask our someone without a mask on Valentine's Day or played fantasy basketball this past week, congratulations: You probably had your heart (and maybe your nose) broken.
Thankfully, you have us for waiver advance whether you're a stud or dud. Here are some of the hottest and coldest NBA players in Week 8 of the season.
<h3><u>Booms</u></h3><p><strong>Kyle Anderson Guard/Forward Memphis Grizzlies</strong></p><p>They call him Slow Mo, but speed has nothing to do with Kyle Anderson's game. The former UCLA star has methodically had a career year and is contributing to all categories, averaging 16.3 points, 4.5 rebounds, four rebounds, two steals, one block and 2.5 threes in the last four games while shooting 54.5 percent from the field.</p><p><!-- Ezoic - under_second_paragraph - under_second_paragraph --> <div id="ezoic-pub-ad-placeholder-813"><center><script async="" src="//pagead2.googlesyndication.com/pagead/js/adsbygoogle.js"></script> <ins class="adsbygoogle" data-ad-client="ca-pub-4301469008561137" data-ad-slot="9626795938" style="display:inline-block;width:468px;height:60px"></ins> <script> (adsbygoogle = window.adsbygoogle || []).push({}); </script></center></div> <!-- End Ezoic - under_second_paragraph - under_second_paragraph --></p><div class="rm-shortcode" data-rm-shortcode-id="86f8b4837eb687aabee8ec711448430c" id="5d366"><blockquote class="twitter-tweet twitter-custom-tweet" data-partner="rebelmouse" data-twitter-tweet-id="1362261017871458306"><div style="margin:1em 0">Kyle Anderson (20 PTS, 5 STL) and the @memgrizz win at home! Jonas Valanciunas: 22 PTS, 12 REB Grayson Allen: 22 P… https://t.co/kAdMIfDj3D</div> — NBA (@NBA)<a href="https://twitter.com/NBA/statuses/1362261017871458306">1613623310.0</a></blockquote></div><p>Only 65 percent of fantasy teams on Yahoo have the seven-year stud, so If you need a solid overall contributor, he is probably available in your league.<br/></p><p><strong>Lou Williams Guard Los Angeles Clippers</strong></p> <div align="center" id="findbet_incontent_2SWQAB"> <script data-cfasync="false" type="text/javascript"> freestar.config.enabled_slots.push({ placementName: "findbet_incontent_2", slotId: "findbet_incontent_2SWQAB" }); </script> </div> <p>Lemon Pepper Lou is back! The sixth man extraordinaire has had a rough year for sure, but he started warming up this past week, averaging 24.7 points, 6.3 assists and one steal on 56 percent shooting from the field in the last three contests.</p><div class="rm-shortcode" data-rm-shortcode-id="0ee8588e43fd9252745bf065a4c22710" id="561d9"><blockquote class="twitter-tweet twitter-custom-tweet" data-partner="rebelmouse" data-twitter-tweet-id="1361184802997743617"><div style="margin:1em 0">Lou Williams tonight: 30 points 10 assists 10/22 FG 8/8 FT Always solid ✊ https://t.co/aa7HiryP1f</div> — NBA Central (@NBA Central)<a href="https://twitter.com/TheNBACentral/statuses/1361184802997743617">1613366721.0</a></blockquote></div><p>Williams is relatively available on waiver wires with only 67 percent of Yahoo teams rostering him and his streaky shooting. If you can stomach the lows (and potential Magic City trips), he is worth the pickup.<br/></p><p><strong>Jakob Poeltl Center San Antonio Spurs</strong></p><p>An international big man quietly flourishing in San Antonio? What a shocker. Poeltl was a throw-in addition to the trade that netted the Spurs DeMar DeRozen, but he has proven to be a solid presence in the middle for Gregg Popovich, averaging 10 points, 10 rebounds, one steal and 3.3(!) blocks while 70.4 percent in the last four games.</p><p>If you need a boost in your center slot, look no further than the Big Austrian.</p> <div align="center" id="findbet_incontent_J0MWKK"> <script data-cfasync="false" type="text/javascript"> freestar.config.enabled_slots.push({ placementName: "findbet_incontent_3", slotId: "findbet_incontent_J0MWKK" }); </script> </div> <p><strong>Saddiq Bey Small Forward Detroit Pistons</strong></p><p>Everyone has their eyes on LaMelo Ball and Anthony Edwards, but Saddiq Bey is starting to make an impact in his rookie year. He was named NBA Player of the Week, only the second rookie Piston ever to earn the honor, averaging 17.8 points, 5.5 rebounds and four made three-pointers while shooting a ridiculous 69.6 percent from three and 71.4 percent from the field last week.</p><p>With Pistons deciding to sit Griffin while deciding his future with the team, Bey is in line to be fed a huge helping of minutes. And with only 28 percent of Yahoo teams rostering him, you may have a pretty good shot at getting the former Villanova forward.</p> <div align="center" id="findbet_incontent_WXEHDS"> <script data-cfasync="false" type="text/javascript"> freestar.config.enabled_slots.push({ placementName: "findbet_incontent_4", slotId: "findbet_incontent_WXEHDS" }); </script> </div> <p><script async="" src="https://pagead2.googlesyndication.com/pagead/js/adsbygoogle.js"></script> <ins class="adsbygoogle" data-ad-client="ca-pub-4301469008561137" data-ad-format="fluid" data-ad-layout="in-article" data-ad-slot="1863811088" style="display:block; text-align:center;"></ins> <script> (adsbygoogle = window.adsbygoogle || []).push({}); </script></p><h3><u>Busts</u></h3><p><strong>Ja Morant Point Guard Memphis Grizzlies</strong></p><p>Morant exploded onto the scene last season, but teams are now better prepared for his skill set and it's showing in his numbers. He was particularly cold this past week, shooting 37.3 percent from the field and only hitting one three-pointer per game.</p><div class="rm-shortcode" data-rm-shortcode-id="dcc64cadcb669be0e843c8ec265f377f" id="e8973"><blockquote class="twitter-tweet twitter-custom-tweet" data-partner="rebelmouse" data-twitter-tweet-id="1361202170020904963"><div style="margin:1em 0">"I'm not a stat chaser, I'm just trying to win games." - @JaMorant https://t.co/gb9rWvlrGm</div> — FOX Sports Grizzlies (@FOX Sports Grizzlies)<a href="https://twitter.com/GrizzliesOnFSSE/statuses/1361202170020904963">1613370861.0</a></blockquote></div><p>He still averaged 10 assists this past week and scored nearly 17.8 points, but his efficiency and lack of production in the other categories (0.5 steals and 2.3 rebounds the last four games) is making it hard to trust him right now.<br/></p><p><strong>Eric Bledsoe Guard New Orleans Pelicans</strong></p><p>After a hot end of January, Bledsoe may be on the chopping block with the Pelicans and fantasy managers. With Kira Lewis Jr. starting to cut into his minutes, the former Kentucky guard has seen a drop in his production, averaging 9.3 points, 3.3 rebounds and 3.3 assists on 35.5 percent shooting.</p> <div align="center" id="findbet_incontent_9TNORX"> <script data-cfasync="false" type="text/javascript"> freestar.config.enabled_slots.push({ placementName: "findbet_incontent_5", slotId: "findbet_incontent_9TNORX" }); </script> </div> <p>As far as fading assets go, Bledsoe might be disappearing faster than Marty McFly's brother and sister in "Back to the Future."</p><p><strong>Andre Drummond Center Cleveland Cavaliers</strong></p><p>When NBC Sports Edge uses "uninterested" to describe what your play over the last week, things aren't going well for you. Then again, things haven't been going well for Drummond most of the season, but last week he averaged nine points, 8.3 rebounds and 1.7 assists while shooting 42.9 percent from the field.</p><div class="rm-shortcode" data-rm-shortcode-id="1391a9c75396bcb9d1a144bec7d37587" id="d3961"><blockquote class="twitter-tweet twitter-custom-tweet" data-partner="rebelmouse" data-twitter-tweet-id="1361399197900046336"><div style="margin:1em 0">"He can get you 30-20 and have no impact on the game." -NBA Scout on Andre Drummond (via @SmithRaps) https://t.co/aJClQam9Im</div> — Hoop Central (@Hoop Central)<a href="https://twitter.com/TheHoopCentral/statuses/1361399197900046336">1613417837.0</a></blockquote></div><p>He was also kept out of Sunday's game for "rest" AKA keeping him healthy so he can be traded. His days with Cavs appear to be over, but he's worth holding to see what situation he gets shipped to.<br/></p><p><strong>Harrison Barnes Forward Sacramento Kings</strong></p><p>We were singing his praises a couple of weeks ago, but Barnes is on our busts list this week. In three games last week, Barnes only managed to score 9.7 points and 0.7 made threes while shooting 37.5 percent from the field. His 5.3 rebounds and 3.3 assists per game also left a lot to be desired especially while he was averaging 33.2 minutes in that same stretch.</p> <div align="center" id="findbet_incontent_BT278U"> <script data-cfasync="false" type="text/javascript"> freestar.config.enabled_slots.push({ placementName: "findbet_incontent_6", slotId: "findbet_incontent_BT278U" }); </script> </div> <h2></h2><p>Barnes tends to run hot and cold, but he is having a career year. Managers might be looking at this stretch as a short lull before he heats up.</p>
Keep reading...
Show less