Each Friday, FindBet will preview the week's DFS slate, highlighting players that are priced well on FanDuel, as well as some contrarian plays that can push your team to the top of the leader board.

Most NFL FanDuel games have you putting a team together with players from a certain slate of games. It could be just Sunday 1:00 PM games or it could be every game that is slated for the week.
Once the last game that has eligible players is over, the final payouts are made according to how many fantasy points each team scored. Each player is worth a certain dollar amount, and you have a cap of $60,000 to build your team with. You have to have 1 QB, 2 RB, 3 WR, 1 TE, 1 FLEX (RB, WR, or TE) and 1 DEF.
The general scoring rules include (6) points for each rushing and receiving touchdown, (4) points for each passing touchdown, (0.1) points for each rushing and receiving yard gained, (0.04) points for each passing yard, and also (0.5) points for each reception. There are other scoring opportunities for defenses. You can see the entire breakdown on FanDuel. Let's take a look at players we like this week.
---
Josh Allen (QB) - $8600
Allen comes out of the bye to face a Chargers defense without Casey Hyward and Melvin Ingram. He has been a top 5 fantasy QB most weeks and should score points in a dual with Justin Herbert.

Dalvin Cook (RB) - $11000

I never like to pay top dollar for players in DFS, but this is the week to pay up for Dalvin Cook. Possibly no Adam Thielen in a game against the Panthers means more chances for Cook to, well, cook!
RB rankings for Week 12 1. Dalvin Cook 2. Aaron Jones 3. James Robinson 4. Alvin Kamara Full rankings ➡️… https://t.co/ANpmHLXC47

— PFF Fantasy Football (@PFF Fantasy Football)1606496530.0
Jonathan Taylor (RB) - $6400

Taylor has struggled in previous weeks, but finally got a chance to show what he could do in Week 11 with a true workhorse role and he didn't disappoint. Because we are going with Dalvin Cook this week, we've got to find a few bargain buys that have a bit riskier floor than usual.
Curtis Samuel (WR) - $5900

Samuel had a slow start to the first half of 2020, but has carved out a consistent role on offense and has finished as a top 20 WR 4 of the last 4 weeks. The Vikings are starting a patchwork of CBs in their secondary this week so it's easy to take advantage. Samuel getting 3-4 carries a game also is a major selling point.
Michael Pittman Jr (WR) - $5700

Pittman has become one of Philip Rivers' go to receivers the last couple of weeks. We spent up at RB so taking Pittman is a good consolation prize at that price.
The last time the Colts faced the Titans, Michael Pittman Jr. had his first 100-yard game. https://t.co/B7ANcs6Kaa

— Athlon Sports (@Athlon Sports)1606489920.0
Sammy Watkins (WR) - $5600

Watkins is back this week after a lengthy absence with a hamstring injury. His price and ceiling work perfectly for what we are trying to do this week.
Dallas Goedert (TE) - $6200

Goedert has begun to establish himself as a legitimate TE1 in fantasy. He gets the Seattle defense who continues to struggle against the pass on Monday night.
David Montogmery (RB) - $6000

Montgomery wouldn't be startable this week if it wasn't for the Bears matchup against the Packers. He needs to snag a TD or break off a big run for this to work out, but he has a plus matchup.
Best Week 12 RB Matchups - Duke Johnson vs Lions (allowing 34.18 fantasy PPG to RB) - David Montgomery vs Packers… https://t.co/BihtMbZEDE

— Michael F. Florio (@Michael F. Florio)1606355476.0
Green Bay Packers (DEF) - $4600

The Packers defense should push Mike Glennon into making a few bad decisions, which makes them a sleeper play this week.
FindBet Free Play for Week 12:
Here's a team you can put right into any of your contests, just remember to buy us a beer when you win big!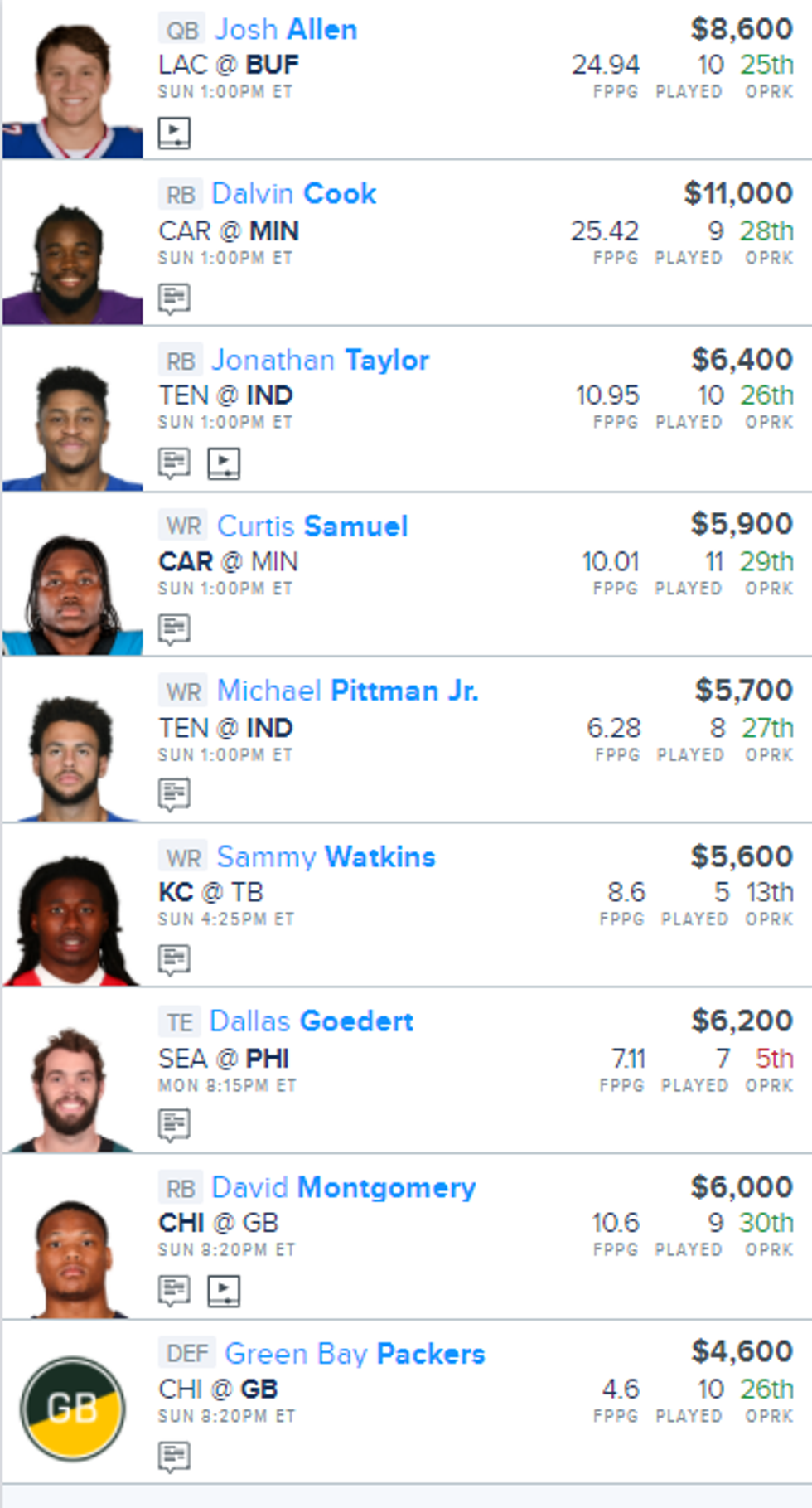 Joe Sargent - Getty Images
Sunday's NFL Playoff action featured six teams who don't like each other at all.
All these games were played between teams who had played each other at least once during the regular season. If you thought those games in the regular season were intense, Sunday's playoff matchups upped the stakes even more.
The Chicago Bears even replicated a dubious feat from their regular season matchup, as one of their wide receiver Anthony Miller was ejected after throwing a punch at C.J. Gardner-Johnson. The New Orleans cornerback also got into the head of Chicago wide receiver Javon Wims in the November matchup, causing Wims to get ejected in that game after he threw a punch at Gardner-Johnson.
<p class="shortcode-media shortcode-media-rebelmouse-image"> <img alt="Baltimore Ravens QB Lamar Jackson throws a pass against the Tennessee Titans" class="rm-shortcode" data-height="2738" data-rm-shortcode-id="c27b4aa34c94ef1045b89dac6df4c781" data-rm-shortcode-name="rebelmouse-image" data-runner-src="https://assets.rebelmouse.io/eyJhbGciOiJIUzI1NiIsInR5cCI6IkpXVCJ9.eyJpbWFnZSI6Imh0dHBzOi8vYXNzZXRzLnJibC5tcy8yNTQzNTU2Ni9vcmlnaW4uanBnIiwiZXhwaXJlc19hdCI6MTY2ODA2OTAzMH0.t1mw1jUx-RtCrIzKE67nasU8vfoC83SXgrT9vwDz_Wo/img.jpg?width=980" data-width="4176" id="ebf11" type="lazy-image"/> <small class="image-media media-caption" placeholder="Add Photo Caption...">Baltimore Ravens QB Lamar Jackson</small><small class="image-media media-photo-credit" placeholder="Add Photo Credit...">Christopher Hanewinckel - USA TODAY Sports</small></p><p><strong>(5) <a href="https://www.baltimoreravens.com/" target="_blank">Baltimore</a> 20 - (4) <a href="https://www.tennesseetitans.com/" target="_blank">Tennessee</a> 13</strong><br/></p><h4>Game MVP: Lamar Jackson</h4><p>Early on in this game it looked like the Titans were going to run the Ravens out of the building in Nashville. Tennessee opened up a 10-0 lead in the first quarter after an A.J. Brown touchdown, followed by a Lamar Jackson interception that led to a Stephen Gostkowski field goal. There wouldn't be much more offense in the next three quarters from the Titans, as Baltimore put the clamps down on Derrick Henry, holding the 2,000 yard running back to just 40 yards on 18 carries in the game. </p><div align="center" id="findbet_incontent_PZJ2RF"> <script data-cfasync="false" type="text/javascript"> freestar.config.enabled_slots.push({ placementName: "findbet_incontent_2", slotId: "findbet_incontent_PZJ2RF" }); </script> </div><p>After struggling to get any offense going in the first quarter, Baltimore started to find their rhythm in the second quarter. Not only did Lamar Jackson start to make some throws for the Ravens, but the dynamic quarterback added in some electric runs to keep the Tennessee defense on their heels. Baltimore was able to tie the game up on a 48-yard touchdown run from Jackson with just over two minutes left in the second quarter. The Ravens would take the lead for good early in the third quarter thanks to a four-yard J.K. Dobbins touchdown run.<br/></p><div align="center" id="findbet_incontent_GBM9RO"> <script data-cfasync="false" type="text/javascript"> freestar.config.enabled_slots.push({ placementName: "findbet_incontent_3", slotId: "findbet_incontent_GBM9RO" }); </script> </div><p>The most controversial play of the game came early in the fourth quarter when Tennessee head coach Mike Vrabel opted to punt the football on 4th &amp; 2 from the Baltimore 40-yard line instead of letting his team try to pickup the first down. The defense of the Titans was able to keep Baltimore out of the end zone on the ensuing drive, but Tennessee failed in their last shot to tie the game, as Ryan Tannehill was picked off by cornerback Marcus Peters.</p><p>Now Jackson and the Ravens hit the road again to take on the Buffalo Bills on Saturday night. With last year's disappointing playoff performance behind him, Jackson will look to upend Josh Allen, who was taken 25 picks before him in the first round of the 2018 NFL Draft. The lights will be shining on two of the bright, young quarterback stars in the NFL on Saturday night.</p><div align="center" id="findbet_incontent_5AWZN7"> <script data-cfasync="false" type="text/javascript"> freestar.config.enabled_slots.push({ placementName: "findbet_incontent_4", slotId: "findbet_incontent_5AWZN7" }); </script> </div><p><!-- Ezoic - under_second_paragraph - under_second_paragraph --> <div id="ezoic-pub-ad-placeholder-813"><center><script async="" src="//pagead2.googlesyndication.com/pagead/js/adsbygoogle.js"></script> <ins class="adsbygoogle" data-ad-client="ca-pub-4301469008561137" data-ad-slot="9626795938" style="display:inline-block;width:468px;height:60px"></ins> <script> (adsbygoogle = window.adsbygoogle || []).push({}); </script></center></div> <!-- End Ezoic - under_second_paragraph - under_second_paragraph --></p><p class="shortcode-media shortcode-media-rebelmouse-image"> <img alt="New Orleans Saints QB Drew Brees reacts after throwing a touchdown" class="rm-shortcode" data-height="441" data-rm-shortcode-id="c6918303555bbdee391fbac0556419a5" data-rm-shortcode-name="rebelmouse-image" data-runner-src="https://assets.rebelmouse.io/eyJhbGciOiJIUzI1NiIsInR5cCI6IkpXVCJ9.eyJpbWFnZSI6Imh0dHBzOi8vYXNzZXRzLnJibC5tcy8yNTQzNTU2MS9vcmlnaW4uanBnIiwiZXhwaXJlc19hdCI6MTY2NzQ2MDY0OX0.o9zUuMF6CLuWs27mXYua1e9YjEiYPdoWj4-fp2DvjEM/img.jpg?width=980" data-width="660" id="8eda9" type="lazy-image"/> <small class="image-media media-caption" placeholder="Add Photo Caption...">New Orleans Saints QB Drew Brees</small><small class="image-media media-photo-credit" placeholder="Add Photo Credit...">Brett Duke - Associated Press</small></p><p><strong>(2) <a href="https://www.neworleanssaints.com/" target="_blank">New Orleans</a> 21 - (7) <a href="https://www.chicagobears.com/" target="_blank">Chicago</a> 9</strong><br/></p><h4>Game MVP: Drew Brees</h4><p>The only really interesting thing about this game was the Nickelodeon broadcast. Not only did the kids' channel add some SpongeBob SquarePants to the broadcast, but there was also a "slime zone" that was activated when touchdowns were scored. Unfortunately, only four touchdowns were scored in the game, so the fun animation wasn't used all that much.</p><p>New Orleans benefitted from the return of Michael Thomas after the wide receiver missed the previous three games due to injury, and the Saints had a full compliment of running backs after the unit was forced to miss the final game of the regular season due to COVID-19 protocols. Drew Brees wasted little time finding Thomas, with the pair hooking up on New Orleans' first drive of the game for an 11-yard touchdown. Latavius Murray and Alvin Kamara each added touchdowns in the second half to give the Saints a lead that put the game out of reach.</p><div align="center" id="findbet_incontent_1G2SWF"> <script data-cfasync="false" type="text/javascript"> freestar.config.enabled_slots.push({ placementName: "findbet_incontent_5", slotId: "findbet_incontent_1G2SWF" }); </script> </div><p>Chicago was listless all game, with Mitchell Trubisky not striking any fear in the New Orleans defense. Prior to the final drive of the game where he passed for 92 yards and a touchdown, Trubisky had only thrown for 107 yards in the game. The Bears couldn't run the ball with David Montgomery, which put even more pressure on Trubisky. Since Chicago couldn't drives together on offense, the defense of the Bears, which was missing leading tackler Roquan Smith, eventually wore down in the second half.</p><div align="center" id="findbet_incontent_85JLVA"> <script data-cfasync="false" type="text/javascript"> freestar.config.enabled_slots.push({ placementName: "findbet_incontent_6", slotId: "findbet_incontent_85JLVA" }); </script> </div><p>Next up for the Saints is the Tampa Bay Buccaneers, who New Orleans has already beaten twice this year. While the Saints do have two wins under their belt against Tampa Bay, it is extremely tough to be the same team three times in a season. This could be the last time we see Drew Brees and Tom Brady go head-to-head on the football field, so expect both quarterbacks to leave it all out there on Sunday night.</p><p><script async="" src="https://pagead2.googlesyndication.com/pagead/js/adsbygoogle.js"></script> <ins class="adsbygoogle" data-ad-client="ca-pub-4301469008561137" data-ad-format="fluid" data-ad-layout="in-article" data-ad-slot="1863811088" style="display:block; text-align:center;"></ins> <script> (adsbygoogle = window.adsbygoogle || []).push({}); </script></p><p class="shortcode-media shortcode-media-rebelmouse-image"> <img alt="Cleveland Browns quarterback Baker Mayfield celebrates" class="rm-shortcode" data-height="675" data-rm-shortcode-id="b1c20931745c10bdd84c5dcc537a64fd" data-rm-shortcode-name="rebelmouse-image" data-runner-src="https://assets.rebelmouse.io/eyJhbGciOiJIUzI1NiIsInR5cCI6IkpXVCJ9.eyJpbWFnZSI6Imh0dHBzOi8vYXNzZXRzLnJibC5tcy8yNTQzNTU1Ni9vcmlnaW4uanBnIiwiZXhwaXJlc19hdCI6MTY0MTAzNjkwNH0.CMOueJmCsaXq7tBS3pvZ3v2qEe-Wa5w6uvF6SaNVNnY/img.jpg?width=980" data-width="1200" id="9304e" type="lazy-image"/> <small class="image-media media-caption" placeholder="Add Photo Caption...">Cleveland Browns quarterback Baker Mayfield</small><small class="image-media media-photo-credit" placeholder="Add Photo Credit...">Charles LeClaire - USA TODAY Sports</small></p><p><strong>(6) <a href="https://www.clevelandbrowns.com/" target="_blank">Cleveland</a> 48 - (3) <a href="https://www.steelers.com/" target="_blank">Pittsburgh</a> 37</strong><br/></p><h4>Game MVP: Baker Mayfield</h4><p>While it probably seems pretty lazy to pick the three quarterbacks who won on Sunday as Game MVPs, if any of the three quarterbacks truly deserved the honor, it is Baker Mayfield. Not only was Mayfield making his playoff start for a franchise that hasn't been to the playoffs in 18 years, the Cleveland quarterback was also doing so while his play-calling head coach was back at home in Cleveland after a positive COVID-19 diagnosis. The odds looked to be stacked against Cleveland, as they had just barely gotten by Pittsburgh's backups the week before to earn a playoff spot.</p><p>Cleveland's return to the playoffs got off to a dream start, as on the first play after an errant snap from Maurkice Pouncey sailed over Ben Roethlisberger's head, which allowed Karl Joseph to recover the fumble in the end zone for a touchdown. The Browns poured on the points the rest of the third quarter, setting an NFL Playoff record by scoring 28 points in the first quarter. After Mayfield connected with Jarvis Landry for a 40-yard touchdown, Kareem Hunt scored two touchdowns in a three minute span.</p><p>Pittsburgh did make Cleveland fans sweat a little bit, cutting the deficit to 35-23 late in the third quarter. While many were wondering if this was going to be a patented Cleveland collapse, the Browns ease the nerves of their fans early in the fourth quarter when Mayfield tossed his third touchdown of the game, finding running back Nick Chubb to push the score to 42-23. Roethlisberger padded his own stats with a couple late touchdowns, finishing the game with 501 yards passing and four touchdowns to go along with four interceptions.</p><h3></h3><h3></h3><p>Cleveland will have an even tougher task in front of them this week when they meet the defending Super Bowl champion Kansas City Chiefs. The good news is the Browns will have head coach Kevin Stefanski back, and they could see the return of key players Denzel Ward and Joel Bitonio. While the Browns will be a heavy underdog against Patrick Mahomes and the Chiefs, Mayfield and company certainly won't backdown from the challenge of beating the AFC's top team.</p>
Keep reading...
Show less
Sean Gardner/Getty Images
The Divisional Round of the NFL Playoffs has passed, and we're now down to the remaining four teams that are vying for a Super Bowl championship this season.
HOW 'BOUT THOSE CHIEEEEFS?!?!? https://t.co/rWt2MIdoP2

— Kansas City Chiefs (@Kansas City Chiefs)1610995798.0
<p>The reigning Super Bowl champion, Kansas City Chiefs, squeaked by with a win over the Cleveland Browns 22-17 even though starting quarterback Patrick Mahomes was knocked out for most of the second half with a concussion. The Chiefs backup QB, Chad Henne, was able to scramble for a first down late in the fourth quarter to seal the victory for his squad. <br/></p><p><!-- Ezoic - under_second_paragraph - under_second_paragraph --> <div id="ezoic-pub-ad-placeholder-813"><center><script async="" src="//pagead2.googlesyndication.com/pagead/js/adsbygoogle.js"></script> <ins class="adsbygoogle" data-ad-client="ca-pub-4301469008561137" data-ad-slot="9626795938" style="display:inline-block;width:468px;height:60px"></ins> <script> (adsbygoogle = window.adsbygoogle || []).push({}); </script></center></div> <!-- End Ezoic - under_second_paragraph - under_second_paragraph --></p><p>Aaron Rodgers and the Packers took care of the Rams with relative ease 32-18, as Jared Goff seemed limited while still recovering from a broken thumb on his throwing hand. The league's top defense was unable to slow down the Packers dual threat offense as Rodgers threw for nearly 300 yards and two touchdowns, and Aaron Jones ran for 99 yards and a touchdown.</p><div align="center" id="findbet_incontent_J7UYG8"> <script data-cfasync="false" type="text/javascript"> freestar.config.enabled_slots.push({ placementName: "findbet_incontent_2", slotId: "findbet_incontent_J7UYG8" }); </script> </div><p>The Bills were able to limit the Ravens rushing attack and ultimately Lamar Jackson's ability to keep the chains moving. The wind played a factor in this game, forcing both teams to miss out on big passing plays and causing missed field goals. The weather certainly forced this game to be a lower scoring affair than we expected, but the result would have been the same. Bills took this one in a defensive battle 17-3. </p><div class="rm-shortcode" data-rm-shortcode-id="85c1e600fd38c44a841545ab7d41d9ca" id="b9d9b"><blockquote class="twitter-tweet twitter-custom-tweet" data-partner="rebelmouse" data-twitter-tweet-id="1350847398030024707"><div style="margin:1em 0">Bills fans started donating to Lamar Jackson's favorite charity overnight after he left the AFC divisional game wit… https://t.co/Dd4wVt0a9N</div> — SportsCenter (@SportsCenter)<a href="https://twitter.com/SportsCenter/statuses/1350847398030024707">1610902091.0</a></blockquote></div><p>The Saints were not able to defeat Tom Brady's Buccaneers for the third time this season. Sweeping Tampa in their two regular season meetings, the Saints weren't able to get the passing game going in this one, which isn't something we're used to saying. Adding to their lackluster performance, the rumors of Drew Brees' imminent retirement makes this one even tougher to swallow if you're a fan of the Saints. New Orleans only lost 30-20, but they never really felt in the game. <br/></p><div align="center" id="findbet_incontent_B9VVYT"> <script data-cfasync="false" type="text/javascript"> freestar.config.enabled_slots.push({ placementName: "findbet_incontent_3", slotId: "findbet_incontent_B9VVYT" }); </script> </div><h4>AFC Conference Championship Game<br/></h4><p><strong>Sunday 1/24/21 at 6:40 PM EST</strong></p><p><strong>(2) Buffalo Bills at (1) Kansas City Chiefs -3</strong></p><p>We are exactly where we should be at this point in the AFC, with the top two seeds in the conference fighting for the chance to head to the Super Bowl. This matchup is a tale of two very different organizations however. The Chiefs are the reigning, defending, undisputed Super Bowl champions with a super hero quarterback named Patrick Mahomes and an offense with more weapons than the Green Berets. </p><div class="rm-shortcode" data-rm-shortcode-id="4e4bfc56b7d6c7bd7463eb355587ed0e" id="0707a"><blockquote class="twitter-tweet twitter-custom-tweet" data-partner="rebelmouse" data-twitter-tweet-id="1351330281341521920"><div style="margin:1em 0">Everyone has that friend who always comes in way too hot... 😂 @Micah_Hyde | @Taronj11 https://t.co/N5D0ami2P7</div> — Buffalo Bills (@Buffalo Bills)<a href="https://twitter.com/BuffaloBills/statuses/1351330281341521920">1611017220.0</a></blockquote></div><p>Buffalo is a small market team with a grassroots fanbase that hadn't seen a playoff win since the Clinton administration. Their claim to fame is losing four consecutive Super Bowls during the Jim Kelly era, and most recently they have been a team that's always been just good enough to avoid a top draft pick but never good enough to reach the postseason.<br/></p><div align="center" id="findbet_incontent_Y1BMM6"> <script data-cfasync="false" type="text/javascript"> freestar.config.enabled_slots.push({ placementName: "findbet_incontent_4", slotId: "findbet_incontent_Y1BMM6" }); </script> </div><p>Enter Josh Allen, Brandon Beane, and Sean McDermott. In a few short seasons the Bills have gone from lovable losers to upstart dynasty much in the same vein as Patrick Mahomes and the Chiefs. Allen, like Mahomes, put up numbers that should position him as an MVP front-runner. Allen, <em>unlike</em> Mahomes, had to disprove a lot of doubters that had built up over the beginning of his NFL career. </p><div class="rm-shortcode" data-rm-shortcode-id="97c1893747d3a99e65ed22cede2191ad" id="38e97"><blockquote class="twitter-tweet twitter-custom-tweet" data-partner="rebelmouse" data-twitter-tweet-id="1350666007958810625"><div style="margin:1em 0">Get you someone who looks at you the way Josh Allen looks at Stefon Diggs 😊 https://t.co/DzID71IYnD</div> — SportsCenter (@SportsCenter)<a href="https://twitter.com/SportsCenter/statuses/1350666007958810625">1610858845.0</a></blockquote></div><p>Mahomes came out with guns blazing from the start of his career and has never looked back. I don't think it's an exaggeration to say that most think if Mahomes continues this level of play throughout his career, he may retire as the best to ever do it. But that's a long way from now, and right now Mahomes has a formidable opponent on his hands.<br/></p><div align="center" id="findbet_incontent_SHEIYX"> <script data-cfasync="false" type="text/javascript"> freestar.config.enabled_slots.push({ placementName: "findbet_incontent_5", slotId: "findbet_incontent_SHEIYX" }); </script> </div><p>At this point, there's not telling what can happen. But the prospect of what can happen has us awaiting anxiously for Sunday night. As long as Patrick Mahomes is cleared to play after sustaining a concussion in the Divisional Round game against Cleveland, the Chiefs will feel confident going in to this one. </p><div class="rm-shortcode" data-rm-shortcode-id="ffca1a71bc238e322c4a78ba9f00cc5c" id="9a14a"><blockquote class="twitter-tweet twitter-custom-tweet" data-partner="rebelmouse" data-twitter-tweet-id="1351258055678316551"><div style="margin:1em 0">Josh Allen. Patrick Mahomes. A matchup we have all been waiting for… 👀 "If he flips the table and takes out the Ch… https://t.co/UOKDzBDOUh</div> — NFL Network (@NFL Network)<a href="https://twitter.com/nflnetwork/statuses/1351258055678316551">1611000000.0</a></blockquote></div><p>For Buffalo this is new and unexplored territory. We saw Josh Allen against the Texans last season fall on his face in his first playoff experience. Sure he's been great all year, and they just knocked off Lamar Jackson and the Ravens, but will the pressure of being one step away from the Super Bowl be too much for this untested group?<br/></p><p><strong>Prediction: Buffalo Bills 38 - Kansas City Chiefs 31</strong><br/></p><p><script async="" src="https://pagead2.googlesyndication.com/pagead/js/adsbygoogle.js"></script> <ins class="adsbygoogle" data-ad-client="ca-pub-4301469008561137" data-ad-format="fluid" data-ad-layout="in-article" data-ad-slot="1863811088" style="display:block; text-align:center;"></ins> <script> (adsbygoogle = window.adsbygoogle || []).push({}); </script></p><div align="center" id="findbet_incontent_2UVFPN"> <script data-cfasync="false" type="text/javascript"> freestar.config.enabled_slots.push({ placementName: "findbet_incontent_6", slotId: "findbet_incontent_2UVFPN" }); </script> </div><h4>NFC Conference Championship Game</h4><p><strong>Sunday 1/24/2021 at 3:05 PM EST</strong></p><p><strong>(5) Tampa Bay Buccaneers at (1) Green Bay Packers -3.5</strong></p><p>Over the course of two decades, we have seen a lot of great quarterbacks, but possibly no two better than a couple of guys that wear number 12. Tom Brady and Aaron Rodgers often feel forgotten about for large portions of their careers because other storylines pulled our attention away from the consistent elite-level of play we have gotten from both of them on an annual basis. </p><p>Like anything in our lives that seems so basic and intrinsic to the fabric of life, we take players like Brady and Rodgers for granted because we just expect them to be able to continue throwing 40 touchdowns per season into their 40s (Tom Brady passed for 40 touchdowns in the regular season at the age of 43).</p><div class="rm-shortcode" data-rm-shortcode-id="8d377c24d5742c696fb05dab6a340398" id="923b0"><blockquote class="twitter-tweet twitter-custom-tweet" data-partner="rebelmouse" data-twitter-tweet-id="1351189897114169354"><div style="margin:1em 0">Tom Brady now has more playoff wins than all but five franchises 🤯 https://t.co/4xCxNpOmIM</div> — SportsCenter (@SportsCenter)<a href="https://twitter.com/SportsCenter/statuses/1351189897114169354">1610983750.0</a></blockquote></div><p>The degree of difficulty to maintaining a level of excellence while teammates change, coaches change, systems change, and defenses constantly game plan to shut you down is unbelievably high. No two quarterbacks (in this writer's opinion) have ever done more with less in regard to weapons at their disposal. </p><p>If you look at that statement in a vacuum, then it doesn't make sense as both QBs are playing with possibly their most talented respective groups ever this season. But over the course of their careers, Tom Brady and Aaron Rodgers have elevated their teams year after year and made a lot of players, coaches, and front offices look better than they really were (Bill Belichick NOT included). </p><div class="rm-shortcode" data-rm-shortcode-id="c1b9764744e39f4339f06ba6f32607db" id="8dd32"><blockquote class="twitter-tweet twitter-custom-tweet" data-partner="rebelmouse" data-twitter-tweet-id="1351255389275361280"><div style="margin:1em 0">The best player in the NFL right now.... @AaronRodgers12. https://t.co/FiyDd8N5tk</div> — Stephen A Smith (@Stephen A Smith)<a href="https://twitter.com/stephenasmith/statuses/1351255389275361280">1610999364.0</a></blockquote></div><p>The Buccaneers struggled with consistency during the regular season. While clearly one of the best teams in the NFC even while enduring some bad play, the Bucs took some bad L's including a 38-3 loss to the Saints in early November. When at their best however Tampa is an offense that can run the ball and play defense, allowing Tom Brady to make plays when necessary and manage the game when required.<br/></p><p>The Packers will need to focus on stopping the Buccaneer's running attack. Leonard Fournette has had over 100 yards from scrimmage and a touchdown in both of Tampa's playoff games so far, and Ronald Jones (who is recovering from injury) chipped in 62 yards on the ground against the Saints last week. Considering how difficult it is to limit the Buccaneers' passing options, Matt LaFleur's best chance to slowing down this offensive attack is to take away the run. </p><p><strong>Prediction: Tampa Bay Buccaneers 27 - Green Bay Packers 24</strong><br/></p><p><br/></p><h3></h3>
Keep reading...
Show less
Harry Scull Jr. /Buffalo News
As the NFL postseason got underway last week, it became clear we need to make some halftime adjustments with our picks this week.
The Ravens were an easy cover for us, especially once Lamer found his groove and the grooves in Tennessee's D. Throw in a few head scratching punts by Mike Vrabel and that does the trick.
Meanwhile, Stefon Diggs came up two catches short for us with three targets left on the table. It was always going to be tough to get that many grabs, but it was worth a few bucks just to see what would happen.
Please, please, please remind me never to bet unders. I haven't hit one all year and yet the siren's song calls me to shore. I maintain this is the best one I bet all year. The pick 6 and DK Metcalf bomb in the second quarter killed after the best start imaginable. After 15 minutes, we had a combined score of 3, 15 minutes of game time later? 30. Bananas.
Then I don't really know what else to say about Pittsburgh losing to Baker Mayfield and co. that hasn't already been said. I just have to edit my list of completely impossible things to put, "Snowing in the Sahara desert," and "Taylor Swift ever getting back together with Jake Gyllenhaal" above "The Browns beating the Steelers in the playoffs."
<p><strong>Saints -3 over Buccaneers</strong> </p><p>I kind of love this line. It opened at 3.5 and already dropped half a point with plenty of action on Tampa Bay. With any luck it'll drop under 3 for a real steal of a deal. These two divisional foes have played twice already, and neither game was particularly close. Before you claim a clean three game sweep is too difficult, allow me to note it's happened 21 times, and the team going for their third victory is 14-7. </p><div align="center" id="findbet_incontent_CE0I51"> <script data-cfasync="false" type="text/javascript"> freestar.config.enabled_slots.push({ placementName: "findbet_incontent_3", slotId: "findbet_incontent_CE0I51" }); </script> </div><p>The first matchup was a tighter contest at 34-23 before the Saints went into Tampa, as 3 point underdogs, and put on a master class. Their defense was even more impressive than the offense that day, holding Arians and Brady to 3 points, as Brees engineered 38 points. Now things have obviously changed between then and now. </p><p>Drew Brees cracked nearly a dozen ribs and collapsed a lung, while Brady has really settled into an offense overflowing with weapons. It's worth noting that New Orleans' most impressive win was one of a handful of times when the ageless Brees, the <a href="https://theathletic.com/2323117/2021/01/14/nfl-alvin-kamara-movement-saints/" target="_blank">elusive Alvin Kamara</a>, and the <a href="https://www.canalstreetchronicles.com/2021/1/13/22227878/film-study-michael-thomas-return-drew-brees-saints-passing-game" target="_blank">dependable Michael Thomas</a> were all on the field together. Now that the full arsenal is assembled and prepared to take advantage of the Bucs biggest weakness, their secondary, at home with a harassing defense, I have no choice, but to back them big.</p><div align="center" id="findbet_incontent_8QBH6I"> <script data-cfasync="false" type="text/javascript"> freestar.config.enabled_slots.push({ placementName: "findbet_incontent_4", slotId: "findbet_incontent_8QBH6I" }); </script> </div><p><br/></p><div class="rm-shortcode" data-rm-shortcode-id="30d94b11190a5a32e578fd9bde33820f" id="6bb44"><blockquote class="twitter-tweet twitter-custom-tweet" data-partner="rebelmouse" data-twitter-tweet-id="1348797993634455554"><div style="margin:1em 0">https://t.co/kvv2dNTmHS https://t.co/ND8nmGmZG7</div> — Tom Brady (@Tom Brady)<a href="https://twitter.com/TomBrady/statuses/1348797993634455554">1610413475.0</a></blockquote></div><p><br/></p><p><strong>Bills -2.5 over Ravens</strong><br/></p><p>The Bills defense allowed for the unlucky-in-4th-quarter-comebacks Phil Rivers to get close at the end and blow an easy seven point cover. The Ravens started slow last week, but managed to secure a cover and their own win by a touchdown. This feels to me like the best game of the weekend with the added storyline of two quarterbacks <a href="https://www.nfl.com/videos/next-gen-stats-lamar-vs..." target="_blank">battling it out to be the 2018 NFL Draft's best</a>. The Bills have statistically taken a huge leap into the second best offense in the league behind Allen and <a href="https://www.espn.com/nfl/story/_/id/30700731/brian..." target="_blank">Brian Daboll's improvements</a>, and have the added benefit of being the home team. Lamar will be able to keep this one close, but the offense around him lacks explosion. In a would-be shootout that's the difference maker.</p><div align="center" id="findbet_incontent_162WPE"> <script data-cfasync="false" type="text/javascript"> freestar.config.enabled_slots.push({ placementName: "findbet_incontent_5", slotId: "findbet_incontent_162WPE" }); </script> </div><p><strong>Aaron Rodgers over 258.5 Pass Yards</strong></p><p>The Packers offense has been a well-oiled machine. Of course, betting against the Rams defense has proven to be foolhardy, especially last week, but consider two of the Rams worst losses this season. The 49ers got the best of the league's best twice, and who should share the same core offensive concepts with those Niners, but the Green Bay Packers? The Niners won those games with one-legged Jimmy G and Nick Mullens, who put up 268 and 252 respectively. Do I think Aaron Rodgers can outdo both of them with the league's best Davante Adams at his disposal? Yes. Maybe, I should have done this in the form of a question.</p><p><br/></p><div class="rm-shortcode" data-rm-shortcode-id="cf5a5b375a66b7e73306c1ecc4c4d83b" id="60f67"><blockquote class="twitter-tweet twitter-custom-tweet" data-partner="rebelmouse" data-twitter-tweet-id="1349130856619794434"><div style="margin:1em 0">Aaron Rodgers to guest host Jeopardy https://t.co/FVrEibGIdX</div> — ProFootballTalk (@ProFootballTalk)<a href="https://twitter.com/ProFootballTalk/statuses/1349130856619794434">1610492836.0</a></blockquote></div><p><br/></p><p><strong>Packers/Rams Over 47</strong></p><p>Let's bet an over! The Rams let up 20 points, even if the last TD was in garbage time, and managed 30 points on their own behind Goff's busted thumb. The Packers have averaged 31 points, 33.7 over the last three, and finished with a 35 point drumming of the Bears, who put up 16. Green Bay have been hot enough to melt the snow off Lambeau, and even if Aaron Donald <a href="https://www.nfl.com/news/rams-dt-aaron-donald-feels-no-pain-after-rib-injury-i-feel-strong-and-i-ll-be-re" target="_blank">claims his ribs are feeling good</a>, you have to imagine he won't be at full speed, which could rob the Rams of their biggest difference maker's first step. On the flip side, the Pack's D hasn't exactly been lights out. They give up on average 23 points a game, and give up a fair amount of yards on the ground that plays nicely into the Los Angeles game plan, especially given the recent surge of Cam Akers.</p><div align="center" id="findbet_incontent_ARPT7J"> <script data-cfasync="false" type="text/javascript"> freestar.config.enabled_slots.push({ placementName: "findbet_incontent_6", slotId: "findbet_incontent_ARPT7J" }); </script> </div><p>Just for fun, here's a clip of Aaron Donald tackling two guys on the same play in college. </p><p><br/></p><div class="rm-shortcode" data-rm-shortcode-id="c98615dfe5db0b7b1cf22767853cc235" id="b066a"><blockquote class="twitter-tweet twitter-custom-tweet" data-partner="rebelmouse" data-twitter-tweet-id="1298344194927235073"><div style="margin:1em 0">Aaron Donald tackling two dudes at once at Pitt is iconic 🔥 @AaronDonald97 @RamsNFL (via @Pitt_ATHLETICS) https://t.co/Dj2kkynYAC</div> — The Checkdown (@The Checkdown)<a href="https://twitter.com/thecheckdown/statuses/1298344194927235073">1598384352.0</a></blockquote></div><h3></h3><div class="rm-shortcode" data-rm-shortcode-id="c98615dfe5db0b7b1cf22767853cc235" id="b066a"><blockquote class="twitter-tweet twitter-custom-tweet" data-partner="rebelmouse" data-twitter-tweet-id="1298344194927235073"><div style="margin:1em 0">Aaron Donald tackling two dudes at once at Pitt is iconic 🔥 @AaronDonald97 @RamsNFL (via @Pitt_ATHLETICS) https://t.co/Dj2kkynYAC</div> — The Checkdown (@The Checkdown)<a href="https://twitter.com/thecheckdown/statuses/1298344194927235073">1598384352.0</a></blockquote></div>
Keep reading...
Show less