*21+ and present in NJ, PA, IN, or WV. Gambling Problem? Call-1800-GAMBLER or in WV visit www.1800gambler.net
It's the most wonderful time of the yeaaaaaaaaar. Football, we mean football.
Football is America's sport and we love just about everything about it. The snacks, the beer, and of course, the action on the field.
While you may be missing going to live games( us too), one great way to make watching from home all the more exciting is to dabble in a little sports betting.
We've been doing our research and found the top two sports betting platforms: FanDuel Sportsbook and DraftKings. Here's how they compare.
Key Similarities
Both allow you to place bets on their app or website
Both offer a huge variety of betting options and sports
Both registration processes are easy and can be done in a matter of minutes
Key Differences
FanDuel Sportsbook's new user offer is unbeatable- - a $1000 risk-free bet!
DraftKings has a $1,000 risk-free bet, but you only get 20% of that bonus upfront and need to bet $25 to get each remaining $1 in bonus credit.
FanDuel Sportsbook's website is packed with tips for newbies
FanDuel offers amazing enhanced odds on a regular basis
FanDuel Sportsbook Overview
FanDuel Sportsbook nailed the betting game with their informative website and easy-to-use website. They have betting for every sport you can think of - football, soccer, NBA, MLB, golf and tons more!
What we love about FanDuel Sportsbook is that their offer for new users is really no strings attached. All you have to do is place a wager up to $1,000, and they'll match the bet-- no strings attached. If you win, then you get the amount returned to you, and the winning amount as site credit. No hidden criteria; it's really that easy.
Signing up for a FanDuel Sportsbook account couldn't be easier, and can be done online or on the FanDuel Sportsbook app. They'll ask you for your SSN, but don't worry, this is just to make sure coaches and players aren't making any bets.
The app runs smoothly, and as we said, if you're new to sports betting, FanDuel Sportsbook makes getting up to speed a total breeze. Keep an eye out for special enhanced odds, too. These guys come up with some unmissable odds you're gonna wanna take advantage of.
DraftKings Overview
DraftKings also has a convenient app, and offers a huge variety of sports and betting types. But, what really made us not even want to place a bet is how misleading their "$1,000 risk-free bet" is.
First of all, that's not as good as FanDuel's offer, and secondly, you only get 20% of that bonus upfront and need to bet $25 to get each remaining $1 in bonus credit. That wasn't made very clear and kind of put a dampener on our whole experience.
DraftKings also doesn't have as many tutorials and tips, which can alienate new users.
Final Notes
Sports betting is a huge part of the 2020 NFL season, and we couldn't be more excited. But if you're trying to choose what platform is best, our pick is FanDuel Sportsbook.
The app is so straightforward, you can cash out your winnings at any time (no matter how big or small) and most importantly, FanDuel Sportsbook's risk-free bet is exactly that: risk-free.
21+ and present in NJ, PA, IN, or WV. Gambling Problem? Call-1800-GAMBLER or in WV visit www.1800gambler.net
The nation's favorite sports betting app is making its way to Michigan!

Just in time for live sports making a comeback, FanDuel Sportsbook has a special offer for users who sign up before your state's launch day.
Here's the scoop: FanDuel Sportsbook is offering first-time bettors in Michigan the ultimate experience -Pre-register for FanDuel Sportsbook and Casino, and on the day we go live, get $100 in site credit split: $50 on sportsbook AND $50 on FanDuel Casino when FanDuel goes live in Michigan! It's essentially free money being deposited into your account just for registering early!
Signing up is a breeze - no cumbersome in-person registrations or waiting in line! Registering is a simple 3 step process (Users on their phones can do this after downloading the app for iOS and Android).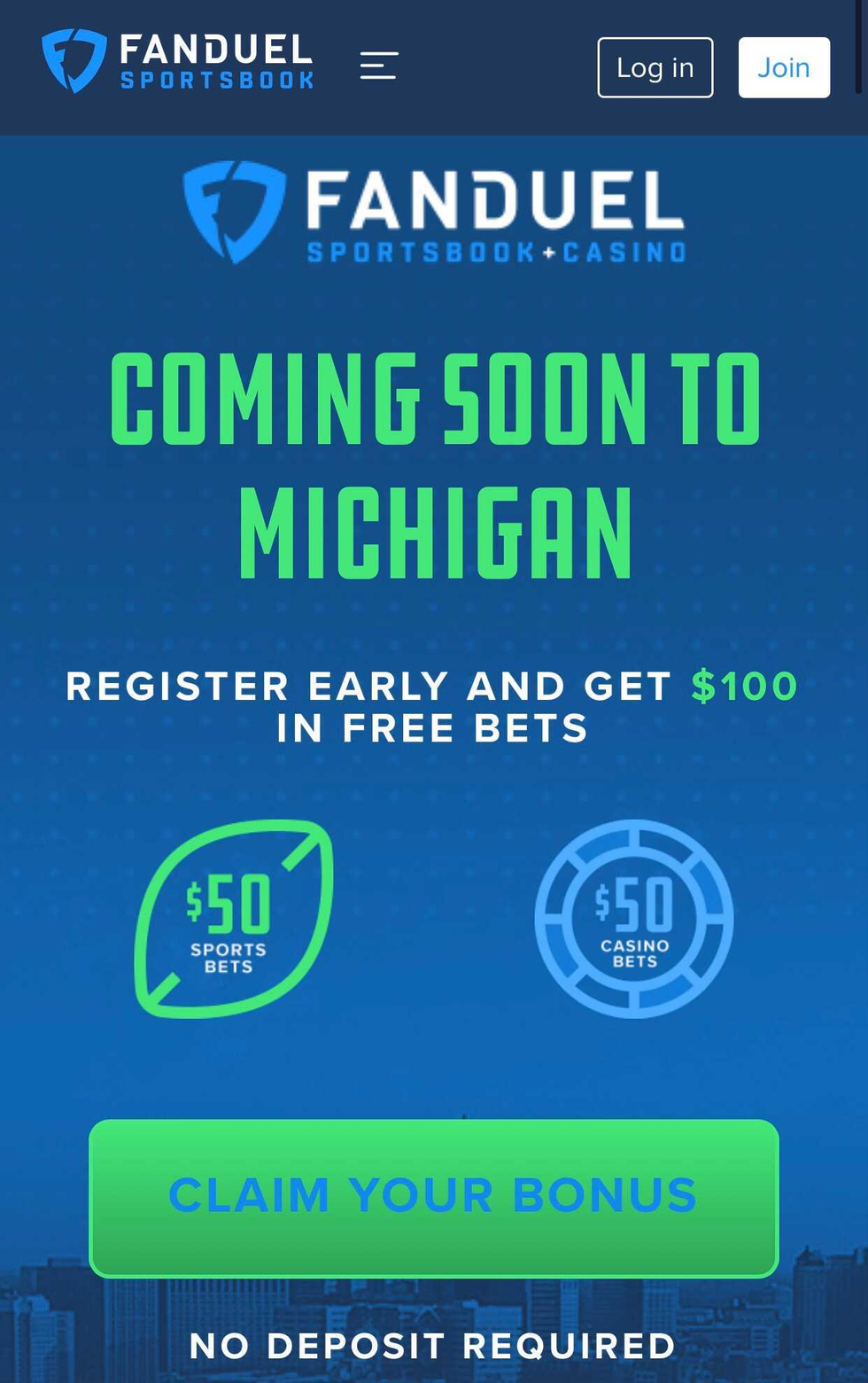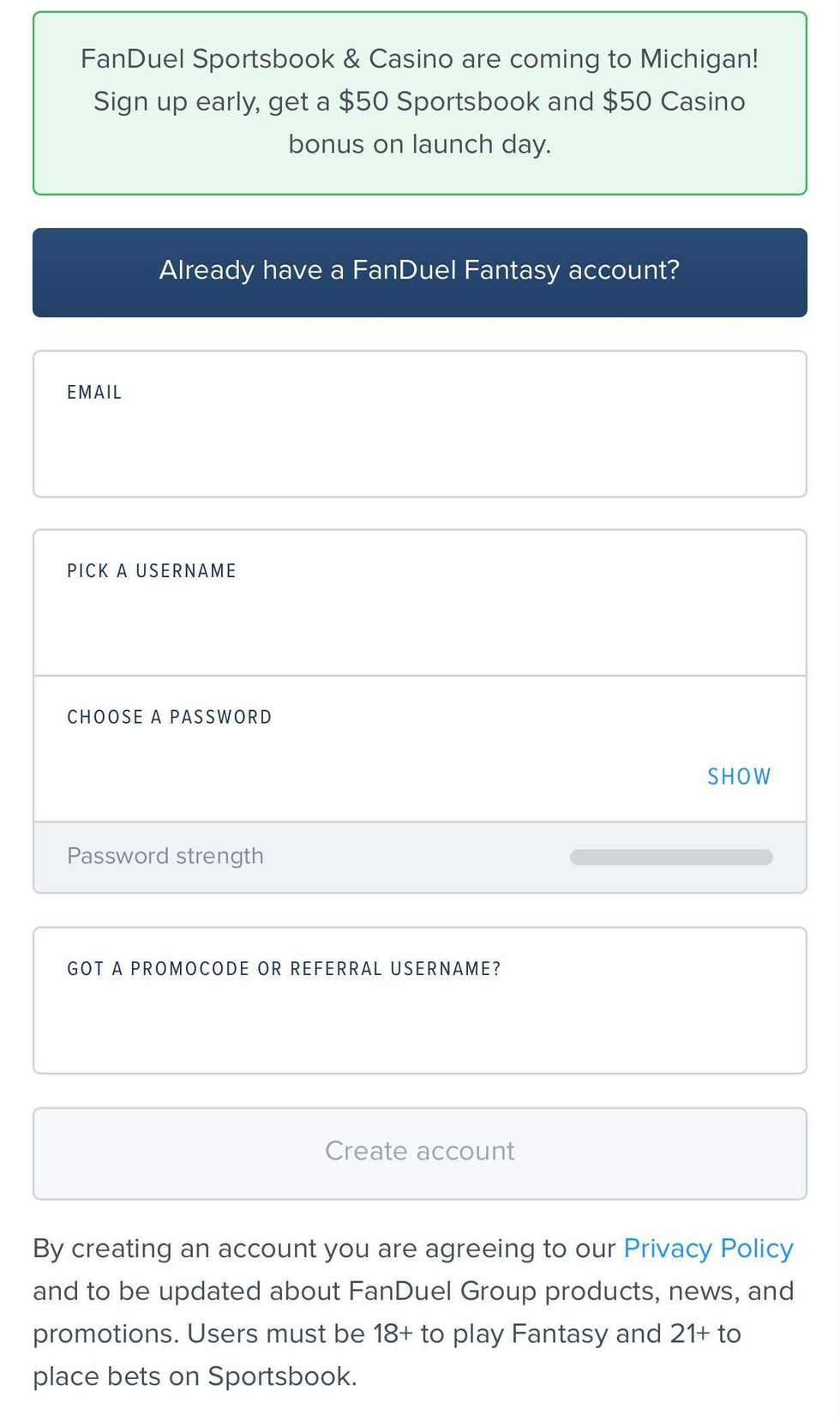 2. Register with an email, username, and password: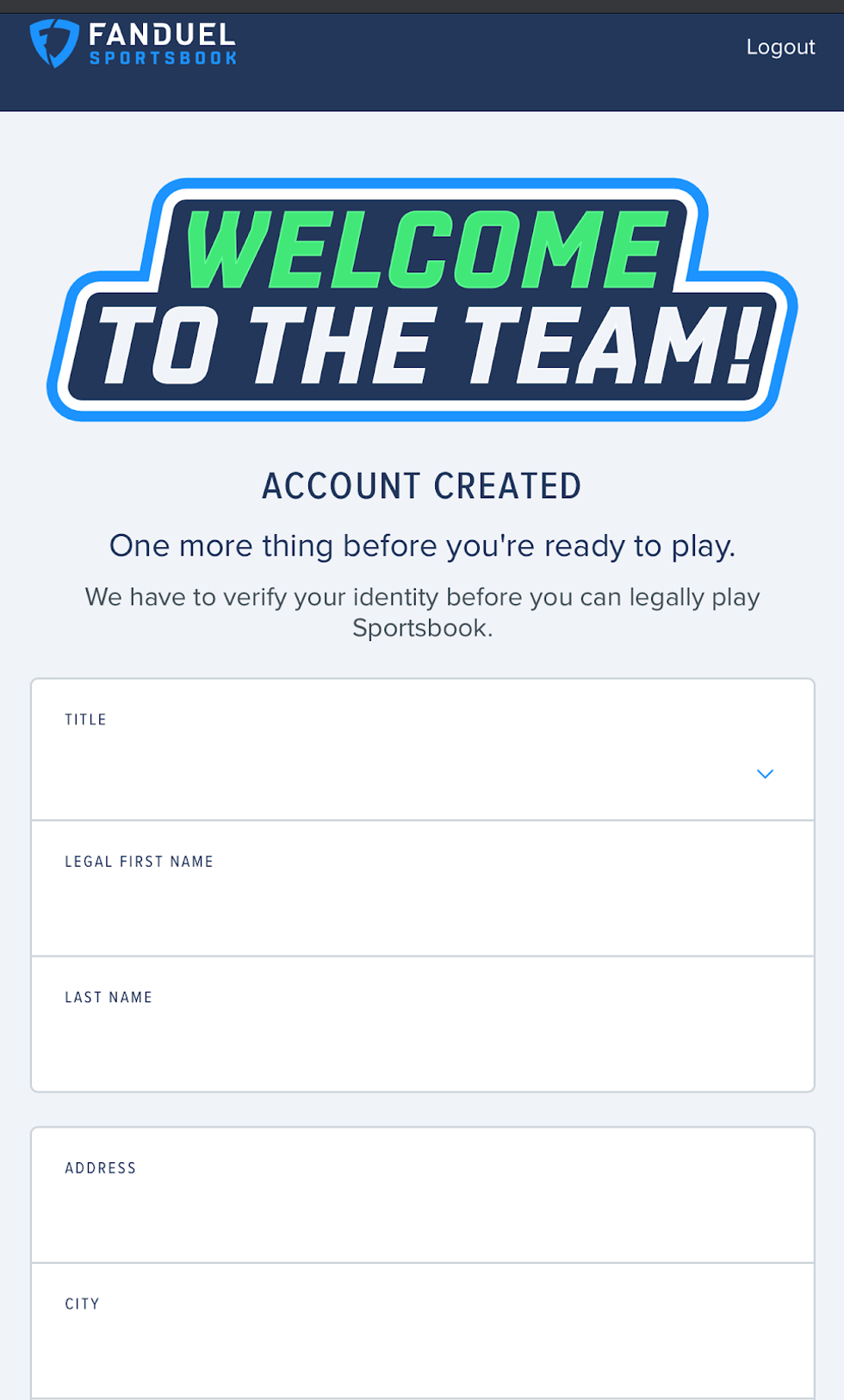 3. Input your credit card and social security number (it stops coaches from betting), put down your bet, and boom, you're good to go!
There's so much to explore, and a super in-depth guide to betting for first-timers and rookies. Even if you're a seasoned pro, the FanDuel Sportsbook app allows you to make bets at any time, and signing up couldn't be easier!

With the NFL season already in full swing (no pun intended), FanDuel Sportsbook is the easiest way to get involved. And that also can mean getting all your friends hyped, and seriously gloating your sick wins.
Sign up today, don't procrastinate or the offer's going to be gone!

FanDuel/Turner SportsF
Syncing up almost perfectly with the news that the NBA will return on December 22nd (just in time for the hallowed Christmas Day games)Turner Sports and FanDuel Group announce they've reached a multi-year agreement, making FanDuel the official sportsbook partner for all professional basketball on TNT.
In addition to FanDuel's integration with NBA on TNT, they'll also be featured on Bleacher Report, the top source of sports content for young fans, and their other digital platforms, like B/R Live and the B/R App.
According to Mike Raffensperger, CMO of FanDuel Group, the company plans to elevate the viewing experience for Turner Sports by providing up-to-the-minute betting information, such as odds and analysis, streamed directly into the broadcast during live game action.
<p><br/></p><p class="shortcode-media shortcode-media-rebelmouse-image"> <img class="rm-shortcode" data-height="536" data-rm-shortcode-id="212115d2350bf45760d1540df9b65a06" data-rm-shortcode-name="rebelmouse-image" data-runner-src="https://assets.rebelmouse.io/eyJhbGciOiJIUzI1NiIsInR5cCI6IkpXVCJ9.eyJpbWFnZSI6Imh0dHBzOi8vYXNzZXRzLnJibC5tcy8yNDcwODMxNS9vcmlnaW4uanBnIiwiZXhwaXJlc19hdCI6MTYyNDg0MzA0M30.tBYdvIWpsT7VMwXDztqQnk1ZxiJ4RvkHpSdq_S8MUAs/img.jpg?width=980" data-width="750" id="45986" type="lazy-image"/> <small class="image-media media-caption" placeholder="Add Photo Caption...">NBA on TNT setup for TV taping</small> <small class="image-media media-photo-credit" placeholder="Add Photo Credit...">Ron Chenoy USA TODAY Sports</small></p><p>Will Funk, Executive Vice President, Sports Partnerships and Branded Content, Turner Sports, agreed and added, "NBA fans across TNT and Bleacher Report are responding well to sports betting content. We've already seen this with the TV and digital elements we've designed with FanDuel this past season and are excited to expand our partnership."</p><div align="center" id="findbet_incontent_55WE5M"> <script data-cfasync="false" type="text/javascript"> freestar.config.enabled_slots.push({ placementName: "findbet_incontent_2", slotId: "findbet_incontent_55WE5M" }); </script> </div><p>FanDuel and Turner Sports worked together in the 2020 NBA Playoffs, which proved to be the beginning of a fruitful relationship for the two companies. <em>Inside the NBA</em>, an Emmy award winning studio show headlined by Charles Barkley, Shaquille O'Neal, Kenny Smith, premiered the FanDuel Sportsbook Odds Board, a segment that centered around a discussion of the odds and public betting percentages on the night's slate of matchups.</p><div class="rm-shortcode" data-rm-shortcode-id="70adee3a02fa9b7025db77fe7df7e815" id="fba71"><blockquote class="twitter-tweet twitter-custom-tweet" data-partner="rebelmouse" data-twitter-tweet-id="1318669466641850373"><div style="margin:1em 0">.@FanDuel CMO @mraffensperger joined us to talk about the company's new partnership with @Turner Sports.… https://t.co/m5T6xnyF9n</div> — Cheddar🧀 (@Cheddar🧀)<a href="https://twitter.com/cheddar/statuses/1318669466641850373">1603230275.0</a></blockquote></div><p>As the U.S. betting market has expanded to 18 states and the District of Columbia, so has the interest in sports betting nationwide. Turner reported that the "TNT Bets" simulcast of the NBA playoffs, the first foray into providing FanDuel odds to fans, showed tremendous engagement, representing a growth in viewers, who also tuned into the broadcasts longer. </p><p>Going forward, that type of extended, locked-in viewership is exactly what Turner Sports wants to garner and, conversely, FanDuel, as the industry-leading online sportsbook, plans to be the one providing the action to those viewers.<br/></p><div align="center" id="findbet_incontent_8JJBS7"> <script data-cfasync="false" type="text/javascript"> freestar.config.enabled_slots.push({ placementName: "findbet_incontent_3", slotId: "findbet_incontent_8JJBS7" }); </script> </div><p>Has all this talk gotten you excited about the upcoming season? Well, <a href="https://sportsbook.fanduel.com/sports/navigation/830.1/10107.3" target="_blank">good news</a>! FanDuel has already posted odds for who'll be the number one pick in the NBA Draft and who'll be the 2021 NBA champions. You can currently bet the odds on favorite, Anthony Edwards, at -210, LaMelo Ball at +280, or James Wiseman at +420. </p><p>As of now, the Los Angeles Lakers are favored to defend their NBA title at +360, the Los Angeles Clippers, even after blowing a 3-1 lead, come in next at +480, and the Milwaukee Bucks, certainly on the strength of two-time MVP Giannis Antetokounmpo, are third at +600. </p><div align="center" id="findbet_incontent_G4UO27"> <script data-cfasync="false" type="text/javascript"> freestar.config.enabled_slots.push({ placementName: "findbet_incontent_4", slotId: "findbet_incontent_G4UO27" }); </script> </div>
Keep reading...
Show less
ILLINOIS, listen up, we've got good news for you.
Registering for Sportsbook has been extended by a month, and you now have until NOVEMBER 20TH to sign up. The original deadline was slated to be October 20th, but the betting gods have granted us this extension, and we're here to tell you how you can make the most of it.
Typically, if you want to start placing bets for Sportsbook, you need to complete your registration in-person at a casino.
Obviously, the last 6 months have made that a little tricky, so you've been able to register and start playing online. On November 20th, you're going to need to drag yourself into a casino if you ever want to start. Sounds like a lot of effort, right?
So save yourself the time, gas money, and headache by heading over to FanDuel Sportsbook and signing up before November 20th!
All you need to do is fill out the registration paperwork online with your name, age, social security number, and other relevant info, and then you're good to go. You can begin betting on this wild NFL season, or see what's available in CFB, MLB, or even tennis or rugby.
They have every sport you could think of and an incredible new user offer: your first bet is risk-free up to $1000. That means if you lose any of your first bet up to that amount, you'll get it alllll back, for your next bet.
FanDuel offers an in-depth betting guide with an extensive glossary of terms (grand salami, anyone?) along with daily boosted odds, so there's always something going on.
So head on over to the FanDuel website or app (Android users - website first!) and complete your registration to play Sportsbook today.